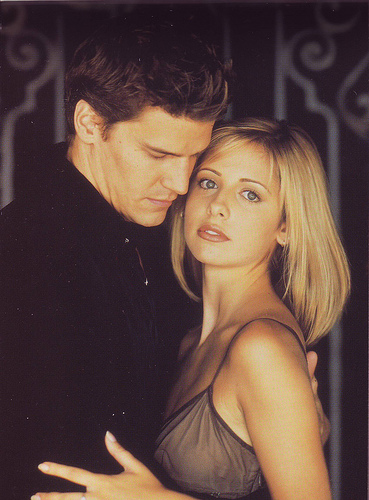 It all started last summer when my husband got cable "to watch World Cup Soccer." Something was suddenly available to watch on the TV 24 hours a day. I had avoided the cable TV trap for 42 years, (granted there was no cable TV when I was growing up, but that's besides the point) and allowed the beauty that is On Demand TV to wash over me like Charlie Sheen at a STD clinic a warm bubble bath. Yes, we cancelled the cable TV at the end of the summer, but streaming Netflix took its place. My beautiful, beautiful Netflix. It wasn't long before we were watching back-to-back episodes of The Office and 30 Rock. Television gets a bad rap as an idiot box or boob tube, but these were smart, funny shows with fantastic characters. What was not to love?!

And then I discovered Buffy The Vampire Slayer.
My family watched seven seasons of Buffy over a few months and then breezed through five additional seasons of Angel with a speed not seen since vampires first emerged. People, there are 22 episodes per season, each lasting approximately 42 minutes, times the 12 seasons I just watched. I could do the math, but I choose not to.
So tonight, I watched the very last episode of Angel. It was bittersweet, and I yearn for just one. More. Episode.
I plan on taking at least a month off to wean myself off the TV habit. I'm not sure whether I'll watch movies with the kids, but I'm going to try to even avoid this little concession.
So goodbye TV, goodbye Buffy and Angel. I will miss you dreadfully, although I did put all your comics on hold at the library. *Sob*
Katy Wolk-Stanley
"Use it up, wear it out, make it do or do without"