I have a new game show here on The Non-Consumer Advocate called Goodwill Guesses. The object of the game is to guess whether I bought or didn't buy particular Goodwill items.
Let's start!
Contestant #1 is an original art print for the low, low price of $2.99. It's signed by the artist and is numbered 40/500.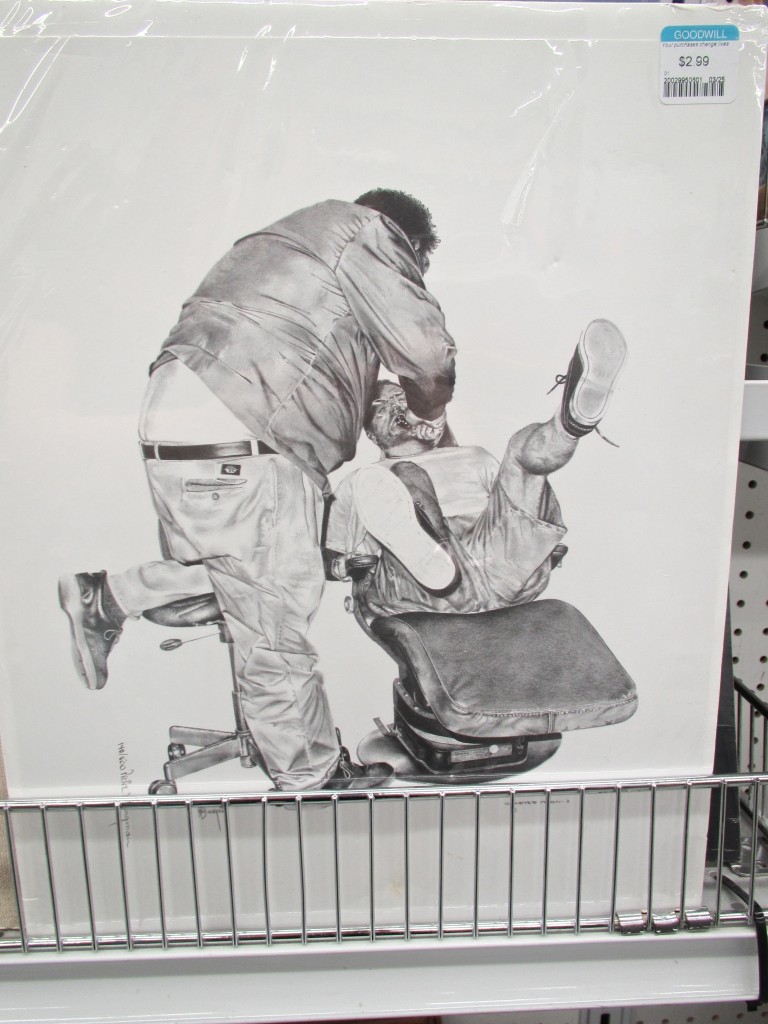 Heres a detail shot so you can fully appreciate the artistic aesthetic: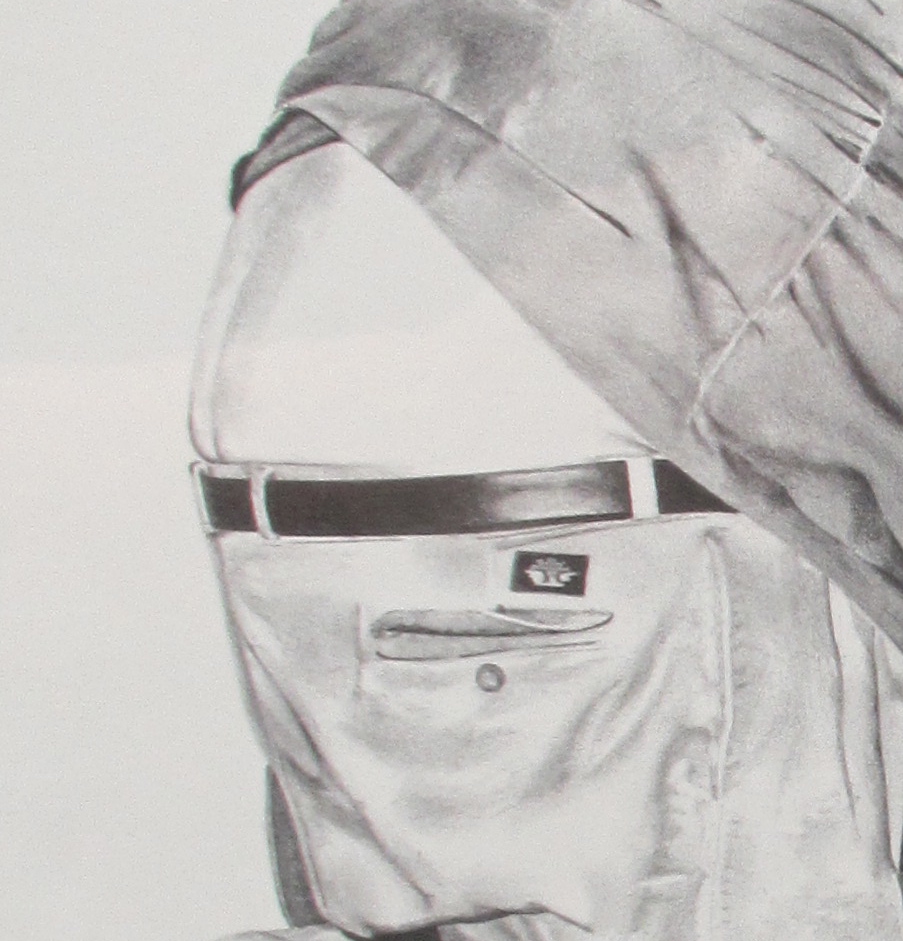 Sooo . . . Did I buy it?
Sadly no, as it didn't really fit in with my current decor style. Plus I feel it would look better in a dentist's office than a private home.
Let's bring on contestant #2!
She's a mini muscle massager that's only slightly used.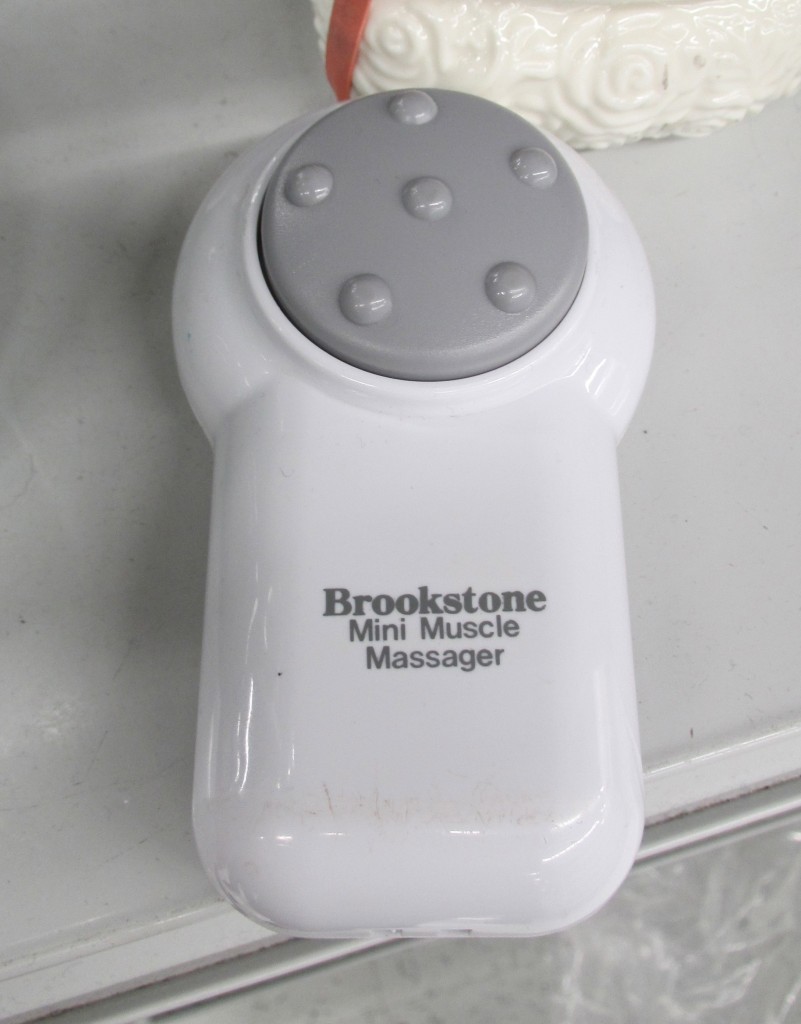 Sooo . . . did I buy it?
Also no. Just no. No.
Contestant #3 is this beaut. Not the fake plant, not the glass inset coffee table, we're talking about the antique blue dresser. She's $30 and sturdy as can be.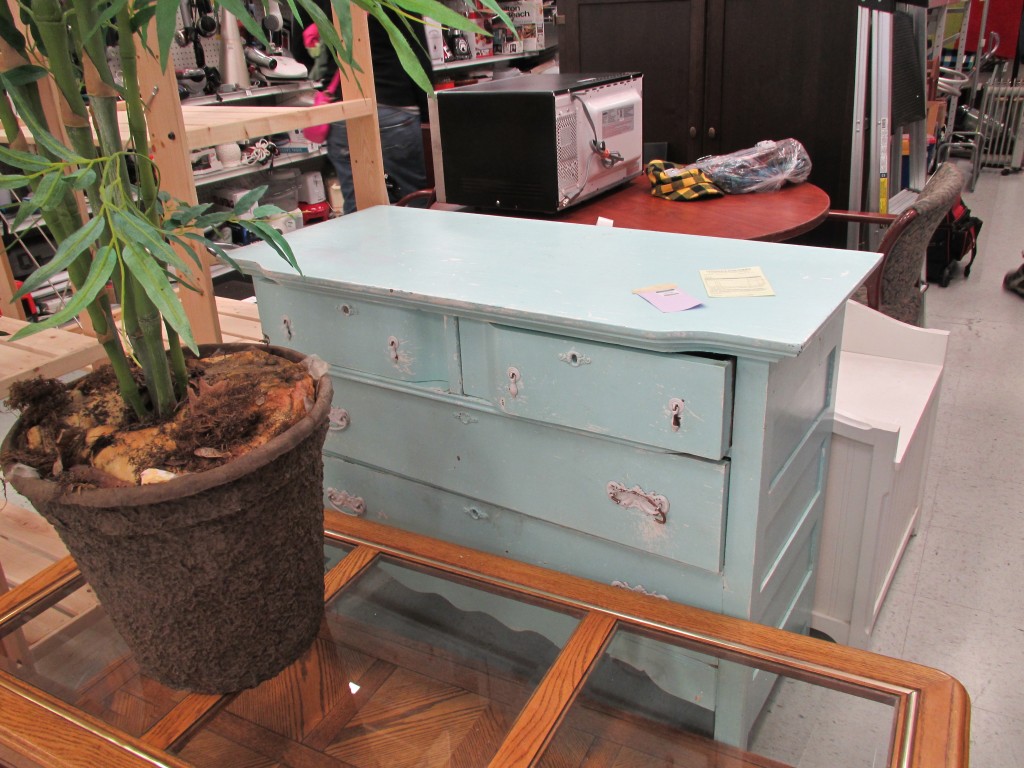 Sooo . . . did I buy her?
Ding, ding, ding, we have a winner! Not only did I fork over the $30 for the dresser, but thanks to Craigslist she found a new home in under 24 hours. And my son's college account is $50 richer from the transaction.
Contestant #4 is a special guy, kind of a trickster. He's been known for pranks that end badly, but could still be a great addition to your carefully curated home. (Although you might want to follow Reverend Pat Robertson's advice and say a prayer over him.)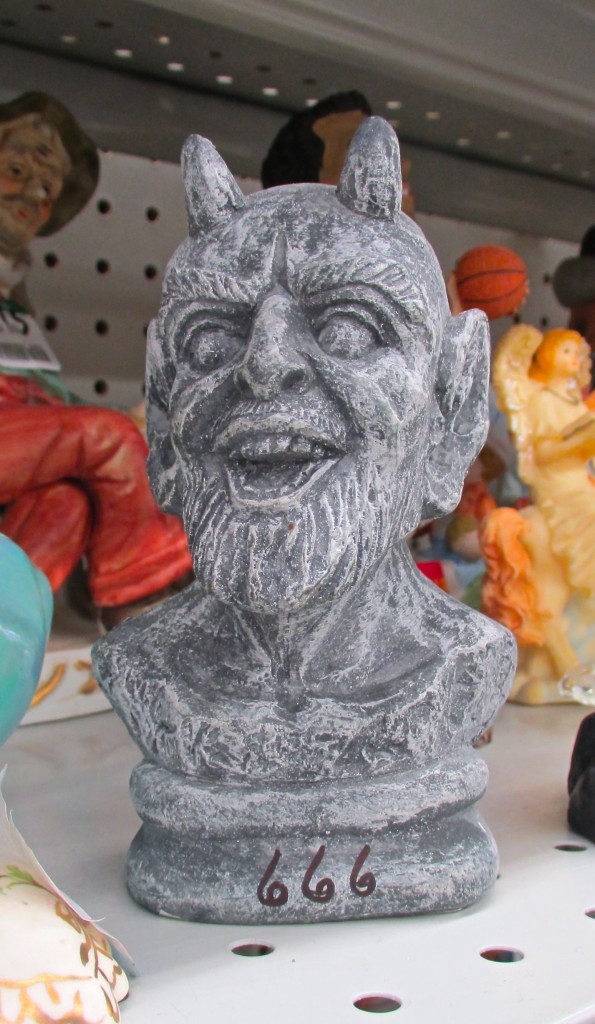 Sooo . . . Did I bring him home?
You may be thinking "Of course Katy brought home this special object d'art," but you would be wrong. I'm not really into the color grey.
Contestant #5 is another piece of art, and although it too features nudity like contestant #1, it's somehow just a wee bit classier.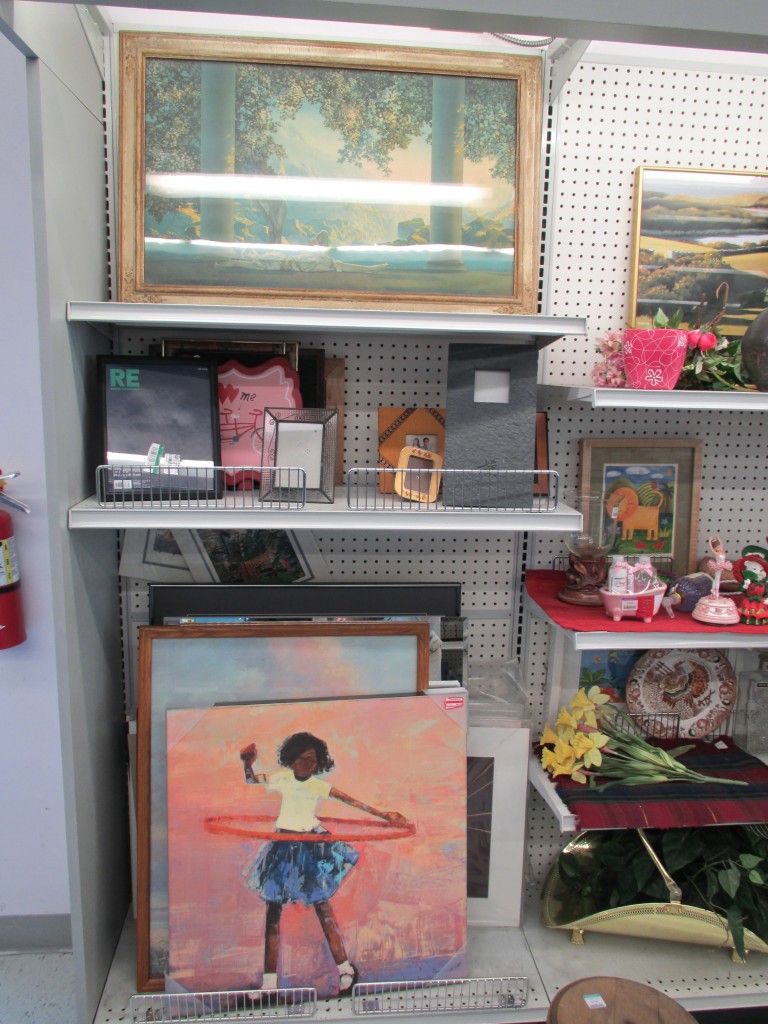 The glare makes it hard to see the detail, so here's a second photo: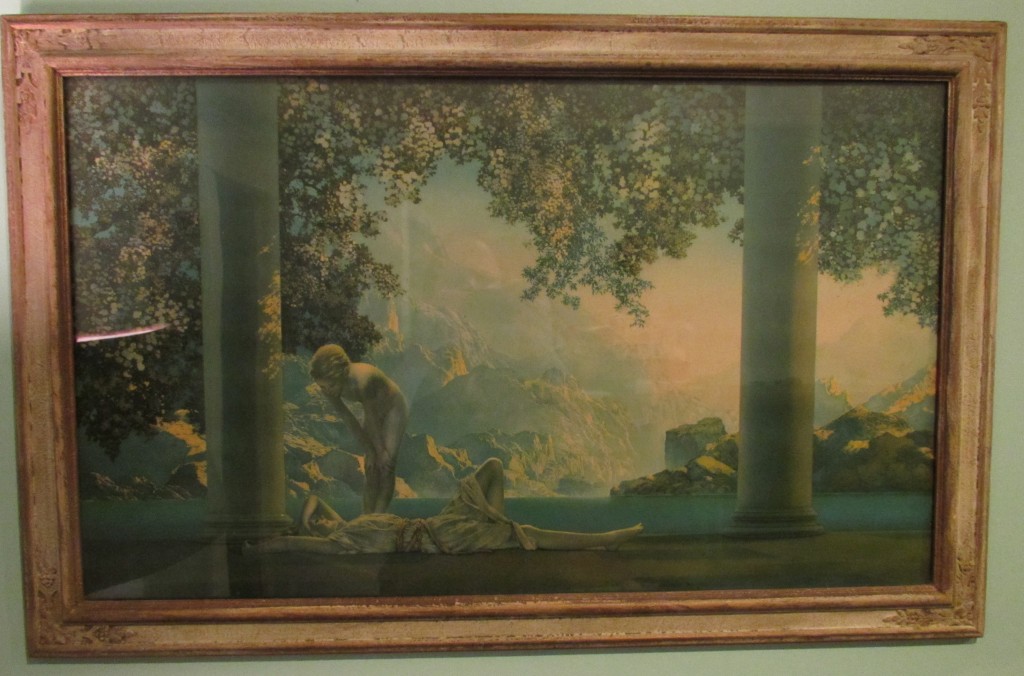 This was a hard one, but YES I did buy the 1922 Maxfield Parrish Daybreak print in original frame. And then I sold it to blog reader Renée. More money for my son's college account!
(Here's a helpful financial tip for all you parents out there. Don't wait until your kids are 17-years-old to start their college accounts!)
Contestant #6 is a Geisha with attitude. Although most geisha souvenir figures have a serene, non-violent quality, this lady is looking for any excuse to kick your sorry ass! Her stance and hand formation tell you that she more than happy to squash any misconceptions you may have about geishas.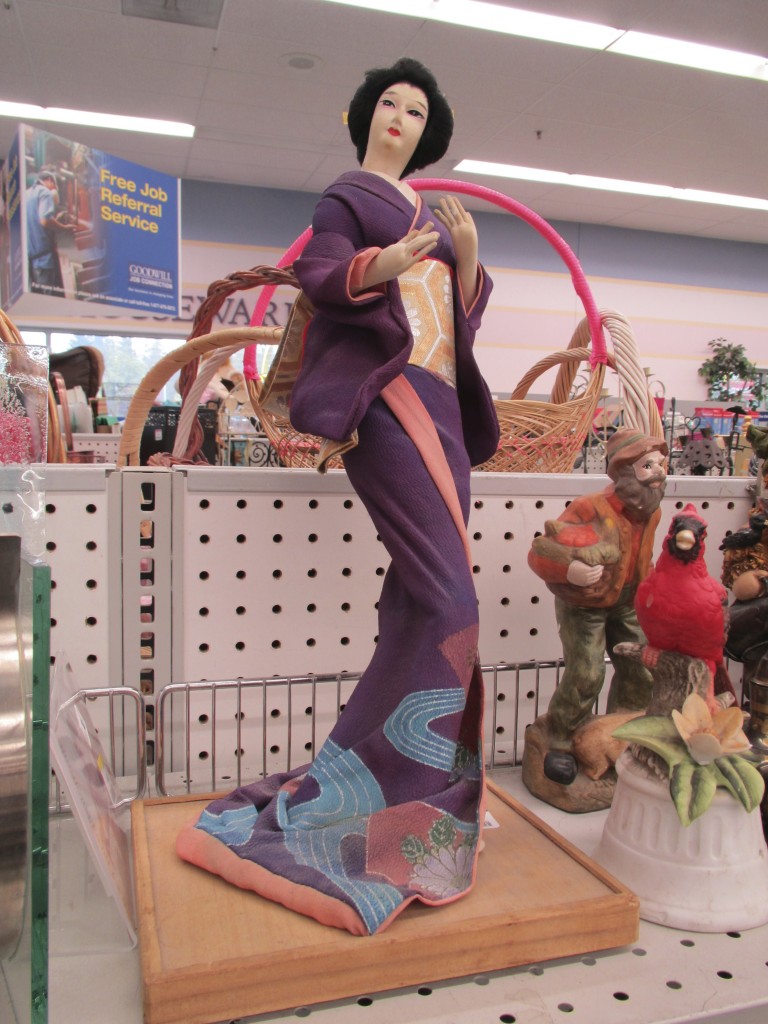 Here's another picture of her from a different angle: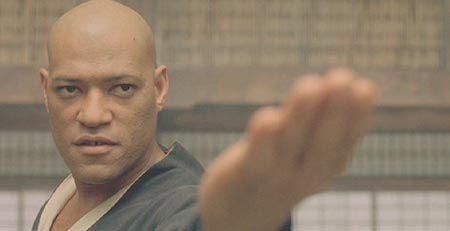 Sooo . . .  did I buy her? Of course not! I have enough in my life to inspire nightmares, arigatou gozaimasu!
So, how'd you do? Were you able to accurately guess which Goodwill treasures came home with me? And don't feel too badly if you got many of the questions wrong, this game show was insanely difficult.
Well, insane is right.
Katy Wolk-Stanley