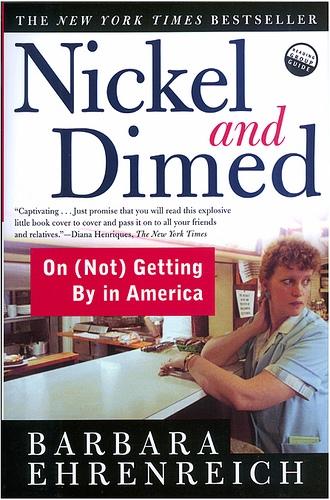 Today is day ten of the July Food Stamp Challenge, and I think it's high time for a book giveaway. And not just any book, but Barbara Ehrenreich's classic 2001 Nickel and Dimed: On (Not) Getting By in America. This book chronicles the author's social experiment to bring light to the challenges faced by America's working poor. PhD educated Ehrenreich spent a year working as a waitress, hotel maid, cleaning woman, nursing home aide and Wal-Mart clerk.
When I wrote of how we judge one another's food choices, (whether or not the buyer happens to be receiving food stamp benefits) the comments received ran the full gamut. Everything from:
"The sickening foods piled high in TWO grocery baskets of some people made me want to walk up to them and hit them with a bag of fresh apples."
To:
"I work with low income families and I would add that many low income folks do not have proper cooking facilities or tools to cook with. Yes, it is easy to make pancakes from scratch, but if you have no griddle, measuring cups, storage containers or physical space to put the items in, then ready made stuff is easier."
None of us can tell what is person is going through by looking at their appearance, or even looking at their grocery cart.
This book, (which I highly recommend) is a fascinating and well written peek into the struggles that Americans face when working full time (and often more) at minimum wage.
To enter to win this book, (which was a $1 garage sale find 😉 ) write a little something about how you stretch your hard earned dollars in the comments section below. I will randomly choose a winner Wednesday, July 13th at 9 P.M., PST. U.S. Residents only, one entry per person.
Good luck!
Katy Wolk-Stanley
"Use it up, wear it out, make it do or do without"