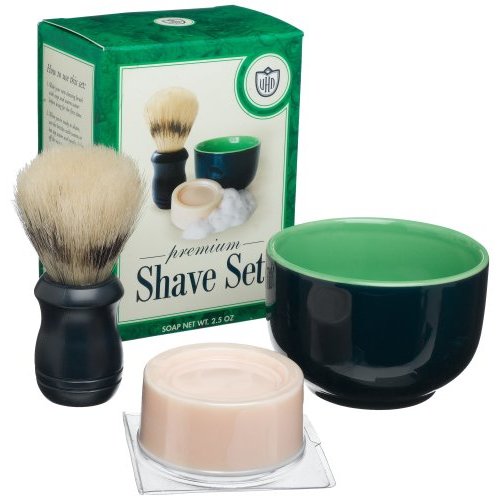 It may sound somewhat ungenerous, but my goals for gift giving are threefold:
Give a truly useful or perfect-for-the-recipient gift.
Minimize packaging/non-sustainable crappiness whenever possible.
Spend as little as possible.
Today was my husband's birthday and I was able to hit all three of my requirements without much effort. Here's what I bought:
A hardback Shutterfly book of family photos.
A shaving kit with ceramic mug, bar of shaving soap and an ole timey shaving brush.
I used a Groupon for the photo book, (I had Groupon credit from referring people, so it was free) and my Swagbucks Amazon credit covered the cost of the shaving kit. I paid a few dollars for the Shutterfly shipping, but otherwise everything was free.
My husband loved both the gifts, and gave the shaving kit a big thumbs up. (I have to admit that this gift was somewhat selfish, as I'm the one excited to stop buying aerosol cans of shaving cream, as we have two, soon to be three shaving men in our household!)
People often assume that I am a terrible gift giver, as my Non-Consumerism radiates from me like spray tan from the cast of Jersey Shore, but I think I actually rock the gift giving department. I buy Goodwill and garage sale gifts year round, and occasionally splash out with expensive gifts. (My younger son turns 13 in a few days, and we're going to let him choose a concert to attend, most likely Bruno Mars.) I prefer experiential gifts, edible gifts, used gifts or something I am 100% sure that the recipient will love. I do not want to be cluttering up other people's lives!
I guess what I'm saying is that just because I'm cheap doesn't mean that I'm not generous.
Do you struggle with giving gifts without going over budget or outside your green values? Please share your thoughts and ideas in the comments section below.
Katy Wolk-Stanley
"Use it up, wear it out, make it do or do without"
Note: This post contains affiliate links, which help support The Non-Consumer Advocate.