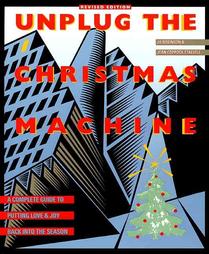 Thank you to everyone who shared their holiday customs and ideas to enter and win a copy of Unplug The Christmas Machine: A Complete Guide to Putting Love and Joy Back into The Season. Your stories were a true inspiration.
Congratulations to Lisa for her award winning comment, which was chosen at random.
Here are just a few of the 77 entries:
From Lisa:

My Christmas budget is non-existent this year (as it has been many other years). So gifts will be homemade or second-hand. My brother's family and ours will get together for a holiday feast and exchange of gifts. Last year my sister in law gave us a used food processor.  It has been a godsend especially at harvest time and is used almost daily. I gave them a quilt top that my mom and I had put together years ago. There are no small children in our family. We big "kids" can have just as much fun without the hassles of crowded stores and forced good cheer.

From Tiffany:

It's too late for this year, but the day after Christmas I'm going to try to talk my extended family into doing some sort of secret santa so everyone buys and recieves only ONE gift. None of us need, or really want, anything. I'm hoping everyone will go along with it, wish me luck!
From Judy:

Every year I try to cut back a little more. We are giving experiential gifts to our grandchildren, taking my grandson to a couple of train shows, taking my granddaughter to a performance of the Nutcracker. The rest of their gifts are used books purchased at public library, Goodwill and one new one each purchased at Borders clearance and an educational game for each, also purchased at Borders with discount coupon. My mother is also getting books, purchased used and Borders clearance, CDs made by my husband. Our daughters and spouse and fiance are getting gift cards to restaurants. I did buy a couple of items such as candles and wine(consumables, no clutter) to go with gift cards. I am regifting a small family sculpture to our oldest daughter and family. Our decorating is a small artificial tree purchased years ago(I would no longer buy artificial for environmental reasons). We have switched to LED lights to conserve energy. A few greens, holly and red candles scattered through the house completes the decorations. During the year if I find things at the Goodwill that will work as gifts, I buy them and put away.
From 365Girl:

My journey toward restrained consumerism and socially aware purchases started March 2009. This is my first Christmas seriously considering each purchase – the problem I have is my family and friends aren't on the same journey. I cannot 'not buy' this year – the shock would be too immense – so I have opted for experience purchases where they get to do something rather than fill their homes with clutter. Next year however I may not hold back – I have pre-warned a few close members about my intentions!
From April:

This year, my family have all agreed to give only practical, consumable items for Christmas. I am buying the food for the meal, and we are all chipping in to buy my cousin a case of toilet paper (her request), ordering a load of firewood for my grandma who has only wood heat…stuff like that. These gifts don't require hours of shopping, and won't end up being one more unwanted item shoved in the back of a drawer somewhere. We know they will be used and appreciated, and especially this year, with money so tight, practical gifts seem the way to go.

Katy Wolk-Stanley
"Use it up, wear it out, make it do or do without."