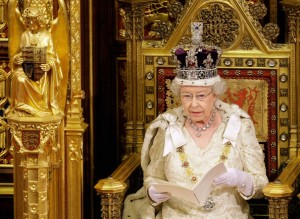 It's time again for Non-Consumer Mish-Mash, where I write a little bit about this and a little bit about that.
My New Job Description
This week's Oregonian newspaper brought the news that The Queen of England just announced the formation of a Office of Budget Responsibility. A quick Google Swagbucks check found that President Obama is headed in the same direction, as was found on the White House Office of Management and Budget website.
"Today, the President sent to Congress the Reduce Unnecessary Spending Act of 2010 to establish a new, expedited tool to reduce unnecessary or wasteful spending."
If I had to choose between the two jobs, (because of course, I'm being considered for the jobs!) I think I would go with the English one. We could sit around and reuse our teabags and ride around in double decker buses.
And by the way, I totally need to add "CFO of the Office of Budget Responsibility" to my bio. Totally. Might even get some business cards printed up.
A Chair of One's Own to Share
My never ending quest to organize and delutter my house has taken a twist over the last year. Rather than dumping everything on the fine folks at Goodwill, I've moved a large number of possessions through garage sales, consignment shops, Craigslist, giving to friends and family, and yes, even Goodwill.
Today, my father and I stopped into The Looking Glass bookstore to pick up a book he had ordered. I noticed that the children's section, (which is housed in an old train car) had a toddler size folding chair, which I had the exact version of at home. I received this darling vintage chair as a baby shower gift when I was pregnant with my now 14-year-old son. However, it now sits alone and unused in my storage room.
So I asked the owner if she would want another chair, and she graciously accepted.
I am so my happier to think that my son's chair will now live in an awesome independent bookstore rather than languishing in my back room or taking the tax deduction for donating it at Goodwill.
Plus, I can go visit the chair whenever I miss the good old days of parenting little boys. And I can remember that however the cute the chair, small boys never sit in chairs for longer than I can hold my breath.
Time to Accept Some Generosity
When I asked The Non-Consumer Advocate community whether I should accept my father's offer to help pay for the addition of a second bathroom and an extra bedroom, the answer was a resounding "take the money already!"
My hesitation to accept the money from my father stems from feeling like I want to earn the money myself, but you guys convinced me that my pride was getting in the way of increasing the value, energy efficiency and workability of my home.
I am accepting the money from my father and step-mother, and will start the planning stages of the remodel. Because I have learned the hard way is that any rushed home improvements are regretted home improvements.
Katy Wolk-Stanley
"Use it up, wear it out, make it do or do without"