It's time again for Non-Consumer Mish-Mash, where I write a little bit about this and a little bit about that.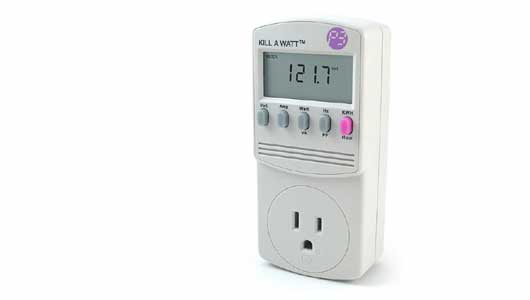 Geek Out at The Library
If the library were a person I might leave my husband for him or her. That's how much I love the library. Not only do I get books, music, DVD's, volunteer opportunities for my kids and live entertainment, but I have now checked out a Kill-A-Watt device.
What is a Kill-A-Watt?
A Kill-A-Watt precisely tells you how much electricity your electronic devices are drawing. Unsure whether it's worth it to unplug all your phantom electronics? Curious if your constant running of a fan uses less electricity than an air conditioner? All you have to do is plug your electric devices into the handy-dandy Kill-A-Watt, and voilá, your questions are answered!
And for frugality geeks like me, it's an awesome good time.
Thank you Multnomah County Library!
When Debt Reduction Takes a Backseat
Sierra Black wrote a column for Get Rich Slowly recently about how her extreme focus on debt reduction has well, become unfocused since her credit card debt has been eradicated. This column struck a nerve with me because summer is always an expensive time here at casa Wolk-Stanley. I tend to work less, so there's less money coming in, and add to that the multiple soccer camps and this year's Japanese tutoring and debt reduction took its own summer break.
But I'm not too worried. I'll soon go back to my regular work schedule and the kids will be back in school. I'll suddenly have scads of free time again and can get my debt reduction back on track.
After all, money matters do not rule my life. My family does.
Cable TV, a Non-Cautionary Tale
After 23 blissful cable-free years together, my husband arranged for cable TV this summer "for World Cup." And of course, it lingered on through the post-soccer months of July and August. I could lay the blame elsewhere, but I was just as guilty with cable TV addiction as everyone else.
But August 31st came along, and I gathered up all the cable paraphernalia and drove over to the Comcast office to purge myself of the all day entertainment  that is cable TV.
At first, the woman wouldn't let me cancel the cable since it was in my husband's name and we have different last names. After I politely explained that actually was my husband's wife, and even showed my checkbook to a manager, we moved forward. The clerk was busy clicking through many, many pages when she asked:
"Oops, you didn't want to cancel your cable internet did you?"
I confirmed that the cable was all I was cancelling. To which she explained:
"As an apology for canceling your internet, I'm going to give you a six month special rate on your internet."
Which will save us $72, and brings the price of a summer's worth of cable TV (with HBO) for $28! All for the inconvenience of losing internet for two minutes. While I wasn't even home.
Even I can't complain about those numbers.
Katy Wolk-Stanley
"Use it up, wear it out, make it do or do without"