It's time again for Non-Consumer Mish-Mash, where I write a little bit about this and a little bit about that.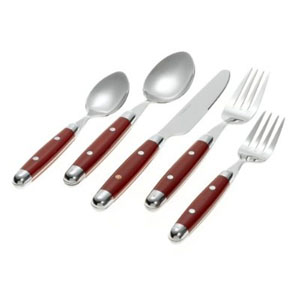 When Tacky Meets Eco-Groovy
I was packing my son's school lunch this morning, which consisted of leftover curry over rice, tangerines and a couple handfuls of tortilla chips. It all fit nicely into his tiffin, which was then completed with the addition of a bandana napkin and a tacky 1980's stainless steel and plastic fork.
C'mon, You know the type. Your parents probably owned a set, and they certainly abound at garage sales and thrift shops. Me? I got my set at a Stuff Swap awhile back when my son's elementary school was switching over from disposable to reusable lunchware. It turned out that the school didn't need any more donations, so I kept them and they've been great for school and work lunches. Because with this silverware, I am at zero risk of heartbreak if a stray fork or two goes missing.
To buy eco-groovy reusable bamboo To Go Ware, will set you back $12.95 per place setting. Sure, it comes with an recycled plastic carrying case, but I for one would rather keep my thirteen bucks and roll it all up in a bandana or cloth napkin.
Because an already manufactured product will always trump the eco-groovy.
107 and Going Strong
My Friend Natalie McNeal, A.K.A. The Frugalista recently posted a link to an article about Leonard McCracken, a 107 year old Florida retiree whose frugal ways could teach us all an important lesson. Now 41 years into his retirement, McCracken is still shopping at garage sales and managing his own finances.
His motivation is influenced by working at a bank during the great depression and how "he watched people lose their shirts and learned from it." He took low paying jobs rather than no work, avoided the stock market and built houses and later sold them at a profit.
"He remembers vividly the time that his wife was holding a garage sale and left him in charge. When she returned, he had sold the living room sofa for $100. "I had a very understanding, frugal wife (Dorothy, who died in 2002 at 95 after 75 years of marriage). We gave up a lot of things that other people were buying in order to break even."
I love this guy. I think we should all gather at his feet and take notes from him. Of course, that's where we'll have to be as the savvy guy sold the furniture. 😉
Click HERE to read the article in its entirety.
Thrift Stores + Decluttering = A Bizarre Companionship
I am in the midst of a current obsession with decluttering my house, and as I know this motivation can be fleeting, I am dedicating full energy to the effort. Craigslist and Freecycle are helping with bulky items and the stack of garage sale merchandise in my basement is growing faster than a Texan restaurant serving size.
But somehow, my urge to purge meshes well with my thrift store obsession.
Make no sense? Well, I am always on the lookout for organizing products, and we are slowly but surely replacing all the lower quality Stuff in our lives with higher quality items. An perfect example of this would be my oriental rug or the Pier One patio chair that I picked up at Goodwill earlier this month. The chair perfectly matched one I already had, and the addition of this chair meant that a nasty plastic stacking chair that I had pulled from a free pile went back out into the world. I also recently bought a glass butter dish from a thrift store with a chipped bottom. This was no problem, as I already had an intact bottom, but was missing the top. I think you get the drift.
Indiscriminate stockpiling of thrift store crap would certainly be counterproductive to my goal of a clutter free home, but you know I'll never be able to go cold turkey. I would sooner give up tea or wool socks. And that, my friends would be the day you can be certain that the pod people had taken over.
Katy Wolk-Stanley
"Use it up, wear it out, make it do or do without"