It's time again for Non-Consumer Mish-Mash, where I write a little bit about this and a little bit about that.
Is it Time to Think Outside The Pouch?
A link from The Story of Stuff Project showed up in my Facebook feed this morning, which included this eye catching graphic: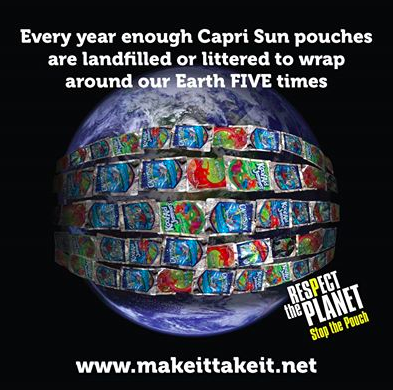 The link took me to the Make it, Take it site that works to get manufacturers to take responsibility for their packaging decisions.
It's been a number of years since having my sons involved in soccer meant I would have to take a shift or two as the "Snack Mom." This meant bringing the Capri-Sun type juice (ha!) pouches and boxes of granola bars. It always annoyed me, but I did it anyway. I finally bucked the trend and brought homemade granola bars and a huge dispenser of lemonade, which were a big hit. (I figured that every player already had a reusable water bottle, so they just dumped out any leftover water and filled it back up again with the lemonade.)
I never bought these drink pouches for home use, although I know that a lot of people do, as they're convenient and pretty cheap. However the issue with the packaging is that it's an amalgam of plastic and aluminum, which means they're completely and wholly unrecyclable. (You can collect the pouches and mail them to Terracycle for upcycling, although I would guess that .0000000001% end up this way.)
I want people to think twice before buying these types of irresponsibly packaged goods. But to put the onus of this environmental consequence on the consumer is wrong. It is the manufacturer who should shoulder the responsibility.
Click HERE to fill out a 20 second online form asking Capri-Sun to change their packaging.
Is $90,000 Enough Annual Income For a Family of Five?
My pal Kristen from The Frugal Girl posted a great article the other day as a response to a Washington Post article by Carol Morello and Scott Clement profiling a Virginia family that's struggling so much on their $90,o00 income that they're now two months behind on their electricity bills. This depute their envy-inducing $700 mortgage.
The blended family has three teenage girls, with each daughter having a computer in her room, as well as iPads, cell phones and music lessons. It's painful to read, as the article is titled " 'Happy Days' No More: Middle Class Families Squeezed as Expenses Soar, Wages Stall," as it's not their expenses that have soared, but their spending on wants over needs.
Am I the only one who is reminded of the story of The Gift of The Magi, where the wife cuts off her beautiful long hair to buy a watch chain for her husband, while he sells his watch to buy hair combs for his wife? This family can't pay their electric bill in part because they've spent so much on electronics.
The father (Scott) refuses to buy anything but the most expensive school picture package for the girls:
"Scott, whose salary is more than triple Robin's, insisted on ordering the biggest package.

"I don't care if we don't eat next week, I'm going to get the kids' photos,' he said. "That's what you hold onto."
The extra cost of ordering the most expensive school photo package for three kids would likely pay for a month of electricity.
It's a very difficult article to read.
However, it's important to remember that this is just an average family, feeling that they don't want to deprive their kids of what their peers get without a second thought. No one is flying to Paris and there's no mention of the parents spending on themselves.
Click HERE to read the entire Washington Post article.
Miss Your Flight? I Guess It's Banjo Time!
My little sister Sara plays banjo for a band called The Moonshine. (I would call them a bluegrass band, but I get scolded whenever I label them as such. Sigh . . . ) Anyway, my sister was flying to Colorado last week with a certain less than stellar airline, and missed her flight because the airline's check-in machines were broken and the check-in people scolded her for not being at least 45 minutes early, (she'd been there two hours early, but their line moved too slowly.)
Long story short, she suddenly had four hours to kill at the Portland airport.
Young Sara ended up playing her banjo on the concourse and earning an extra $30 in tips for her efforts.
Much better than everyone else who stared down at their electronic devices, and added nothing to their immediate surroundings.
I like this story.
Katy Wolk-Stanley