It's time again for Non-Consumer Mish-mash, where I write a little bit about this and a little bit about that.
2013 Letter Writing Challenge
2011 was the year of the 52 Weeks 52 Letters Challenge and although I think I only wrote twenty-some letters in all, it was still 99% more than I would have written without the challenge. I considered re-upping the challenge for 2013, but I really didn't want to pressure myself into a weekly letter again. (After all, I am a delicate flower.)
However, I am going to start writing some letters again. I like how a written letter can't be rushed and I like picturing the recipient opening their mailbox to find an actual letter.
Not quite a challenge, but also not letting myself off the hook.
The perfect amount of pressure.
Are you in?
An Important Issue For Cartoon Dogs
In the way that a picture says a thousand words, I'll let this photo of my husband speak for itself. Because to explain it would make it boring.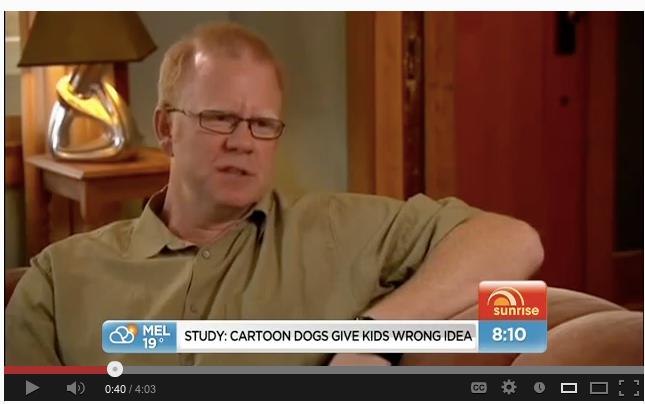 Time for a "New" Duvet Cover and a New Smell
I've been keeping an eye out for a new to me/thrifted store duvet cover for at least a couple of years. There was no time constraint, so I was able to be picky. But a $7.99 Goodwill goody finally caught my eye last week. Not only would the colors tie in well with my bedroom, but it looked brand new and the modern floral pattern was cute and cheerful. And more importantly, it was not flannel and could be used year round.
However, the Goodwill disinfectant smell was overwhelming. (Don't get me wrong. I want, no need for Goodwill goodies to be all kinds of disinfected, but the sickly sweet smell can be overwhelming and surprisingly difficult to remove.) So I hung the duvet cover on the outside laundry line for a couple of days to A) air out and B) get rained in. (I do live in Oregon!) I then laundered the duvet cover in a detergent/bleach/washing soda/Oxyclean solution, giving the mixture a couple of hours to soak.
And when the duvet cover finally came out of the dryer . . . it still had that Goodwill smell!
So I rehung the duvet cover on the clothesline and liberally spritzed it with a 50/50 vinegar/water solution and let it air out for another day or so. I then re-washed it in a detergent/washing soda/Oxyclean slurry and . . .  finally got the Goodwill smell out!
Before: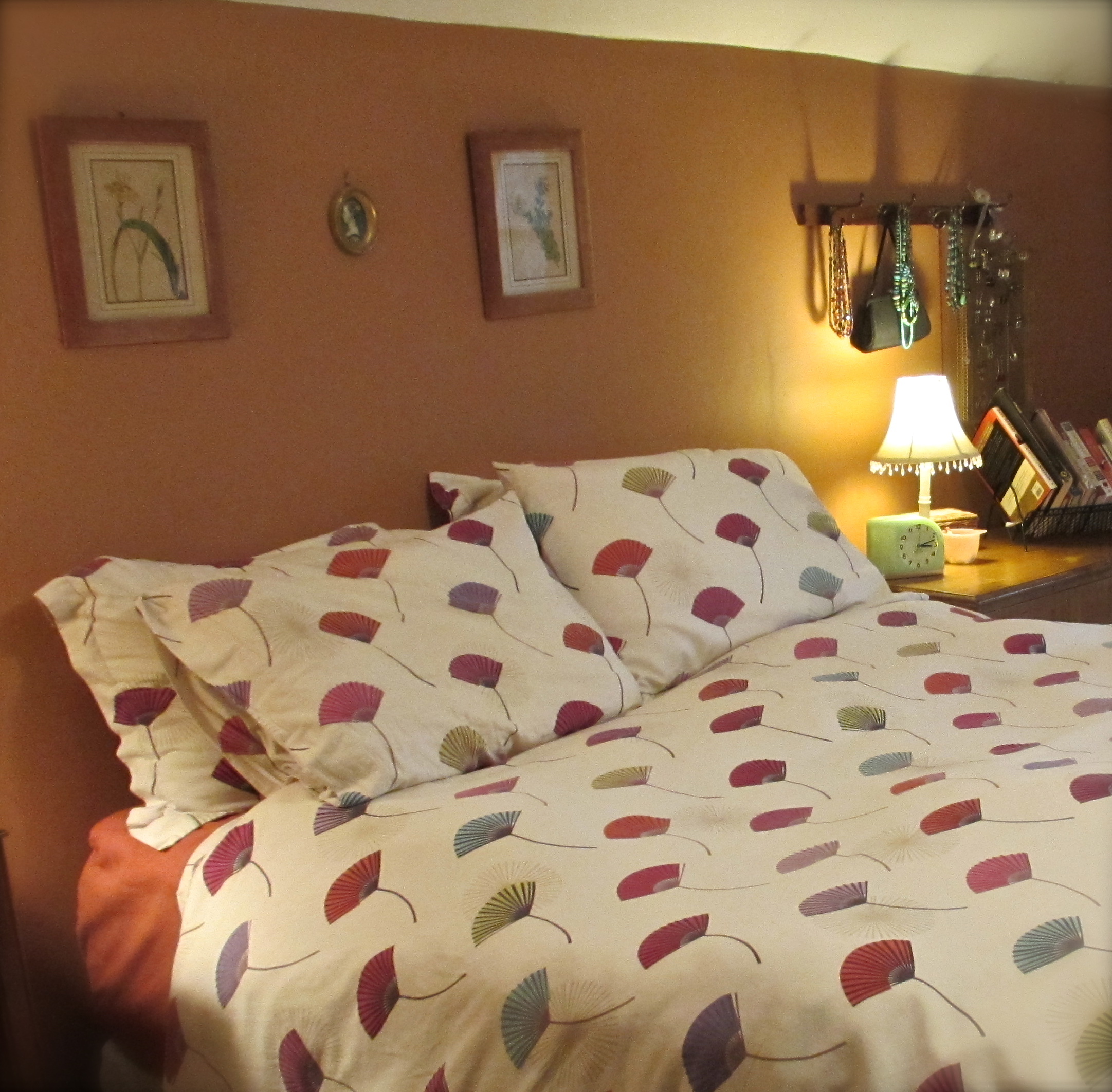 After: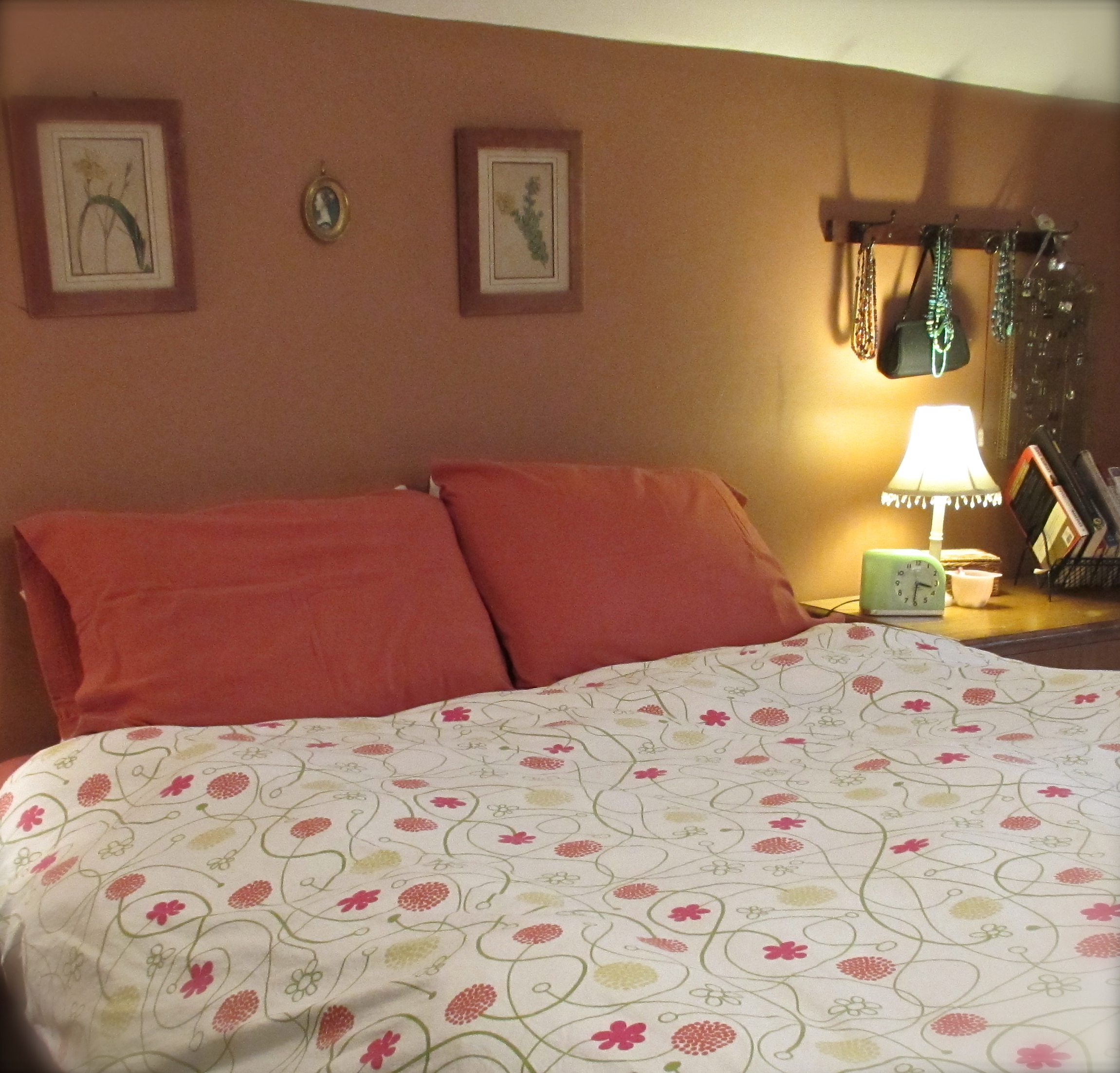 I love the new look, and it's nice and warm without being overwhelmingly hot.
And most importantly, it has no discernible Goodwill stank!
Yippee!
Katy Wolk-Stanley