It's time again for Non-Consumer Mish-Mash, where I write a little bit about this and a little bit about that.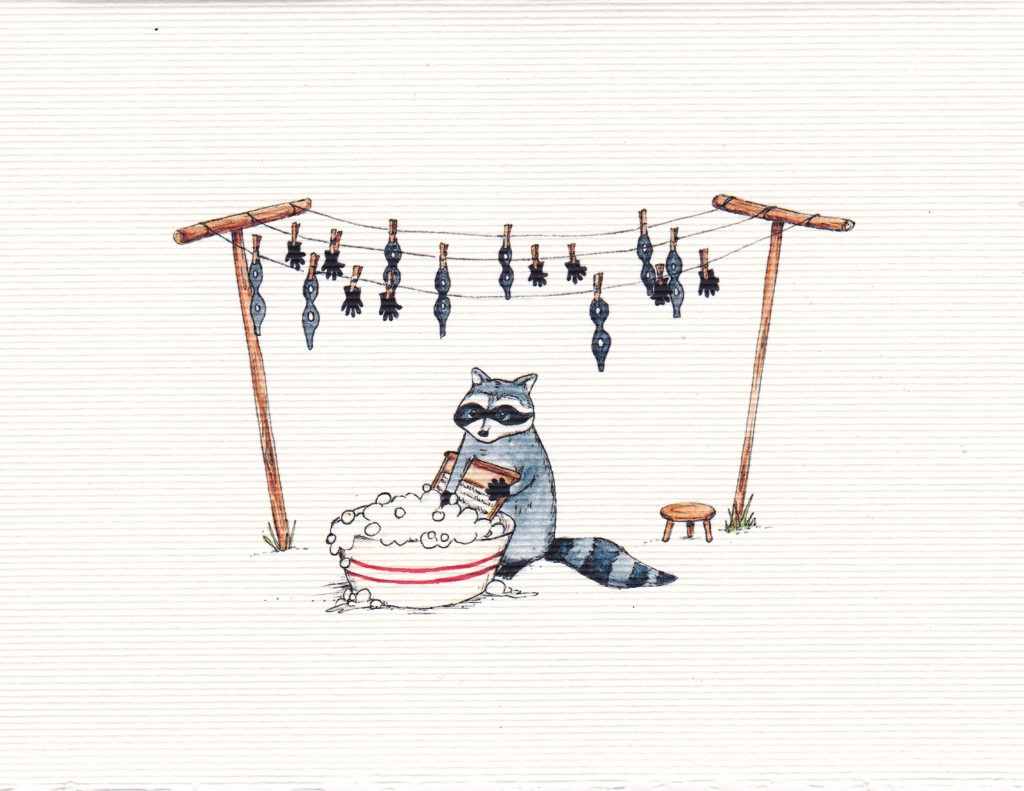 The Neighbors Love My Clothesline!
It's no secret that I ♥ my clothesline. I love the energy savings, the love the routine of the chore, I love how my laundry smells after a warm afternoon in the sun. I love it all!
However, I am fully aware that just because I enjoy the sight of our underwear flapping in the breeze doesn't mean everyone does. Luckily, I do not live in a neighborhood with a covenant that bans clotheslines, so I get to do pretty much whatever I want.
And I was pleased to find a lovely artisan made card in my mailbox the other day featuring an illustrated raccoon hanging her masks and gloves on the line. Inside was a sweet note from my "admiring neighbors" whom I adore.
Then again, their property does not overlook my clothesline. 😉
Gender Equality in the Home
Of all the designers on HGTV, Emily Henderson is my favorite. And no, it's not just because she's from Portland. (Although it doesn't hurt!) She has her own personal style that relies on thrifting and repurposing, and that, my friends, is the way to my heart.
She wrote a blog piece recently about Design Compromise for Couples that's actually quite insightful. She uses her and her husband's decorating process as an example.
"It's hard for couples to decorate together for 1 million reasons.  He wants comfortable, she wants beautiful. He wants inexpensive, she wants realistic if not luxury.  Ultimately your space does need to reflect both of your tastes in order for both of you to be happy walking through that door at the end of a long day, so i'll tell you how through the example of me and Brian, Mr. and Mrs. Henderson."
It's a great article, and I recommend it highly!
Click HERE to read the blog, and most importantly, see the pictures.
KWS on WGN
I got a large number of interview requests after my Today Show appearance, and although I turned a few of them down, I tried to accommodate as many as I could. Mostly the interviews were for print media, but one was for WGN Radio in Chicago. I agreed, as I like doing radio interviews because:
I don't have to wear makeup.
The format is usually very informal, which I like.
No one knows that I'm sitting on my couch wearing pajamas.
Unfortunately, this particular radio program started at 10:30 P.M., and I hadn't thought about how I would still be on New York time. Which is why I start to ramble and ask for questions to be repeated towards the end.
Click HERE to listen to the interview. You can even download it as a podcast!
Rapping About Thrifting
First off, this video is not for everyone, as the singer refers to thrift stores as "F*@%ing Awesome." So don't click if you find that kind of language offensive. (Or if you're at work.)
But for the rest of us, I highly recommend this f*@%ing awesome video from Mackelmore and Ryan, who appear to be from Seattle.
Katy Wolk-Stanley
"Use it up, wear it out, make it do or do without."
Click HERE to follow The Non-Consumer Advocate on Twitter.
Click HERE to join The Non-Consumer Advocate Facebook group.
Click HERE to follow The Non-Consumer Advocate on Pinterest.