My sister and her kids are still visiting from New York, and it seems like our days are go, go, go from the moment we wake up until we finally crash into bed, usually after midnight. It will end up being an almost three week visit, and I will need a vacation to recover from it all by next week. Mind you, I'm not complaining. I hate that my sister lives 3,000 miles away.
So rude.
Here are a few photos from our frugalicious fun: Hiking up to Wahclella Falls in the Columbia Gorge, photo courtesy of my sister's iPhone and her groovy panorama function. (Click on the photo to enlarge.)

Finding odd things at Goodwill, such as an official Cirque Du Soleil souvenir dress. Who buys a dress as a souvenir?! Actually, it was kind of cool. Also, I will forever and always take photo while holding a dress in front in front of my middle-aged spread. Suuuper flattering.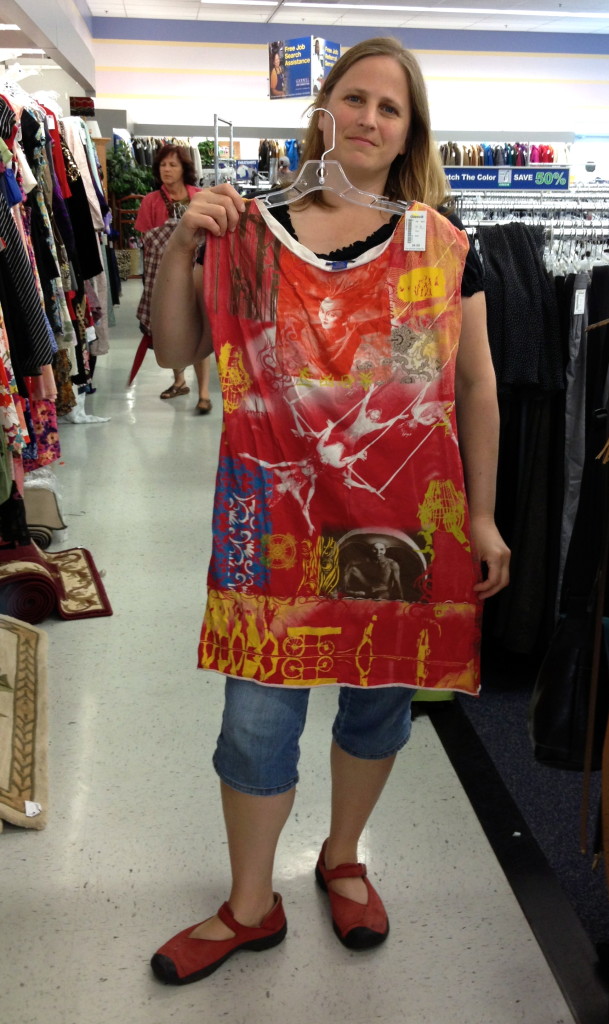 And finding wonderful and wacky thrift shop finds like this gem: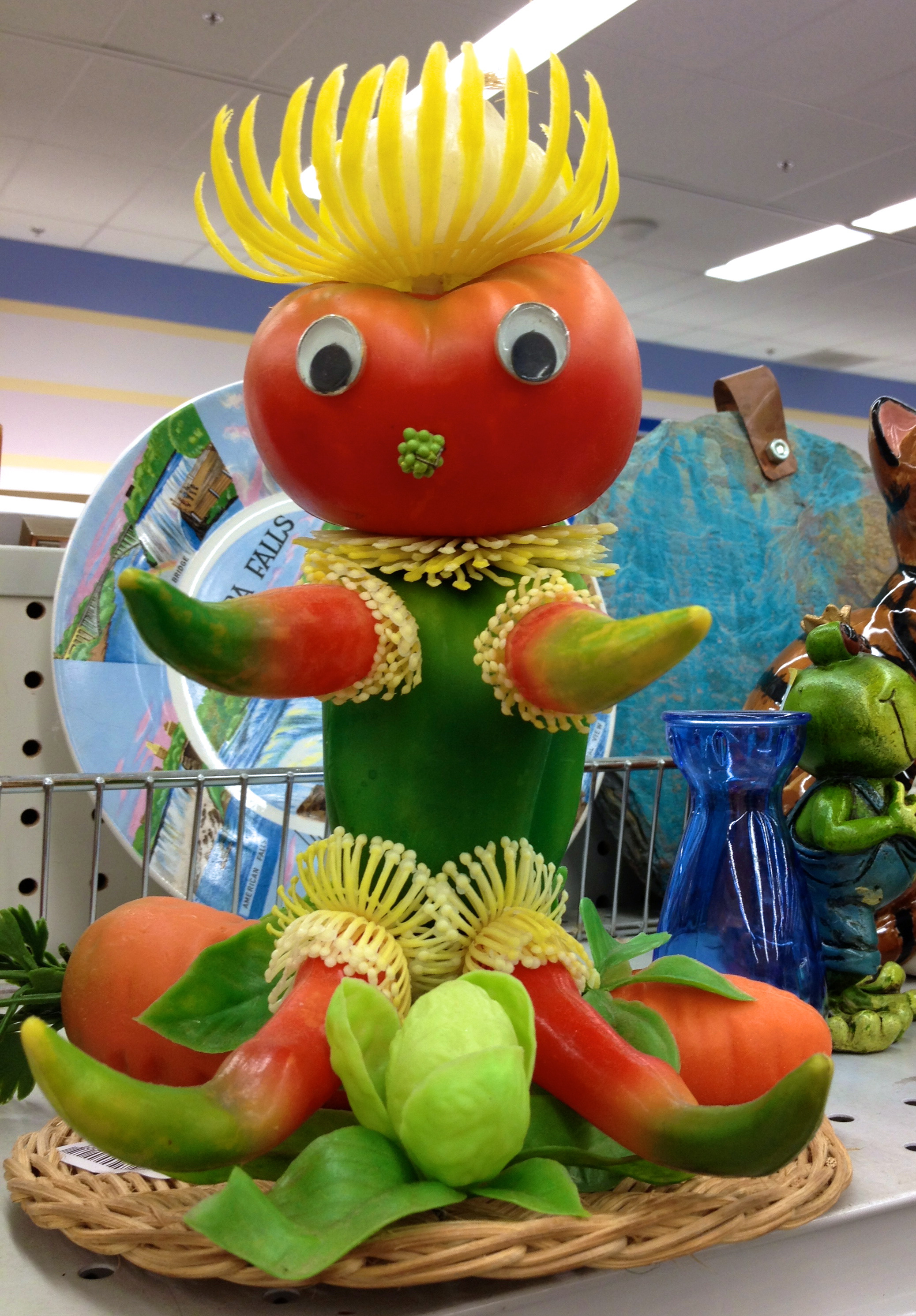 There's so much going on with her I don't even where to start! First of all, the arms come from the front like horrific pointed pepper breasts. Which of course means . . . no arms. She also appears to have just given birth to a cabbage. (Makes me wonder about who the father was.) And best of all are her googly eyes. I ♥ googly eyes, which featured prominently on every craft project from 1972 – 1979, which incidentally were my prime crafting years. I'm dubbing her "Carmen Mir-What The Hell."
Thrifting is such great entertainment!
And let us not omit our bestest and most wonderful frugal social summer activity, which was STAR TREK IN THE PARK!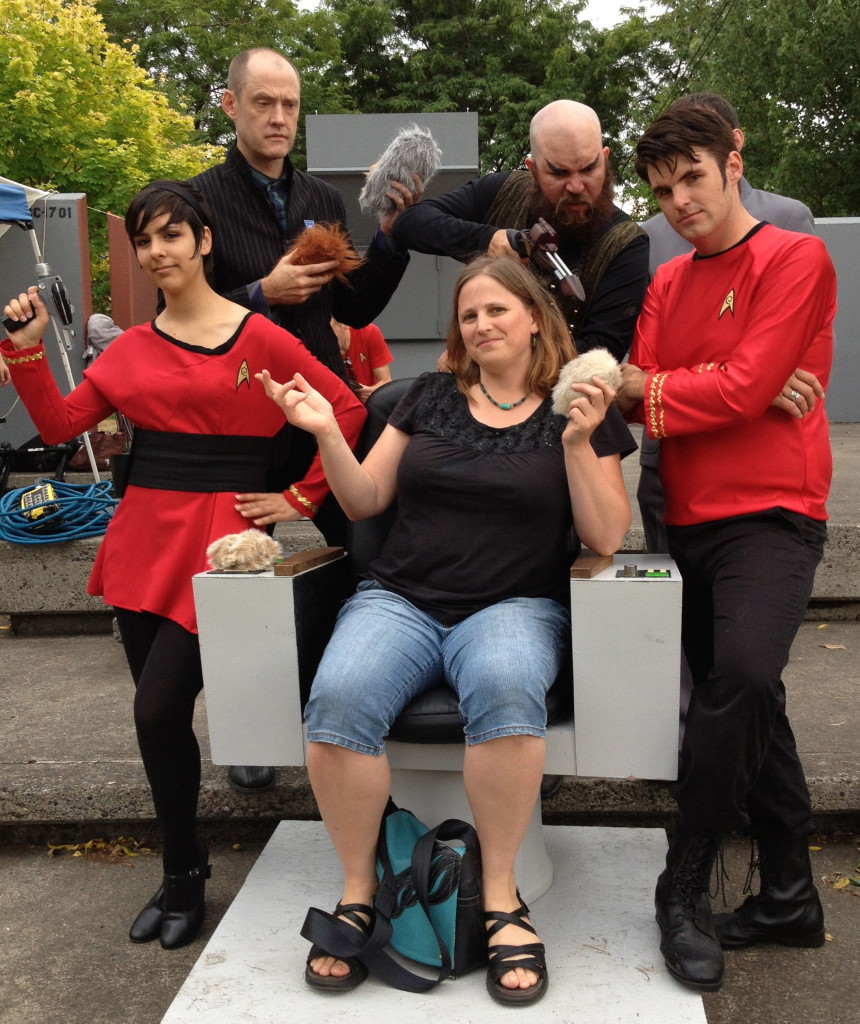 And you guessed right, this year's production was The Trouble With Tribbles. Sadly, this end's Atomic Arts' "five year mission," which means that next summer will be sadly devoid of Star Trek goodness.
So sad . . .
Good thing I have five more days before my sister flies back to New York. Are you enjoying your summer months? Please share your frugal fun in the comments section below.
Katy Wolk-Stanley
"Use it up, wear it out, make it do or do without."
Click 
HERE
 to follow The Non-Consumer Advocate on 
Twitter
.
Click 
HERE
 to join The Non-Consumer Advocate 
Facebook
 group.
Click 
HERE
 to follow The Non-Consumer Advocate on 
Pinterest.