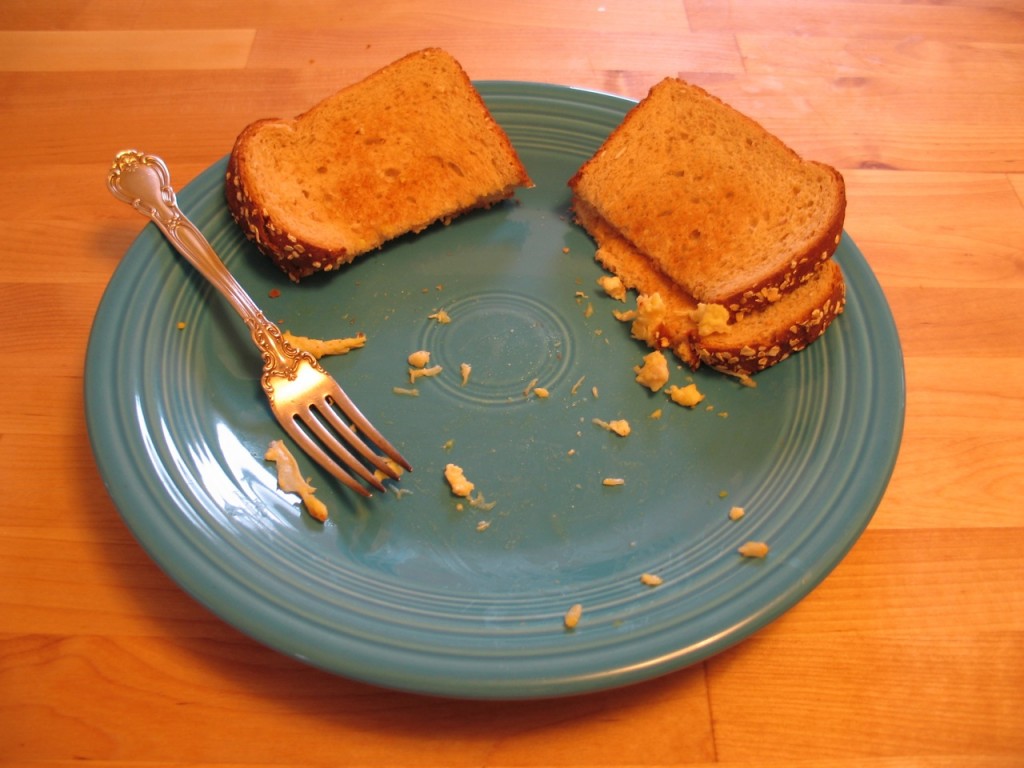 I don't know about you, but avoiding food waste in my house is a full time job. I'm constantly scanning the fridge to make sure that leftovers don't transform into swamp monsters, and I employ all sorts of  food waste avoidance tactics such as buying perishables in smaller amounts and storing all refrigerated food in clear glass Pyrex containers whenever possible.
But there's an ill advised food waste avoidance method that I'm certainly guilty of. I eat more than I need to in order to keep food from getting thrown away, (or composted.)
I prepared a lovely brunch for the family today. I had picked apart a crab last night, (one sale, extra discount and making sure to eat it before it got, ahem . . .  fishy.) so I made a delicious dish of crab and scrambled eggs. I also made toast to accompany the meal. Unfortunately, my 15-year-old son wasn't in the mood for toast and left his untouched. My first reaction was to eat the toast myself in the name of the Waste No Food Challenge. Luckily, my critical thinking self took over and smacked me upside the head to remind me that overeating is never the answer.
So what did I do with the toast?
Well . . . I have put it in a plastic bag and will rip it into small pieces for the birds. I know it's not the perfect solution, but it's better than throwing it away, composting it, (mice!) freezing it, (I already have enough crusts in there awaiting their reincarnation as bread crumbs) or eating when I'm already full.
Some food waste is inevitable, especially with children. And I don't want to be that mom who enacts a clean plate club rule. Children need to learn to stop eating when they're no longer hungry.
Really though, two pieces of toast is nothing when you look at the big picture. Every day, Americans waste enough food to fill the Rose Bowl. But the majority of food waste happens before it hits our refrigerators, so I'm not going to beat myself up too much.
Make sure to check out Jonathan Bloom's American Wasteland to explore the myriad issues related to food waste.
Katy Wolk-Stanley
"Use it up, wear it out, make it do or do without"