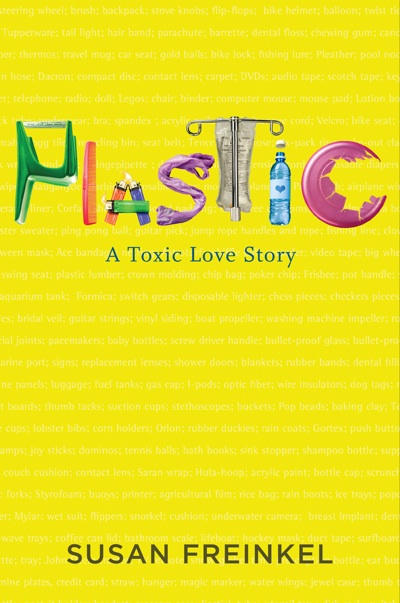 Congratulations to Erin whose comment was randomly chosen to win a copy of Susan Freinkel's Plastic: A Toxic Love Story. I will be mailing out her book at the same time as this week's eBay purchases. (Gotta batch those errands!) Thank you to everyone who wrote up their plastic minimizing actions in the comments section. Great ideas from a great community.
Here's just a few of the wonderful comments. Click HERE to read them all!
Erin:
"Wow, this sounds like a great book. I would love to give it a read. I have spent the past year focusing on not using plastic bags from the grocery store. We have decreased our number of them a significant amount. We will continue to do this as well as reusing plastic containers before buying new ones."
Marianne:
"I try to find items without plastic packaging (glass or paper) but also try to find items without any packaging too! My new favorite thing is to bring little mesh laundry bags to the grocery store to carry fruits and veggies instead of taking a plastic one off the roll. I keep them in my canvas bags so they are always accessible."
Queen Lucia:
"I'm going to follow the Frugal Girl's example and make homemade yogurt in glass containers. We eat a lot of yogurt and I'm tired of tossing the plastic. I could choose to reuse the containers, but A) I just couldn't reuse that much and B) they are not quality containers, so couldn't reuse for long. Thanks for the chance to win this!"
Summer:
"We have stopped buying bottled water. We saw "Tapped" about a month ago and have not bought a plastic water bottle since. It's silly how easy it is to mindlessly consume plastic."
Lauren:
"Since moving in together, my boyfriend and I have begun using mason jars of all shapes and sizes as food storage containers. We do not buy soft drinks in plastic, and I have given up purchasing yogurt in plastic cups, and instead make my own in glass containers (milk still comes in plastic though, boo). I bring my lunch to work each day is reusable containers, using actual silverware, and I never have garbage to throw away at lunch. We use reusable grocery bags at the supermarket (and other places too). I think it is a success to go a few days at a time without having to put plastic trash in the recycling bin. This year, we turned a dozen gallon water bottles into a container her garden."
Kayduh:
"I bought a set of flatware at the thrift store to use when I bring my lunch to work. No more disposable flatware!"
Ciara:
"I am trying to get into the habit of keeping a "to-go" container on me at all times. For restaurant left-overs."
Elizabeth B:
"I've already got some bags for bulk goods–I made the bags out of a bleach-accident sheet that I got for practically nothing at Goodwill–but I need to make more, because I sometimes still run out and have to use plastic."
Marci:
"One area I focused on the reduce plastic use is the bathroom. We switched to solid bar products for soaps, shampoo and conditioner. No more bottled body wash, hair care products and bubble bath. Many bar soaps are sold in paper packaging and the ones from artisans at farmers markets usually just have a simple paper wrapper. Lush carries a nice selection of solid shampoos and conditioners and our local health food store recently starting stocking some solid shampoo options. My husband now uses a shaving brush, bar and mug instead of canned shaving cream. And even though our razors and toothbrushes are plastic, we switched to the ones made by Preserve. When it is time to replace the toothbrush or razor, we can ship them back to the company who will use them to make park benches and play equipment."
Yuliya:
"My next step is to shop the bulk section with my own containers. And after that it's figuring out how to make my own yogurt."
Gerard Kiernan:
"We use a seltzer maker and no longer buy seltzer in disposable bottles. Less cost , less work, less plastic. A triple win."
Dannon L:
"I would not use straws when I go out to eat."
Thanks again to everyone who entered. Your ideas were both informative and inspirational!
Katy Wolk-Stanley
"Use it up, wear it out, make it do or do without"