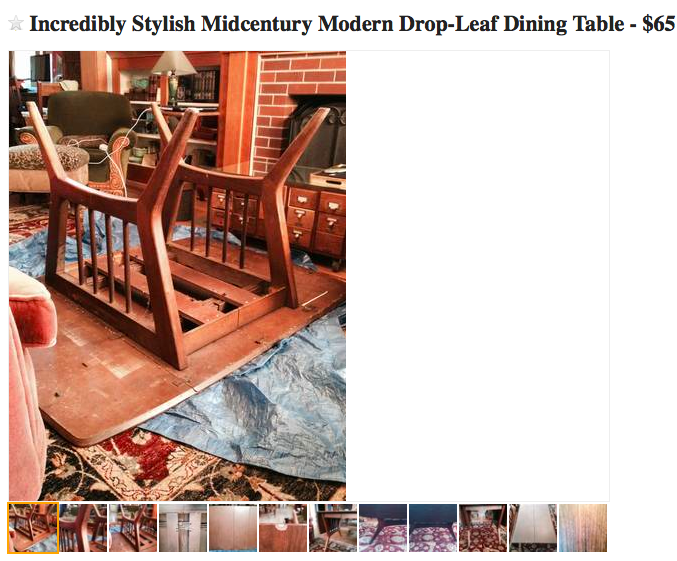 Although I work as a part-time nurse, I also rely on a myriad of alternative sources of income. (I call it my "patchwork income.") I help my mother run her guest cottage business, I blog and I also resell thrifted finds through eBay, Etsy and Craigslist. Some might ask why I don't just switch over to full-time work, but my job requires me to be gone from 6:20 A.M. to 8:15 P.M., which makes it next to impossible to run a household and be present for my family.
Plus, I really enjoy the challenge of finding under appreciated thrifted finds, cleaning them up and then finding new homes for them. I consider it to be free money, especially when I sell through Craiglist, which charges no fees and does not require packaging and shipping.
I recently experimented with putting an Etsy store together to sell some of my lovelier vintage finds. (Etsy allows you to sell either homemade or vintage/twenty-plus-year-old items.) I set up a makeshift photo studio on the front porch and was able to quickly list eighteen items. Almost immediately I sold two things, (a midcentury menorah and a Dansk casserole dish) and then nothing else.
If my Etsy shop had a soundtrack, it would include the sounds of crickets.
I decided that eBay's larger audience might be a better forum for my wares, so I spent an hour or so switching everything over to their online marketplace. I've sold hundreds of items with eBay since 2005, and even had my own eBay store in 2006. eBay was good to me, but the grind of listing, packaging and mailing items got to be a pain in the tuchus, so I've mostly just sold in fits and spurts in recent years.
I've always done very well with eBay, and can only recall a few things that haven't sold. However, my current items are currently sitting unloved and unbid upon. It might be because I've priced them too high, it might be due to the non-exciting nature of the items themselves and it certainly might be due to other factors that I haven't even considered. Whatever it is, I have fifteen items up on eBay right now, and only one has an opening bid. They don't end until tomorrow evening, and I do expect that I'll get a few last minute bids, but at this point nothing would surprise me.
I used to start my eBay auctions at 99¢ to generate interest, but I've been burned that way, and found that it's better to just start the price at how much I actually want to get for the item. Sometimes there's just one buyer for your whoosey-whatsit, and it's better to price it correctly.
Ironically, I left two items up for sale in my Etsy shop, thinking they were not worth putting up on eBay, and one of them just sold. So yeah, it's kind of a crapshoot.
My favorite and simplest method to sell is through Craigslist. However, I mostly only use it for larger items like furniture, anything that would be difficult to ship and highly desirable items like expensive children's toys. Unfortunately, Craigslist requires a human interaction, which has its own inherent risks. Many Craigslist sellers prefer to meet with buyers at a neutral location like a coffee shop, but I'm lazy and do not relish the idea of waiting for a flaky buyer who may or may not ever show up. So I do have buyers come directly to my home.
If you sell on Craigslist you will get some phishing responses. However, they're really easy to vet. A genuine response will mention the item you're selling and will usually ask a question or two.
A fake Craigslist response will look like this:
"Is your item still for sale?" There will often be poor spelling and grammar as well.
A real Craigslist response will look more like this:
"I'm really interested in your table. Is the top solid wood or a veneer? I can come by either this afternoon or early tomorrow morning. Please let me know which works better for you. Thanks!"
See the difference?
Here's how I safely sell on Craigslist:
I make sure to have a couple of e-mails go back and forth before I give out my address. This way, I can get a sense of the whether the person seems hinky.
I put all items on the front porch, so the buyer never comes into my house.
I only sell during daylight hours.
I've sold at least a hundred Craigslist items through the years, and have never had a negative experience. And almost always, the person who comes to look at the item will buy it.
In the past week I've sold four Craigslist items:
A doll high chair. (Bought for $3, sold for $10.)
An Elf on The Shelf book/doll. (Bought for $7, sold for $18.)
A Pokemon X game for Nintendo DS. (Bought for $1.80, sold for $30.)
A vintage typewriter. (Bought for $15, sold for $65.)
I also have a few Craigslist items that have yet to sell, but since it's free to place an ad, and you can renew every 48 hours, I can be patient. (I probably relisted the doll high chair at least six times before it sold.)
The true key to reselling is to only buy what you know about, and to only buy when something is significantly underpriced. I'm not paying $35 for a $50 item, and I'm not buying things that I'm unsure about. There are countless categories that do not fall under my area of expertise, and I'm sure I've passed up zillions of potential sales while out thrifting. I also prefer to pay just a few dollars for items that I plan to resell. That way if I'm wrong about the sale-ability of an item, I'm not out too much money.
Also, whatever method you use, take the very best photo you can. I just use my humble iPhone, but I keep the photo unfussy, make sure the background looks nice and clean, and include as many detail shots as possible.
Do you resell items, and if so do you have anything to contribute? Please add your ideas and questions in the comments section below.
Katy Wolk-Stanley