The following is a reprint of a previously published post. However, Dave Wann (the author of this book) sent me an extra copy to share with The Non-Consumer Advocate community. So enjoy this bonus opportunity to win a great book!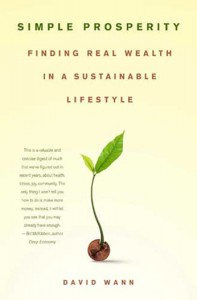 I was running errands over in Northeast Portland yesterday. Dropping off kid stuff at the consignment shop, hanging out with my friend Sasha, loading up on gourmet goodies at The Grocery Outlet, (I had a coupon!) and meeting up with my step-mother for a cup of tea. I had a few minutes to kill, so I decided to pop into The Title Wave bookstore, which sells old library books. (I had a $5 voucher, which was burning a white hot hole in my pocket.)
I decided to buy a couple of books to use as giveaways for the blog. I quickly found copies of Dave Wann's Simple Prosperity: Finding Real Wealth in a a Sustainable Lifestyle as well as Vicky Robin and Joe Dominguez's Your Money or Your Life.
Long time readers will recall that Simple Prosperity was used for The Non-Consumer Advocate book club last year. A great idea that proved beyond my time/energy constraints. (Seriously, I cringe with shame whenever I think about how I dropped the ball on this one.) However, I'm still a great fan of this book and now have a genuine sent-by-the-author book to use as a giveaway!
To enter to win your own personal copy of Simple Prosperity, enter your name and one change you've made in your quest for simple prosperity in the comments section below. The winner will be randomly chosen Monday, August 16th at midnight PST. U.S. residents only, please enter only one time.
Good luck!
Katy Wolk-Stanley
"Use it up, wear it out, make it do or do without"