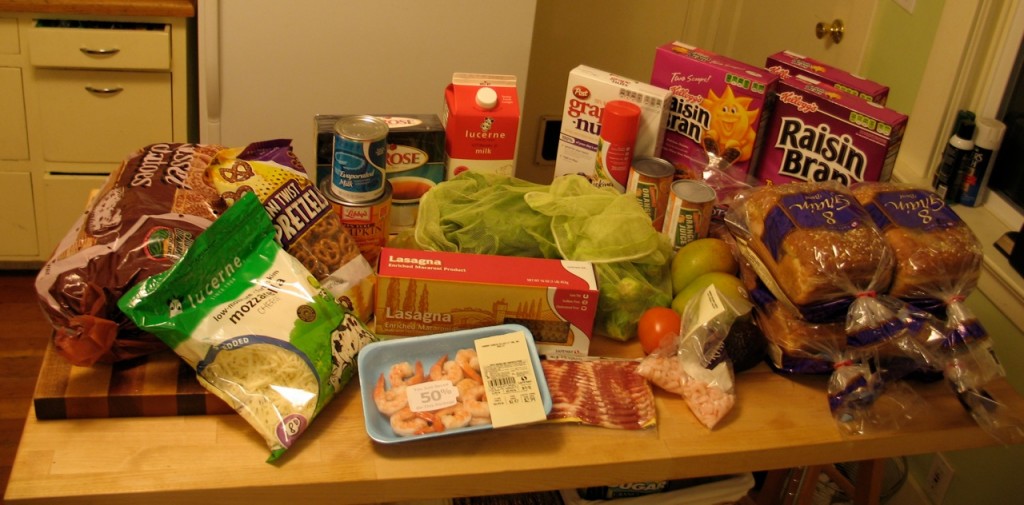 Yesterday was a busy day for me. Not only did I work, but I also needed to do a big grocery shop as we had finally finished up the bulk of our Thanksgiving leftovers, and the inside of the fridge was so empty that tourists were starting to show up to yell the word "echo" into it. (Which wouldn't be so bad, except that they kept tracking mud into the house.)
Luckily, I had a fresh $10 off $50 Safeway coupon to use, so I gathered up my reusable bags and drove out into the dark and rainy night. Here's what I bought:
Box of 100 Red Rose tea bags
Bag of pretzels
One can of evaporated milk
One box of lasagna noodles
One can of "Pam" style spray canola oil. (If I don't use this, I have to use cupcake liners for muffins)
Three boxes of Raisin Bran*
One box of Grape Nuts*
One can of pumpkin puree
Two pound bag of shredded mozarella
Half gallon of whole milk
Two cans of concentrated orange juice
Four loaves of bread
One pound of bacon
Two packages of shrimp
One avocado
One tomato
One head of romaine lettuce
A pound and a half of brussel sprouts
Two mangos
A ten pound bag of potatoes
One pound of deli ham (Dinner was two huge sub-style sandwiches on nice french bread)
* = Used a coupon.
In all I spent $46.76, plus received a coupon for $2 off my next orange juice purchase. Although it was the last thing I was in the mood to do last night, I'm happy I got the shopping over with. Now, I have enough dinner ingredients for a number of meals, plus those pesky tourists will stop mucking up my house.
Now, if I could only find my mop . . . .
Katy Wolk-Stanley
"Use it up, wear it out, make it do or do without"