Remember how I talked the talk about making homemade yogurt for the SNAP/Food Stamp Challenge? Well the challenge is over, but that doesn't mean that my yogurt aspirations have expired. I've made homemade yogurt in the past using my vintage Salton yogurt maker, but I've always felt like the amount of work to actual amount of yogurt ratio was skewed in the direction of not worth the effort. 
I've noticed that The Frugal Girl's homemade yogurt recipe seemed to produce a large amount of product, so I decided to take a stab at her recipe. And boy am I glad that I did, because yum, yum and . . . yum.
I won't write out the whole recipe, as it's far easier for you to just CLICK HERE to read The Frugal Girl's one. But here are the steps.
First of all, take a moment to picture a lovely bowl of yogurt, perhaps even topped with homemade plum jam.
Like so: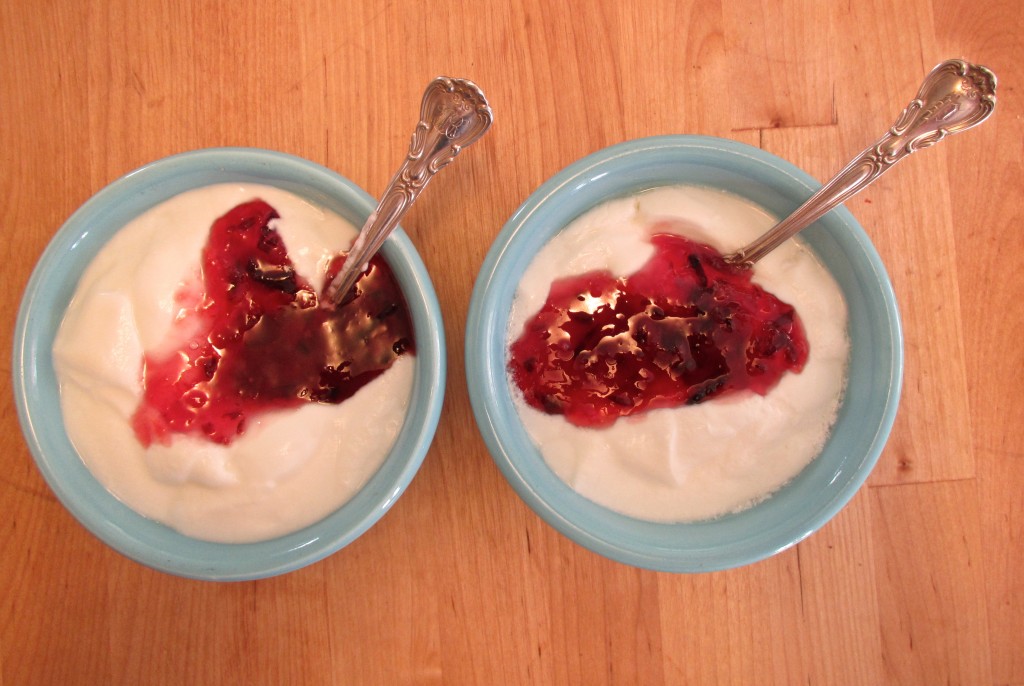 Now heat up the milk, making sure to keep an eye on the temperature: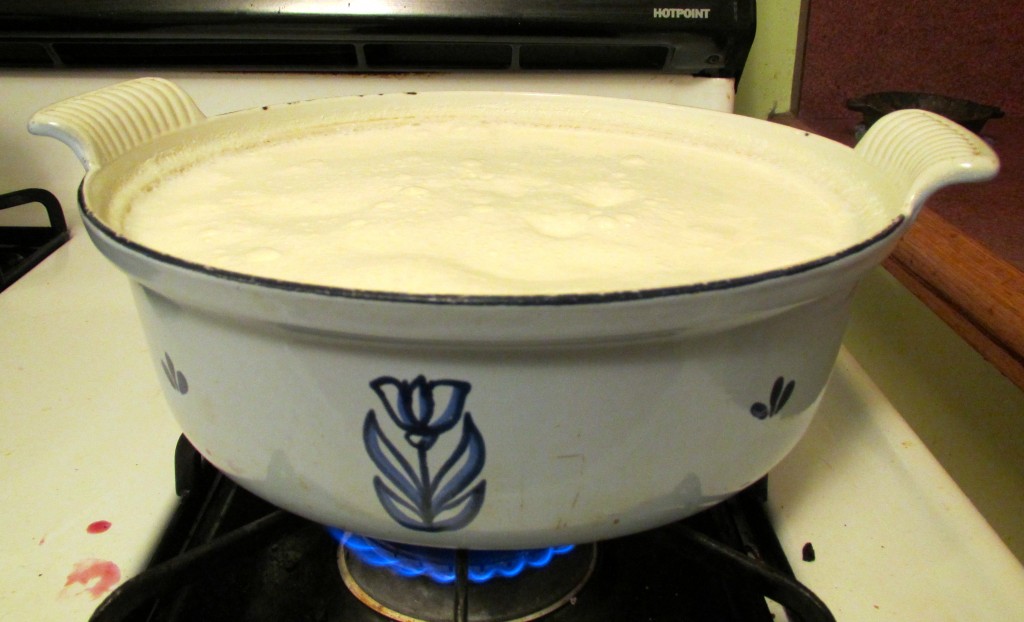 I suppose we should take a moment to bask in the beauty that is my vintage Dutch oven. Because, it is indeed awesome, especially when the lid is in place.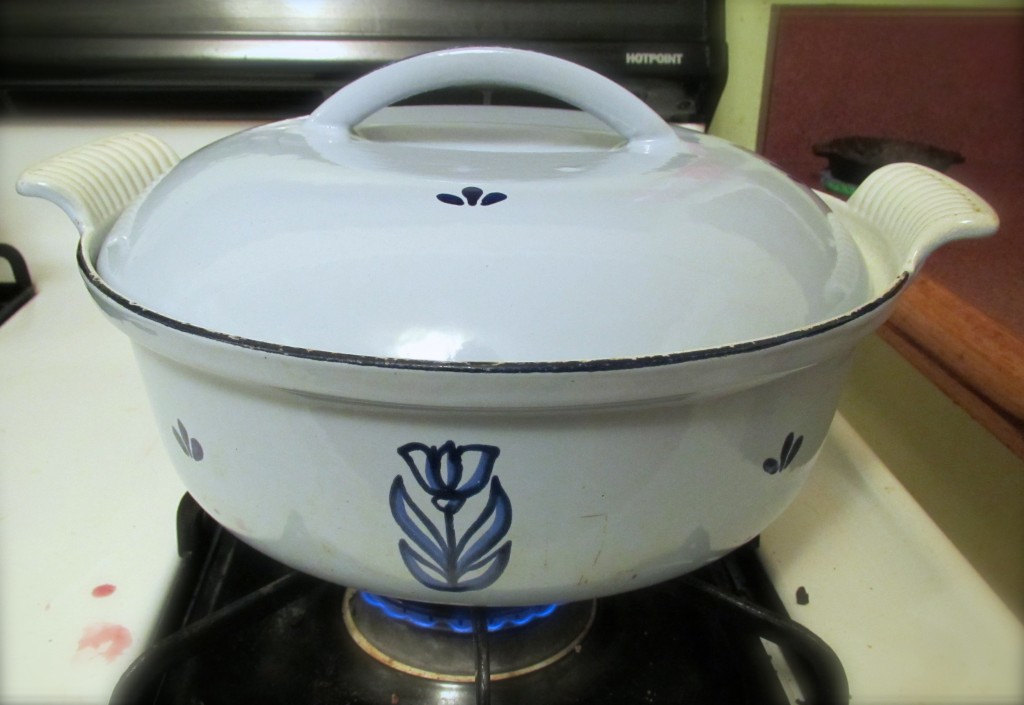 This what the milk looks like when it's just the right temperature. (185°)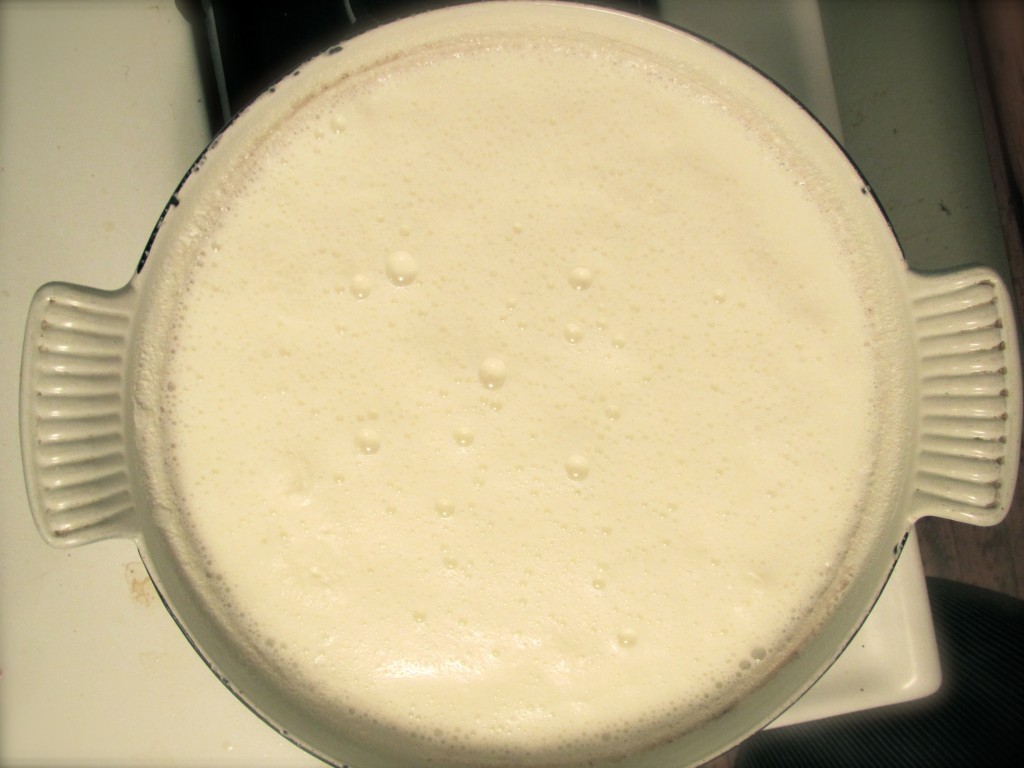 At this point, the milk is then poured into a large pot, which sits in a cooling bath of cold water. I didn't want to put my pretty vintage hot pot into cold water, for fear of damage. But a regular stainless steel pot would be fine to set into cold water. Once the yogurt cooled to 120°, I whisked a small container of plain yogurt into the milk.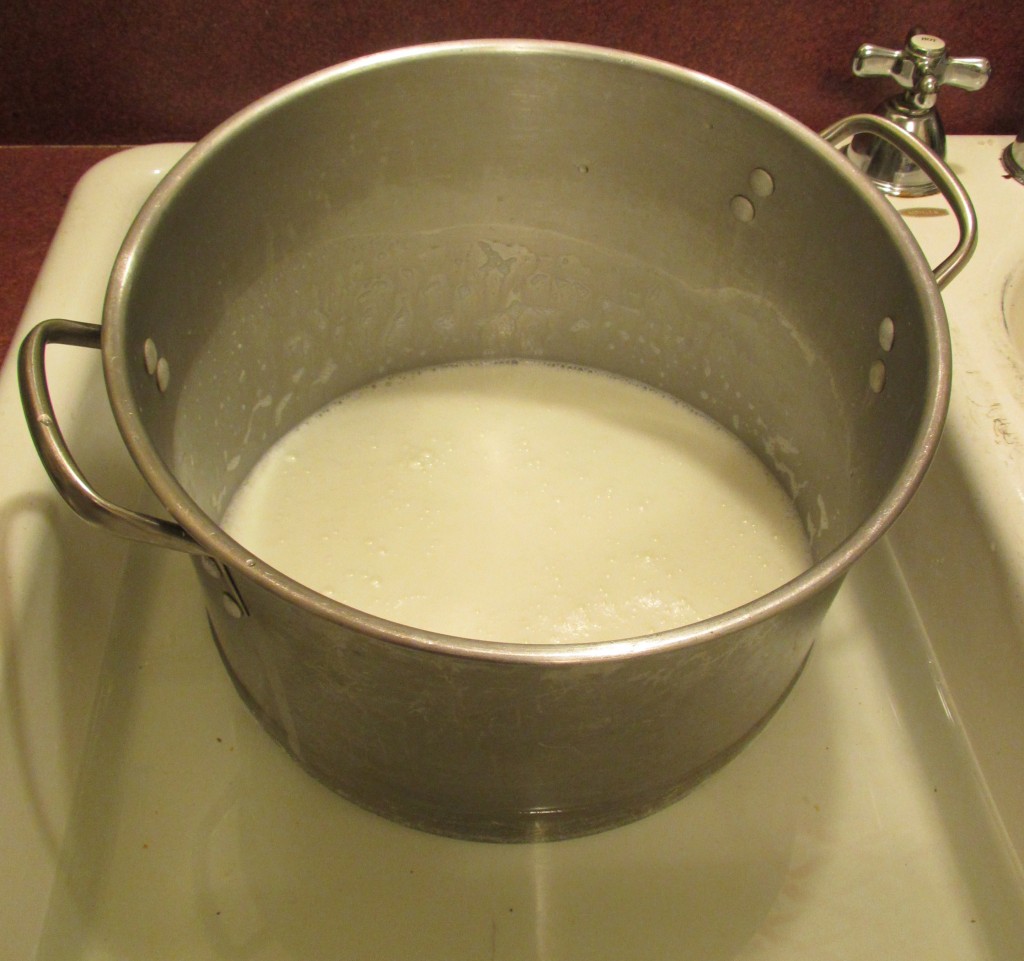 I then poured the milk/yogurt mixture into freshly cleaned jars. This is where making yogurt wins over canning, as plain ol' mayonnaise jars and Pyrex dishes work just fine. No need for special fancy-schmancy Mason jars.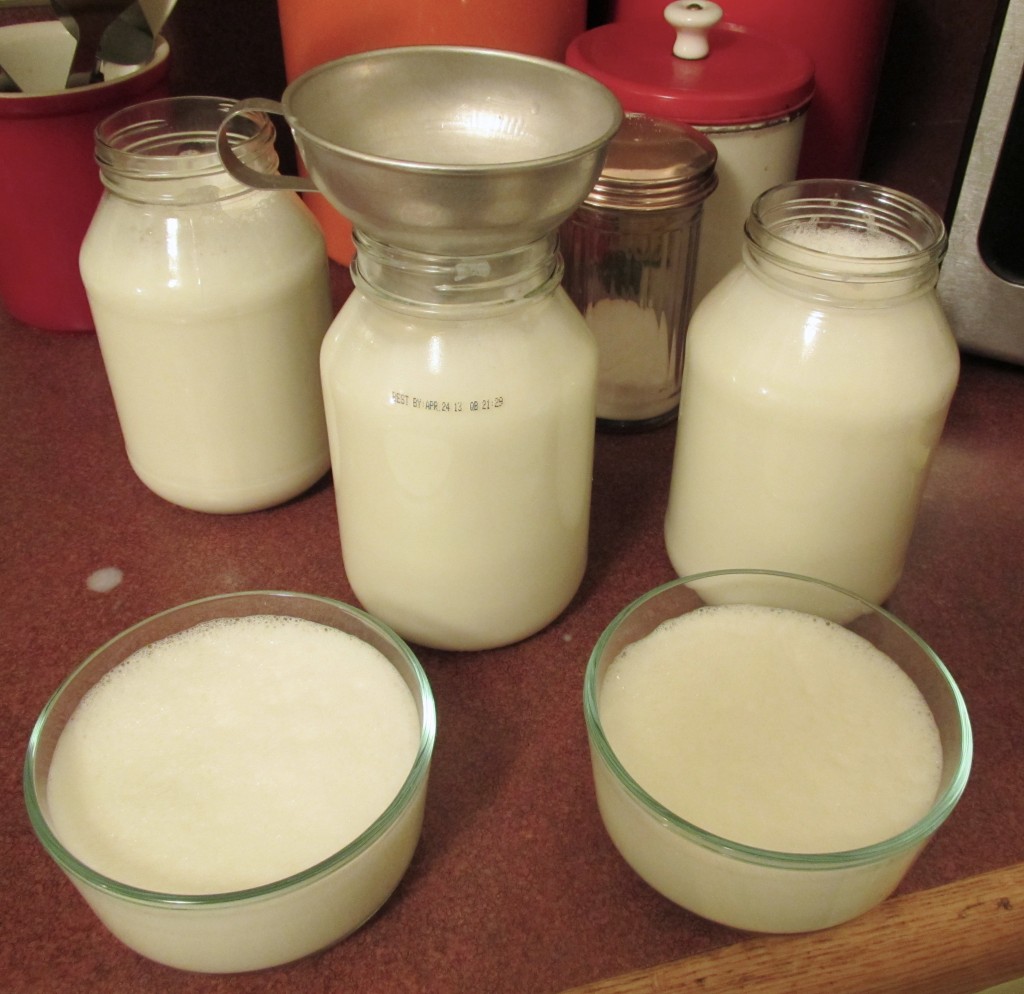 I then put lids on the jars and set them in a cooler partially filled with warm water. I kept the lid in place and ignored the yogurt for three hours, and then refrigerated everything overnight.
How good was the yogurt? My husband, who formerly would only eat the Chobani yogurt ($1 to $1.50 per tiny cup) gave it two enthusiastic thumbs up.
Now, I can sleep easy knowing that America's newest billionaire can make his riches off of someone else.
Again, behold my yogurt: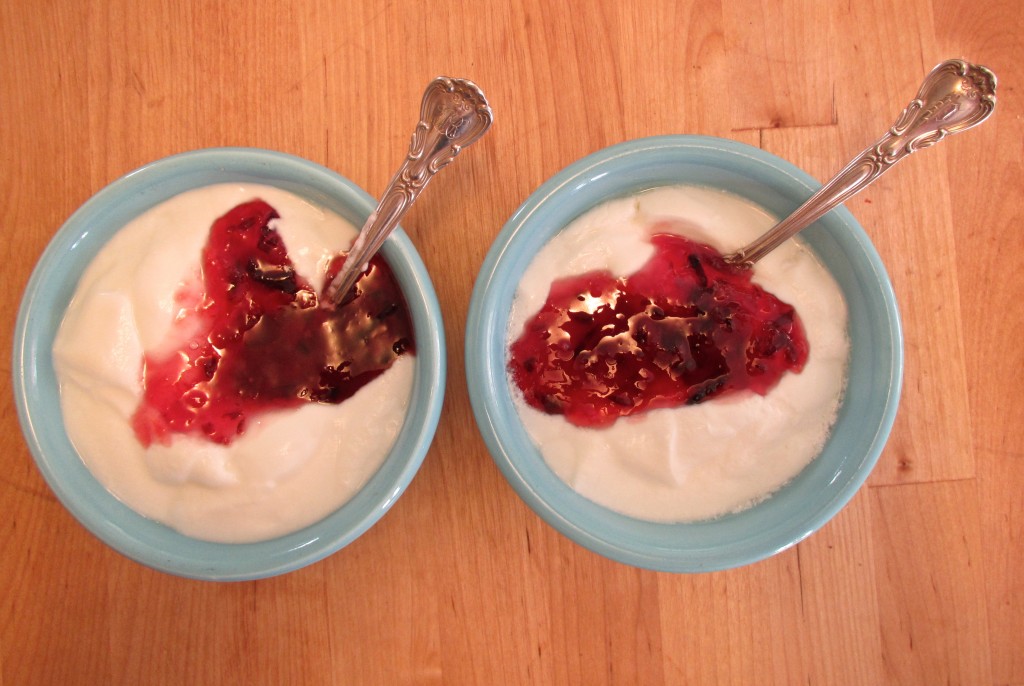 Have you tried making your own yogurt in the past? Please share your stories and tips in the comments section below.
Katy Wolk-Stanley
"Use it up, wear it out, make it do or do without."
Click HERE to follow The Non-Consumer Advocate on Twitter.
Click HERE to join The Non-Consumer Advocate Facebook group.
Click HERE to follow The Non-Consumer Advocate on Pinterest.