The following is a reprint of a previously published post. Enjoy!
Do a web search for green cleaning products, and you'll find a bajillion results, ranging from expensive store bought products to a myriad of feel good homemade concoctions. Heck, I've even been known to post a recipe or two on this very blog. But really, the greenest cleaning methods have always been and will always be elbow grease. That's right, fellow non-consumers, put your back in it, work up a sweat and git scrubbin'. The scientists behind toxic automatic shower cleaning sprayers and toilet cleaning tabs are selling you on the idea of a clean house without actual muscular effort. But unless you have physical limitations that bar your scrubbing power, chemicals that melt soap scum and water spots do you (and your, ahem . . . planet) a disservice.
I have a vintage bun warmer pan that I bought at Goodwill in 1990 or 91. It is the perfect pan for cooking pasta, because it weighs next to nothing and has a swivel top that allows for a small amount of steam to escape, thus avoiding the inevitable boil-over. I think I payed a buck or two. However, I recently burned the crap out of this pan, and was considering it a complete loss. I was even keeping an eye out at Goodwill for a replacement, when I remembered that my sister Jessica had given me a box of soapy steel wool pads for Christmas. (She knows me so well.)
So I rolled up my sleeves up and got my scrub on.
The burnt crud came off pretty easily. Not so easily that there was no satisfaction in the job, (what fun would that be?) and I was suddenly filled with childhood memories of my father scrubbing pots and pans to their very shiniest and showing them off to my sister and I, who were about as interested as toddlers at a meditation retreat. Luckily, my father swung by yesterday afternoon, and was appropriately impressed with my scrubbing prowess.
And yeah, my elbows are buttery soft. Thanks for asking.
Before: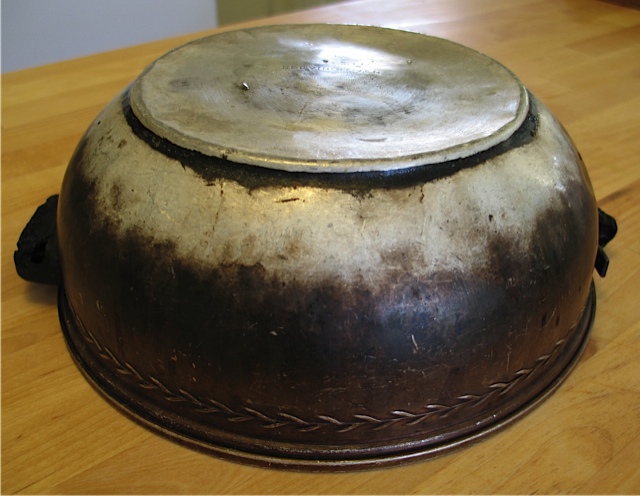 After: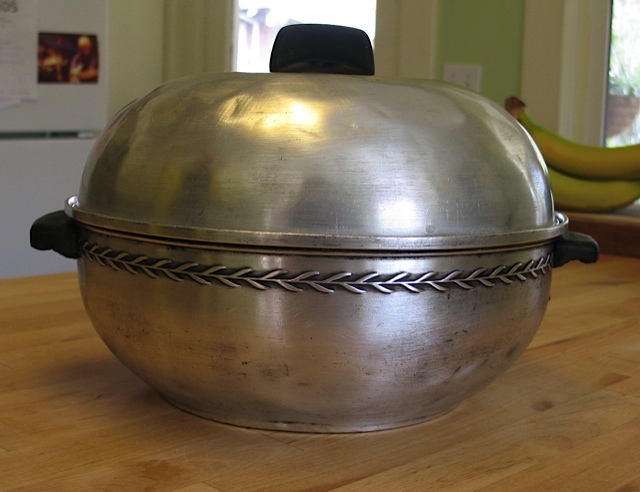 Katy Wolk-Stanley