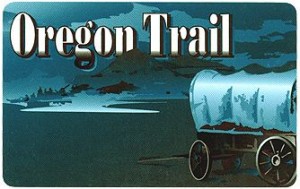 For my family, June of 2010 will be remembered as the month when we spent less than $350 on food. This is the amount that a family of four would typically receive were they receiving food stamps. As we normally spend around $450, it was not a terrible stretch for us, but I would be lying if I said it was easy.
There was only one meal out, (takeout Vietnamese food when I was sick) and I insisted that I take over 100% of the shopping and cooking for the month. I knew that my husband who is not a frugal shopper would ruin everything were he to make one of his typical Trader Joe's trips that tend to run $40+ for a single bag of groceries. Therefore, he was banned from shopping for the month.
In the end, we spent $100 less than normal, which I was able to send to The Oregon Food Bank as a donation.
I considered running this challenge again this year, but my family was so sure that they had been deprived in the name of a blog stunt, that it wasn't worth the lack of family harmony. It's ironic, actually, as I was so obsessed with concocting frugal yet delicious meals, that the family ate better than ever! There were no "Hey, who wants eggs?" kind of meals and I think drawing the card of get-out-of-making-dinner-for-a-month should be worshipped instead of complained about. But hey, that's just me.
Angela over at My Year Without Spending participated in the challenge without telling her husband, which I considered to be both clever and worthy of a movie treatment. (Oh, the mayhem! Oh, the possibilities for hijinks!)
However, I was really wanting to shine a light on the issues related to food insecurity, both throughout the blogosphere within my own family unit.
Julia Park Tracey of Modern Muse just learned yesterday that her coverage of the June Food Stamp Challenge won first place for multimedia journalism from the East Bay Press Club. And let me tell ya, she deserved it! I reprinted her posts a couple of times last year, as she really went whole hog with her participation and chronicling of the challenge.
So, congratulations Julia!
Last year's stats of 1-in-5 Oregonians receiving food stamp benefits prompted this challenge, and I recently had an opportunity to talk with a state employee about how this year compares. And the answer I received was that things are even worse this year than last.
Which brings me to this question:
Are you interested in participating (and reading about) another food stamp challenge? I am willing to dedicate the month of July to food insecurity issues if this is something you're interested in.
Please share your thoughts in the comments section below.
Katy Wolk-Stanley
"Use it up, wear it out, make it do or do without"