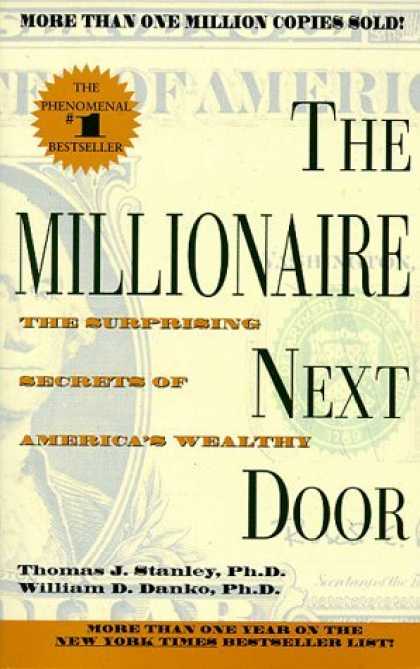 Congratulations to Judyy whose entry was randomly chosen to win a copy of "The Millionaire Next Door: The Surprising Secrets of America's Wealthy." Here's her winning entry:
"My folks always taught me that no matter how much or how little I made to always save at least 10% of it."
Thank you to everyone who wrote a little something about money to try and win a copy of this great book. (I'm re-reading this book right now and loving it just as much as when I first read it in 1997.) Here are a few of the insightful reader comments:
Katy Akers:
"I live on $750.00 a month. First, pay the necessities – rent, utilities, dog food. Then, spend what's left on food. Scavenge, garden, trade, re-purpose. I am sheltered, fed, and have good friends and family. 'Enough is a feast.' "
"I'm feeling very lucky right now…for the first time in our 20 year marriage my husband and I are on the same page regarding money-(spend less) and he's finally joined me on the de-cluttering and living more simply quest–it's really lightened up-we are actually moving into the smallest apartment we have lived in since we first married and it feels great."
Sarah:
"Money stresses me out until I create some systems and rules around it. Then I feel better. Watching my savings account grow makes me so happy!"
Christine S.:
"Being a new mom (and now a stay at home mom) makes me think about money A LOT! But I need to remember that the more I think about it, the more I worry about it — like a dieter that obsesses with food! Its all good, and even if I never become a millionaire, I know I am still rich because of where we live. As Americans, we are so fortunate. Treasure what we have."
"Money to me is a mystery. It's only dirty paper, for God's sake! But it does rule so much of who we are."
"I struggle with my relationship with money — in some ways I'm a total tightwad, and in others I spend frivolously. And investing? Reading about investing? I'd rather have a root canal treatment."
ElisaWells:
"I grew up next to a millionaire. He lives a quite modest lifestyle, saves and reuses everything, grows his own veggies, and has a foundation to give away his excess wealth. His favorite saying, even at 96 years old, is 'Life is good!' "
Click HERE to read all the comments, and come back next Monday when I'll have another great Non-Consumer Advocate giveaway. And yes, it will also be from Goodwill!
Katy Wolk-Stanley
"Use it up, wear it out, make it do or do without"