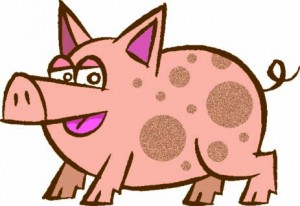 It is natural to want to take on projects in the style of the whole hog. Pull everything out of that cluttered closet, go through every single one of your child's outgrown toys in an afternoon, attack that overwhelming basement mess over a single weekend!
But sometimes, (okay, often) the opportunity for going the whole hog does not offer itself up. Either because of time constraints or energy level, thinking that everything has to be done all at once is a barrier to actually getting anything done.
Which is why I offer up the notion of the partial hog.
Can't organize the entire closet? How about just the board games or just the shoes? Can't attack that disastrous basement? Perhaps just a shelf or two would fit into your day.
Trent Hamm of The Simple Dollar recently wrote a blog piece about Snowflaking and Goals.
" 'Snowflaking' refers to the idea that if you make little frugal steps throughout the month, you simply add the amount you saved with that method and include the total as an extra payment at the end of the month."
This is a similar concept to my "partial hog" idea. Dramatically big actions are fantastic, but the small stuff can actually add up more impressively in the long run. The person who spends eight long hours organizing their closets will actually get less accomplished than the person who consistently spends thirty minutes per day.
I have to fight this "Oh, why bother?" instinct when I'm taking a solitary laundry basket of stuff to Goodwill or I'm helping my son clear off his desk in an otherwise disorganized bedroom. But it is these small bits of the hog that will eventually add up to the whole hog.
And the whole hog is the goal, but not necessarily the process.
Sorry if my analogy grossed you out. As an apology, I offer up the adorable Jessica Wolk-Stanley illustration.
Katy Wolk-Stanley
"Use it up, wear it out, make it do or do without"