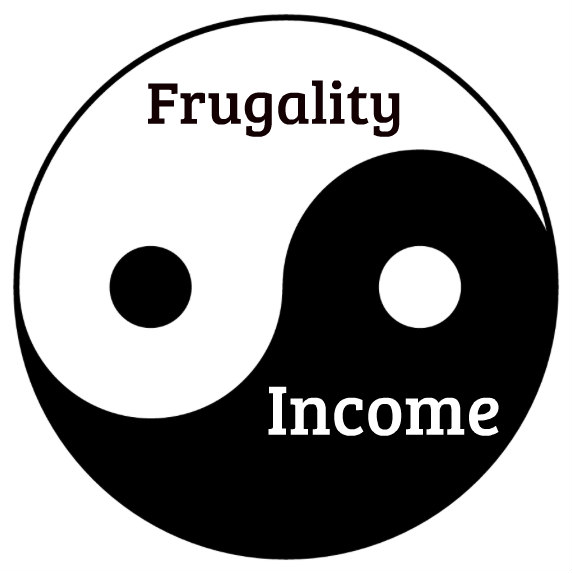 Every day I work to spend less money without decreasing my family's quality of life. But I also focus on earning extra money. Alone, neither is enough, as there needs to be a balance between the two. We all know people who earn significant incomes, yet because of lifestyle inflation still live paycheck to paycheck, and conversely we also know those who squeeze every penny, yet never get ahead because of a small income.
I put my focus on both frugality and income.
Frugality
Today I took my husband on a date by treating him to free coffee at Ikea complete with a free ice cream cone chaser. (I had a $1-off coupon from a previous visit.) We spent time sitting across the table from one another while sipping beverages, which qualified in my book as a date.
Dinner was leftover turkey noodle soup with the extra either packed up for a work lunch or stuck into the freezer.
I filled an empty gallon milk container with water to put into the chest freezer to fill up space and save on electricity.
Income
I found 32¢ on the ground.
I wrote a blog post.
I logged into an old online bank account and discovered that it contained almost $93. I promptly transferred the money into my credit union account, and will use the money towards my son's next college tuition payment due in April.
I submitted another Clark Howard article and proposed five new ideas.
Tomorrow I'll work a 12-hour RN shift at the hospital.
Frugality and income are perfect bedfellows. Together they bring about a balance of financial security that would be impossible if one were to focus on a single half.
Perfectly in balance. Frugality and income, the yin-yang of personal finance.
Katy Wolk-Stanley
"Use it up, wear it out, make it do or do without."
Click HERE to follow The Non-Consumer Advocate on Twitter.
Click HERE to follow The Non-Consumer Advocate on Instagram.
Click HERE to join The Non-Consumer Advocate Facebook group.
Click HERE to follow The Non-Consumer Advocate on Pinterest.