I just finished reading Lauren Weber's In Cheap We Trust: The Story of a Misunderstood American Virtue, which I can't recommend highly enough.
In this book, Weber addresses the "Paradox of Thrift," which she describes as:
"This idea — that higher savings lowers the economy's total output (and thus that thrift is a private virtue but a public vice.)"
The idea that savings are bad for the economy, until the government decides that savings are patriotic. The U.S. government has flip-flopped on this issue enough times throughout our history to make thrift and savings confusing to say the least.
I have come to a personal decision that I have a responsibility to my family's financial well being that trumps whatever government message is currently in vogue. If my country's economy can only be healthy through me living beyond my means, then I have zero responsibility to support it.
Have you felt that government's message to save, don't save, save, don't save has affected your personal finances? Please share your thoughts in the comments section below.
Katy Wolk-Stanley
"Use it up, wear it out, make it do or do without."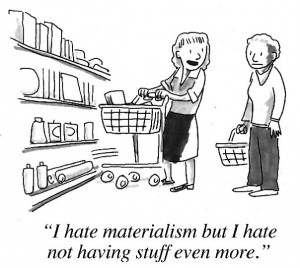 Artwork by Shannon Wheeler, from his collection of rejected "New Yorker" files. Thank you Shannon for sharing!