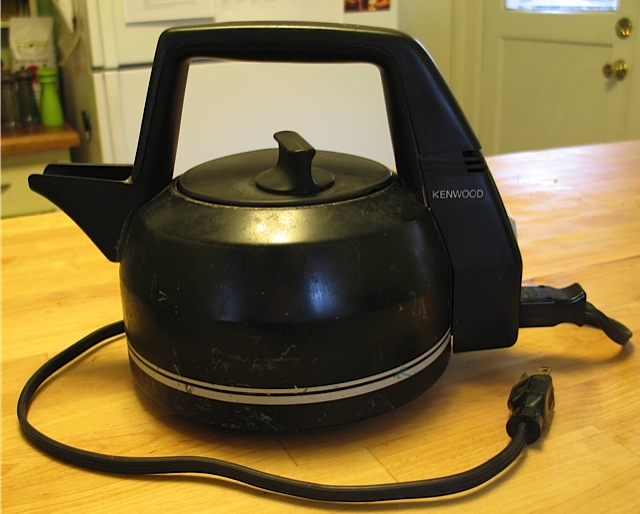 I drink more tea that I should be admitting to. It's not unusual for me to down four or five big mugs of tea on a daily basis, and I'm not talking herbal tea here. I'm talking hot sweet milky tea. I'm fully aware that it's a matter of caffeine dependence, because I get headaches when I go a day without it. (Like on super busy days at work.)
My father bought us a pricey electric tea kettle when the kids were wee, and I grew to love it. The convenience of knowing I could safely walk away from boiling water without worry served as peace of mind in the midst of otherwise hectic days. I loved this tea kettle so much so, that the faint click sound when it turned itself off would give me a palpable sense of relaxation. Ahhh . . .
Like a Pavlovian dog.
I had hoped that my tea kettle would last forever. But it stopped working a few years back, and despite my husband's best efforts, could not be revived. So I bought a regular sit-on-the-stove tea kettle at Goodwill and got on with my life. But my husband recently located a supplier in England and ordered a new part. I was surprised that he had gone to the effort but didn't really think much of it. That was, until he mentioned that the part cost $40, plus the exorbitant shipping!
And guess what? The tea kettle works again, but will no longer shut itself off. Which pretty much negates the whole point of a electric vs. stovetop tea kettle!
So yeah, I call that throwing good money after bad.
Stressed out now, need a cup of tea.
Katy Wolk-Stanley
"Use it up, wear it out, make it do or do without"