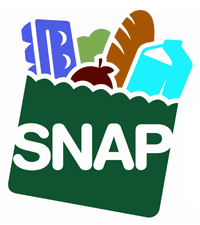 The Oregonian newspaper recently ran a profile on Christian and Amy Piatt, whose family of four who just completed a week-long food stamp or SNAP (Supplemental Nutrition Assistance Program) challenge. The family participated in this project to bring attention to issues of poverty and hunger, and blogged about it on Patheos.com.
They allowed themselves $112 to feed themselves and their two children, ages three and eight. Or, $4 per person per day.
They ran out money before they ran out of days.
I poured through The Oregonian article trying to find their fatal flaw, and easily identified where the family was spending too much. (Pre-made hummus vs. can of 50¢ garbanzo beans, pre-made spaghetti sauce, pre-made salad dressing, Kraft Easy Mac macaroni and cheese, soda, frozen pizza, etc., etc.)
My initial reaction was to be critical of the family's mistakes.
"Did they put zero research into how to do frugal cooking?! Were they unwilling to cook from scratch?!"
I admit that I may have ruined my co-workers' lunch breaks, as I was at work when I first read the article.
But then I got home and read the Patheos blog posts, and gave the issue more thought. Christian and Amy Piatt are both Pastors, and were experiencing what many actual SNAP recipients experience, which is that it's very difficult to balance busy family life with frugal cooking. People run out to work without remembering to eat breakfast, and life will often get in the way of our very best of intentions. Yes, they could have been cooking legume based meals in the crock pot, serving oatmeal for breakfast and cooking more from scratch, but they didn't. The important thing is that they attempted the experiment in the name of bringing awareness to hunger issues.
And since 22% of Oregonians are receiving some degree of SNAP/food stamp benefits, this is a conversation that needs to happen.
I have twice spent an entire month doing my own version of the SNAP Challenge, (June 2010 and July 2011) and even asked participants to donate money saved to their local food banks.
It's not a huge stretch for my family to stay within $112 for a week's worth of food, but then again I am not your average American. I think constantly about how to put amazing meals together while spending very little. (Dinner last night was a huge grilled sub sandwich on homemade french bread made with a thin layer of cold cuts and melted on-sale Tillamook cheese.) Very few people cook like I do. (Tonight's dinner will be black bean chili, made with bulk-purchased beans I cooked in the crock pot yesterday, to which I will add a 1/4-pound of bulk sausage meat, with homemade cornbread on the side.)
I didn't do a food stamp challenge this year as my family hates them, sure that I am starving them in the name of a blog stunt. (Although in actuality, I end up cooking awesome meals, as I put a huge amount of thought into how to cook cheaply without losing taste or nutritive value.)
But I'm thinking I might put together another week-long SNAP challenge in the near future. Because Non-Consumer Advocate readers are always amazing about sharing their ideas and tips, and because we all need to be doing something about hunger within our own communities. And I might not even tell my family until after it's over.
Shh . . . .
Would you be interested in participating in a week-long SNAP Challenge? Please share your thoughts in the comments section below.
Katy Wolk-Stanley
"Use it up, wear it out, make it do or do without."
Click HERE to follow The Non-Consumer Advocate on Twitter.
Click HERE to join The Non-Consumer Advocate Facebook group.
Click HERE to follow The Non-Consumer Advocate on Pinterest.