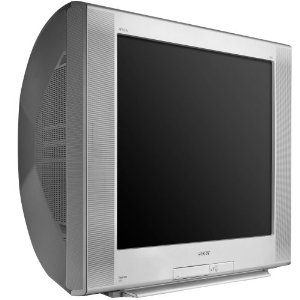 Some might consider my frugality as too frugal. I choose to not buy (most) anything new, I have no qualms about bringing uneaten food home from my mother's rental cottages, (even if the packaging has been opened) and I drink the swill masquearading as coffee at work, simply because it's free. (It truly is awful.) I revel in my cheap-ness.
But there are times when my frugality backfires.
Example #1 is my new TV. My friend Susan was putting a home theater into her spare bedroom, and she offered to give me her ginormous 32″ Sony Trinitron television, if we could just come and pick it up. And pick it up we did, all 178 pounds of it, (my husband Googled the weight) all the way from the far suburbs to our urban oasis. Not that the old TV was so shabby, but the new TV had superior picture, sound and fit into our cabinet like it was custom made. My family was in heaven.
I try and keep a handle on all the vampire energy usage by keeping all my TV related appliances plugged into a single surge protector. This way, I'm not paying to light up a dozen different tiny lights for the 23 hours a day when they're not in use. I am vigilant about switching the surge protector off, apparently too vigilant. Because I switched off the surge protector when the TV was still on and overloaded the circuit board, which fried the TV.
So now, I no longer have a nice new free TV. I have a 178 pound paperweight. That, and a pissed off husband.
Oops . . . too frugal.
Have you found yourself crossing the line from money smart to foolishly frugal? Please share your stories in the comments section below.
Katy Wolk-Stanley
"Use it up, wear it out, make it do or do without"