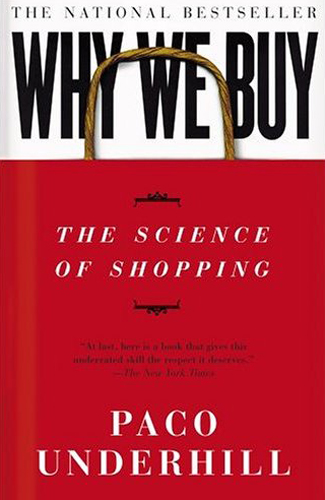 I just finished re-reading one of my favorite books, which is Why We Buy: The Science of Shopping by Paco Underhill. Although this book is targeted to retailers, marketers and advertisers, (not non-consumers such as myself) I find the information in this well written book to be utterly fascinating. Because, what is shopping besides yet another extension of human behavior? Underhill has spent his career quietly observing shoppers as they invariably veer to the right, touch store items, read (or don't read) carefully constructed signage and stop shopping the moment they experience a "butt brush."
My copy of Why We Buy is from Goodwill, and is actually a 1999 edition, which means that it's missing the updated information about the internet age. But that's okay, because the content that interests me is not the specifics about retailing, (put carry baskets at a midpoint in the store when customers' hands get full, not next to the front door where customers have no need for them.) but how shopping behaviors correlate to life's behaviors.
One point that I noticed for the first time with this reading was how Underhill had worked with a chain, (Subway?) that had a display of bagged chips for customers to choose from while waiting in line to pay. When the display was perfectly arranged, people did not pull anything off, and it was only when the workers were instructed to muss it up a bit that customers began feeling comfortable about grabbing a bag. People did not want to mess with a perfect display. The perfect display was off putting and to be left alone.
This too perfect to touch phenomenon made me start thinking about how this translates into my non-consumer world. I have noticed that when my somewhat formally decorated home is too clean and tidy, (worry not, it's a rare occurrence!) that guests seem unable to relax. They sit bolt upright on the couch and do not appear to enjoy their time in my home, and it's only when the house shows signs of life that guests are able to loosen up. When I think about how I feel in other people's homes, I am certainly more comfortable when they show imperfections of life, rather than looking like a magazine shoot. I worry that my clumsy self might mess something up when houses are too perfect.
Of course, I won't start deliberately mussing up my home to make it more inviting, as this entropy can happen without any deliberate action on my part. Yes, my house is tidier than it's ever been, but it will still never look like it sprung from the pages of Dwell magazine. But Paco Underhill has made me realize that nobody wants to touch a display of perfection, and that many (most?) of us feel more comfortable when our environments show signs of life.
Does a perfect environment make you feel like a bull in a china shop? Or perhaps you can't relax until everything is perfect? Please share your thoughts in the comments section below.
Katy Wolk-Stanley
"Use it up, wear it out, make it do or do without"