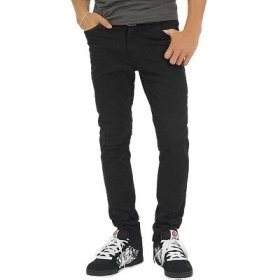 Somehow, my 16-year-old son got himself in the position where he was down to a single pair of pants that he was willing to wear. Sure, he had a few pairs in the closet that probably fit, but they weren't to his liking. (What, you think you're too good for vintage Sears Tuffskins?!) As can be imagined, this led to much morning drama, such as "Where are my pants?" and "Mom, why didn't you wash my pair of pants?" I had given my son a $50 gift card to Buffalo Exchange, (a hipster clothing consignment shop) for his birthday,  but somehow he only bought a single pair of pants, which meant that his other pair immediately developed unmendable tears.
So yesterday, I picked my son son up from school and dropped him off at Buffalo Exchange with instructions to "buy some pants!" And miracle of all miracles, he did.
Now, my son has two, count 'em two pairs of pants — a pair of Levi's black skinny jeans and a pair of corduroys.
So of course I have to tease him now about how he's a "Spoiled American pig" and say stuff like "Ohhh . . . two pair of pants, eh? What do you think you are, some kind of crazy wealthy teenager?"
I just love being a parent.
Katy Wolk-Stanley
"Use it up, wear it out, make it do or do without"
Click HERE to follow The Non-Consumer Advocate on Twitter.
Click HERE to join The Non-Consumer Advocate Facebook group.