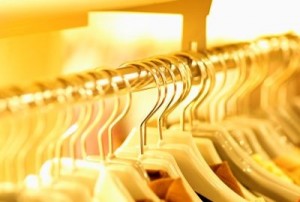 I received this question from Magdalena in the comments section today, and thought I would let you, the readers, weigh in with your ideas:
We now live in a small town in Ontario, without our own vehicle – and there's no thrift store! We definitely need new clothes, and I may have to either buy jeans and skirts at a local firsthand shop, or plan to hit the big thrift stores on a trip to a nearby city later in the month. I did get new pajamas for Christmas, since pjs, like underwear, are a little on the personal side.

Does anyone else have this problem – living in a place where secondhand is almost impossible? (Rummage sales take place here about twice a year, not often enough to replace worn items.)
I am lucky, as Portland, Oregon is home to a number of fantastic thrift stores, and finding secondhand goods is a cinch. So this is an issue I have not needed to address in my personal life.
My suggestion would be for Magdelena to reach out within her community and organize a clothing/household/stuff swap. Perhaps even help to start a free shop at her church. Perhaps start small with inviting some friends to her house for a clothing swap.
What do you suggest for Magdelena? Have you been challenged to find second hand goods within a small community? Please share your ideas in the comments section below.
Katy Wolk-Stanley
"Use it up, wear it out, make it do or do without."