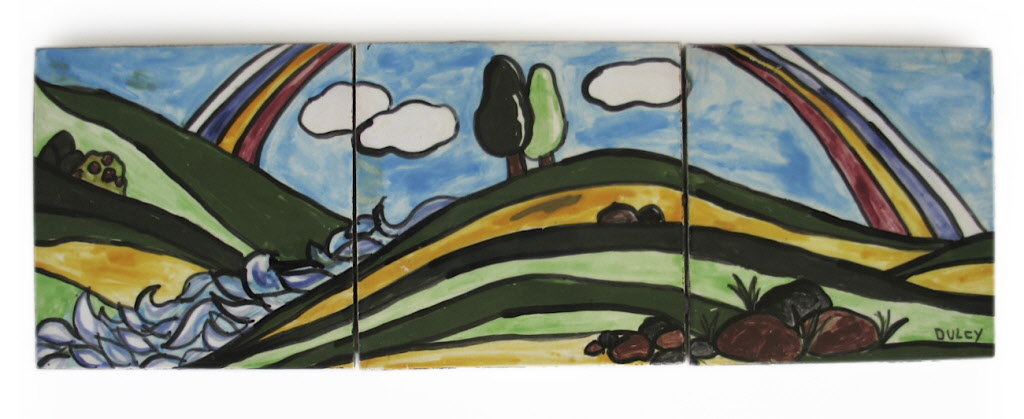 If you live in Portland, Oregon and you love gardening, then you know who Dulcy Mahar is. Dulcy wrote a fantastically popular weekly gardening column for years in The Oregonian, and recently passed away. She was famous for her self-depricating style of writing, as well as her love of pink flamingos and her adventures with gardening assistant, "Doug The Wonder Boy."
My parents were good friends with Dulcy and her husband Ted in the 1970's, and I have many fond memories of hanging out with them. So when The Oregonian asked readers to send in their remembrances of Dulcy, my mind immediately went to a set of three tiles she had painted for a backsplash in our 1977 kitchen remodel.  Of course, the 1977 kitchen remodel has since been updated, but I remembered that the tiles had been carefully removed and set aside. Luckily, my father was able to unearth the tiles, and I brought them home.
But what to do with the tiles? 
My first thought was to simply mount the three tiles on a board and display them in my garden, but I kind of thought that a more unique solution might be in order. So I sent my enviable dilemma to Peggy McMullen, the editor of the Homes and Gardens section of the The Oregonian, so that she could see if her readership might help me brainstorm some creative ideas.
The Oregonian ended up publishing a short piece in last week's Home and Gardens section of the newspaper asking readers for ideas. Sadly, there is only one comment so far, however I know that Non-Consumer Advocate readers are highly superior when it comes to coming up with great ideas.
So . . . click HERE to read the short newspaper article, and help me figure out how best to display these wonderful handmade tiles. And then, please share your ideas in the comments section below.
Katy Wolk-Stanley
"Use it up, wear it out, make it do or do without"
Click HERE to follow The Non-Consumer Advocate on Twitter.
Click HERE to join The Non-Consumer Advocate Facebook group.