You may have noticed that I've been grooving on fun householdy projects lately. I'm painting things, crafting things, sewing things, landscaping things and generally sprucing stuff up. I don't want to be spending much (or any) money, so I've been employing my uber-frugal skills. (Try saying that three times fast!)
It's been super satisfying!
And today my friend Chelsea and I decided that we're going to get together once a week (or so) to work on projects. It may be crafting, it may be home improvement; heck it may even be talking about what to do, and then going for a walk to buy pastries. (We'll call this Plan A.) You see, Chelsea just moved into a 100+ year old house, and my house offers a never ending plethora of fixer-upper opportunities. So really, it's a match made in heaven.
My first project that I'm wanting to attempt is to construct a quilt made of squares from felted upcycled sweaters. Similar to this one from Yellow Suitcase Studio: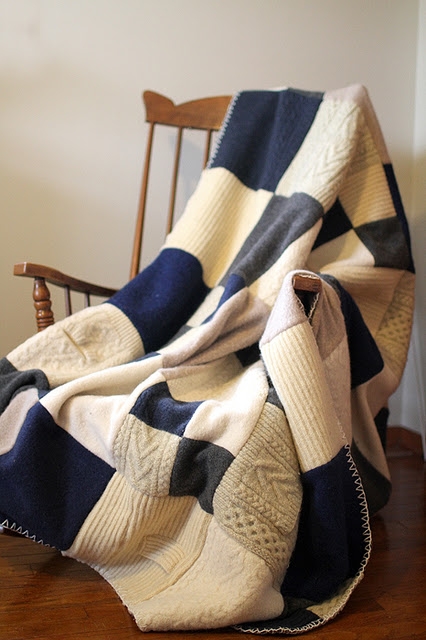 However, I see mine in sea glass colors of creams, soft greens and blues. I already have a plan to buy the sweaters at my local Value Village thrift store, where one color tag is always 99¢ on Mondays.
Although I don't really sew, I can damn well wash, cut and sew a straight seam like nobody's business. I figure it would take 8-10 sweaters, so it would absolutely fall under the category of budget friendly.
I'm pretty excited, and I'm realizing that if having something to look forward to is a key component to happiness, then having a project to look forward to is pretty much the same thing.
Plus, anything that gives me an excuse to get all cozy under a blanket is A-OK with me!
Have you been working on any projects lately? Please share your adventures in the comments section below.
Katy Wolk-Stanley
"Use it up, wear it out, make it do or do without"
Click HERE to follow The Non-Consumer Advocate on Twitter.
Click HERE to join The Non-Consumer Advocate Facebook group.
Click HERE to follow The Non-Consumer Advocate on Pinterest.