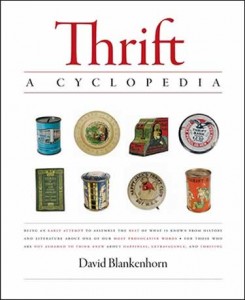 Congratulations to Brenda, whose money saving tip was randomly chosen to win a copy of  Thrift: A Cyclopedia. A big shout out as well to Barb Dawson and Beth who both won "Bring Back Thrift Week" T-shirts. (A random number generator was used to choose the winners.)
The thrifty tips that readers submitted were incredible!  Here are a selected few, (although I would recommend that you look at the entire fantastic list.)
From Kareness:
My favorite fun and thrifty tip is my annual post-holiday regifting party. Each year in January, I invite people over who bring a gift they've received during the past year (or something they bought that didn't work for them) and we have a little "greed" style exchange. The last person to the event picks first, and they unwrap a gift. The next person can either "steal" the first gift or open a new one. As the exchange goes on, people become more bold, "stealing" and trading to get the item they really like.

The party is great because it eliminates the guilt of keeping something you don't need/want – when you know something is going to someone who will use it, you feel better about giving it up. The gifts really do get recycled which is good for the planet. And those attending all leave with something more useful to them than what they came in the door with.
Plus, it's a good excuse for a fun potluck party with friends!
From Carorole:
I slit the bottom of the vacuum cleaner bags with a razor blade , remove the contents and seal it up again with gorilla tape, only once per bag, but I get double the use. Also, as the bag is full predominately with dog hair, I place the hair around my plants that are susceptible to deer predation. Works really well!
From Robyn J:
Prior to joing The Compact I was an avid shopper! I love clothing and creating fun, funky unique styels. Since November, I've had to get more creating since I am no longer buying new items soooooo I've used my creativity to craft new looks with all the pieces that I already own! I browse adds and various catalogues that come to my house and before I pop them into the recycle bin I take a look and see what I have in my closet that could be paired with another item that is similar to the "look". I find I am using different color combinations and enjoying making my own "retro hip" versions. Scarves are my latests fun fashion trend………and I've found some great ones at thrift stores. I am also learning to knit so if there's something really cool I see somewhere, I take a picture or take a note and then see what I can do make it! I feel that embracing thrift is allowing my creativity to thrive!
From Elisa:
I carry reusable water bottles everywhere I go to avoid paying for bottled water and adding plastic to the landfill.
From Namaste Mama:
Our latest thrift adventure is homemade yogurt. First we stopped buying it in little tubs and tubes. Then it was just big tubs. Now I don't have to worry about recycling or reusing all that plastic too. We also have a garden and make our own tomato sauce. The first year we made it, we figured it to be less than a dollar a quart. That year we bought some jars and herbs. Now we just own and grow. So it would be even cheaper. You can't even buy crappy Ragu for that and I grow organic heirloom tomatoes ! Can't wait for August!
From Leatrice:
I am in charge of the coffee bar at our church. Since I had literally NO budget, I called all the local Starbucks & coffee houses around and asked if they would be willing to donate coffee. They were more than willing to help out.
Then, I called the local bakeries around town & asked if they would be willing to donate their day old baked goods from Saturday (they are all closed on Sunday) to our coffee bar. Since our membership is primarily the homeless & disadvantaged, this is sometimes the only meal they get.
In addition, I save all the coffee grounds from the coffee bar and use them in my garden. Talk about some colorful hydrangeas!
From Bonnie:
My favorite way to save money: We live in a townhouse and are forbidden from having an outdoor clothesline. I found a metal garment rack and we place our freshly washed clothes on hangers and hang them on the rack to dry. It not only saves electricity, but also adds humidity back in the air during winter.
From Jennifer:
I signed up to pay all utility bills via automatic debit thru our bank's website. Not only do we avoid a monthly service fee by doing so, but by participating in their free "rewards" program we build "points" each month. I use these points to "buy" gift cards as gifts to family members who just aren't onboard with either regifting or thrift shop finds!! Money we would have spent anyways for the utilities is now earning us gifts for those "hard to buy for's"!!
From Stephanie:
My homeowners insurance policy arrived in the mail a couple of days ago. I just phoned my agent and she reviewed the policy with me and was able to reduce the premium by $41. All it took was a 5-minute phone call!
From TraciFree:
We are all about sharing resources in the community. Our group of friends ( a dozen couples) group own a community pick up trick, cement mixer, seed spreader…you get the idea.
We get all our media (movies, books, games) from the library. Recently went through all our bills and were able to shave off over $100 a month making small changes to our services. Joined a food co-op to save money on groceries. Use cloth napkins…..
Still trying to get my husband to give up paper towels. It's not going so well.
Thank you to everyone who shared their frugal tips. I will be holding another book giveaway in a few weeks.
Katy Wolk-Stanley
"Use it up, wear it out, make it do or do without."
I received no compensation for this column.