I make an effort to minimize waste in my home whenever possible. We recycle and compost, mend and repair, buy only used (which almost eliminates packaging waste) and try to find alternate uses for what we already own. We Portlanders only get every-other-week garbage pickup and we share that with our next door neighbors. On average, my family of four puts out a single paper grocery bag of garbage every two weeks. Not to the level of  Zero Waste Home's Bea Johnson, but not too shabby either.
I like to post my zero waste household solutions on my Instagram account, and thought I would share some recent photos with you.
My sons' school lunches are always zero waste, with fabric wraps for their sandwiches, reusable containers for their fruit or vegetables and a treat wrapped in a bandana, which can be also used as their napkin. (I assume the cookies get eaten first.)
I have found myself in the routine of mixing up a batch of oatmeal cookies on Sunday, which I then bake up each morning before school. Please do not assume that I do this because I'm a Martha Stewart type. I do this because freshly baked cookies get snarfed down before they can be put aside for lunches. Cookie dough does not! This may sound like a pain in the tuchus, but I really only takes a couple of minutes. (And if I'm working, I just bake them the night before.)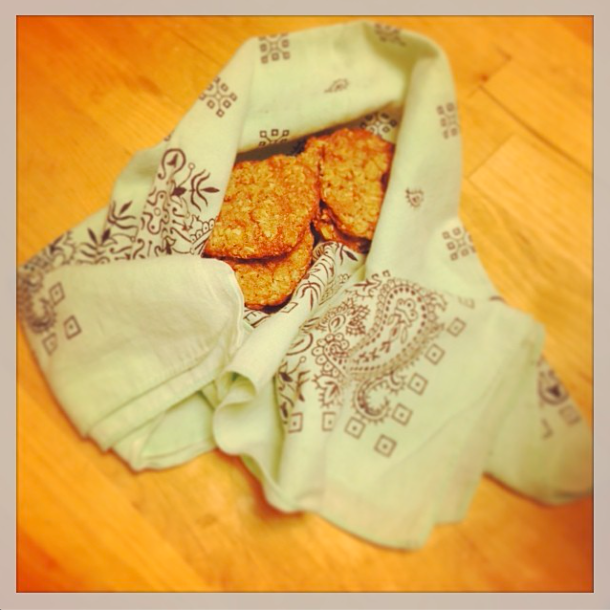 My son was going through his room the other night and handed me this notebook which he didn't want anymore since it was half filled with last year's school work. I went ahead and cut out the used pages, and gave it back to him. He now has a notebook with blank pages, all ready for fresh use.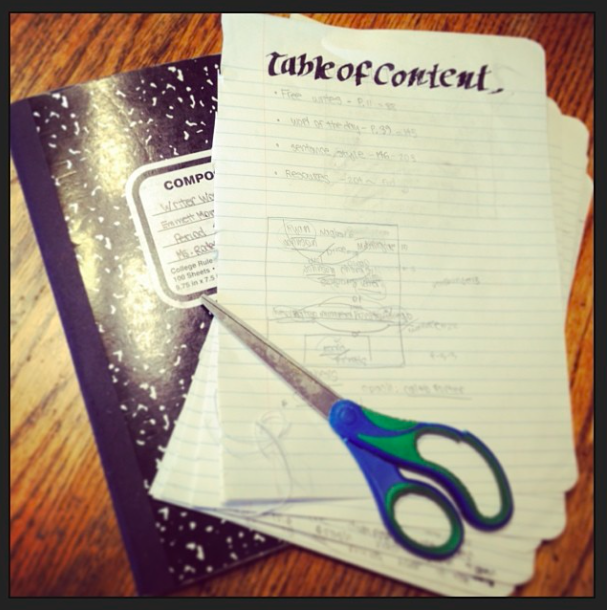 Last week I posted about how I darned a big ol' pile of socks, and although I do own a darning egg, I usually prefer to simply use a humble lightbulb. A lightbulb works perfectly to round out a sock and acts to support the sock while you weave a new section and darn those holes. And when you're done darning the sock, it goes back into use to brighten your home. No special purchase required!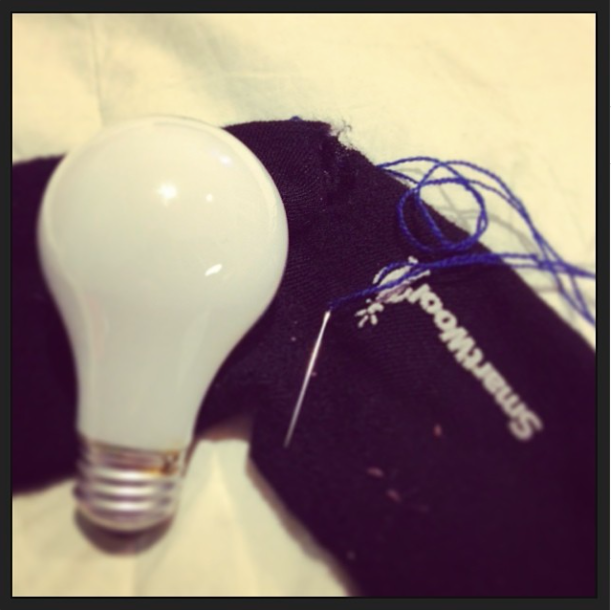 I'm not big on beauty products, but what I do buy get the zero waste treatment. And I do not throw any bottle away until I've used up every last scraping from the packaging. Shampoos and conditioners get turned upside down and then watered down, toothpaste gets flattened within an inch of its life, and my hand cream gets cut open.
It's amazing how much is still in the bottle.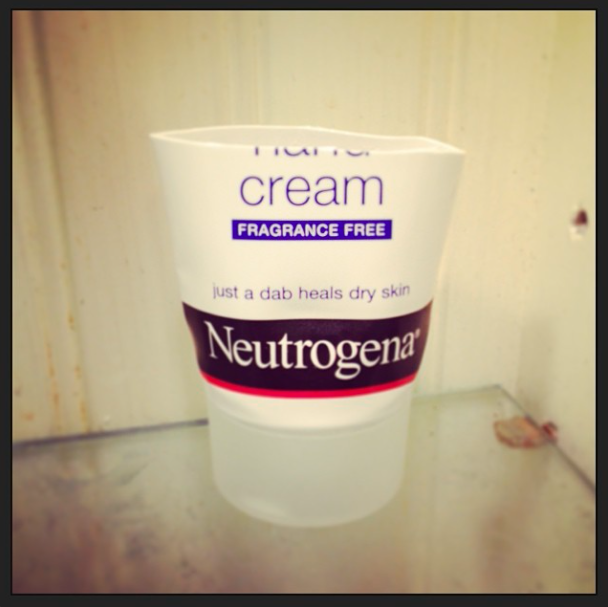 Although I try to not buy produce that comes in net packaging, sometimes it sneaks into my home. (Maybe leftovers from one of my mother's guest cottages?) I was needing to scrub potatoes the other day when I remembered that I had a twisted and tied up net bag that would perfectly as a potato scrubber.
And it did. Work perfectly.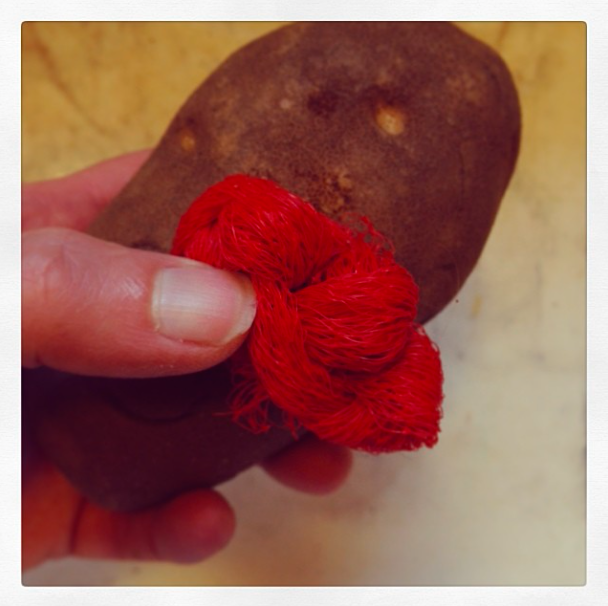 I buy my spices in bulk and then store them in ancient baby food jars. (They're leftover from when my eighteen-year-old son was a wee one!) This works great, but sometimes I do need the sprinkle function that an open mouth jar simply doesn't provide. That's when I bust out my thrifted tea strainer, which works perfectly (and elegantly) to dust spices over my cooking. I don't have to buy anything extra, and frankly, it's kind of fun!
And before you ask, this is a pan of restuffed potatoes, the spice is paprika and I think the recipe is from Mollie Katzen's Enchanted Broccoli Forrest cookbook.
Bonus tip: A few years ago I spray painted all the spice jar lids a single color. (Oil rubbed bronze, since I had some leftover paint.) Now my spices look nice and cohesive!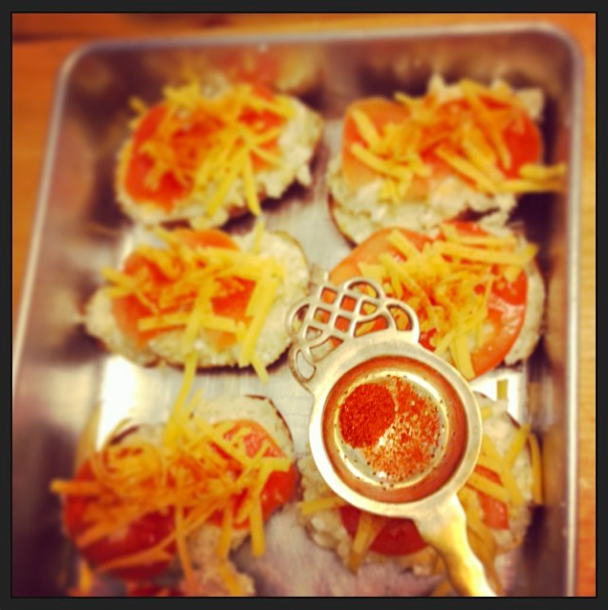 Do you work to figure out zero waste solutions for your home? Please share your ideas and tips in the comments section below.
Katy Wolk-Stanley