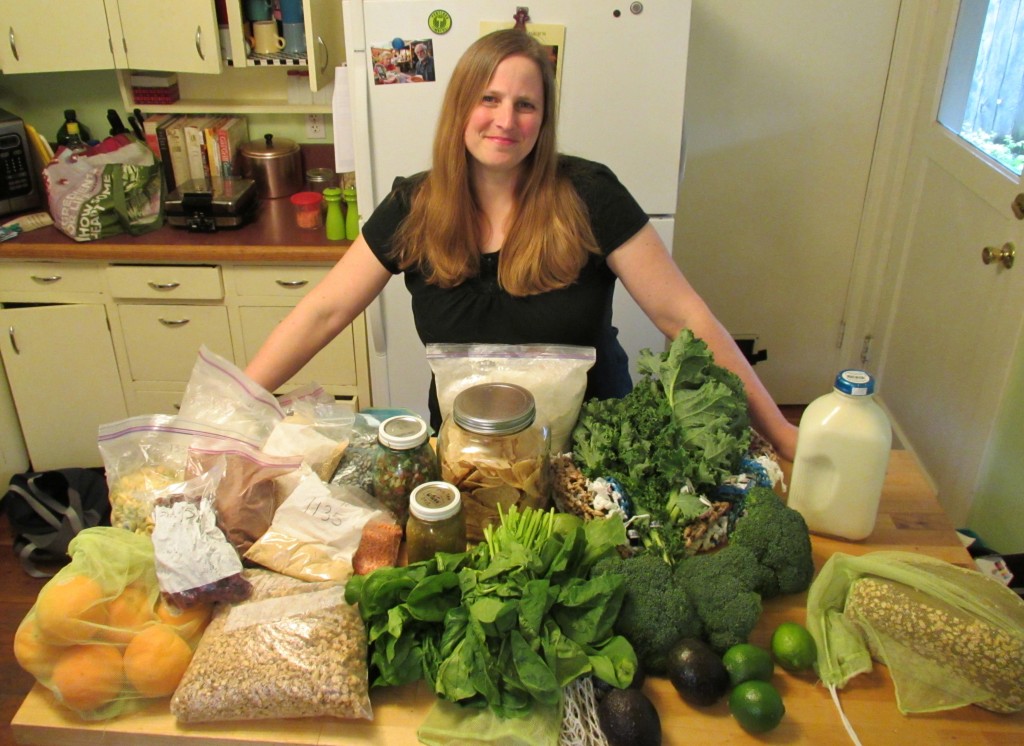 Zero Waste Week may have been seven months ago, but that doesn't mean that it's full steam ahead for wastefulness. Reducing my family's waste is always part of our daily routine. Here are some recent examples:
My kids' school lunches and the adults' work lunches are always packed with zero waste in mind. Handmade cookies are wrapped in cloth napkins or bandanas, yogurt is scooped into a single serving container and sandwiches are put into fabric wraps or a Rubbermaid container. (The Costco-sized greek yogurts are bought in plastic. My husband did not like my experimentations with homemade yogurt.) Silverwear is got-it-for-free reusable stainless steel, which breaks no one's heart if misplaced.
I do like to use spreadable butter or Earth's Balance buttery spread for toast, but the packaging and exorbitant cost was bothering me. I found a recipe on Pinterest for spreadable butter that called for nothing more than room temperature butter, canola oil and water.  And now instead of buying $5 tubs of non-hydrogenated margarine, I now have a $1 zero waste (and healthier) solution.
I continue to buy my cat litter at Petco, where you can scoop-your-own for a zero waste solution.
I made eighteen quarts of applesauce using apples my husband brought home in a paper box. The jars are almost infinitely reusable, and the peels and cores went into the curbside compost.
I took my kids out for a rare restaurant meal at Jade Bistro last night. (The BEST restaurant in Portland!) I brought my own empty leftover container and wooden chopsticks from home. (The restaurant has those paper wrapped disposable chopsticks, which are responsible for the annual destruction of 3.8 million trees.) Although the kids did use paper napkins, I used a clean handkerchief from my purse. There's only so much embarrassment I can inflict upon them.
My older son was complaining about how he didn't really have a warm winter coat. We looked through a couple of Goodwills until I realized that what he wanted was a classic pea coat. And wouldn't you know it that I had one stashed in the back on my bedroom closet. This quality Land's End coat was handed down to me in 1987 after my mother's friend died. I wore it for years, and even had the pockets re-sewn at one point. I have no idea how long my mother's friend owned the coat, but it doesn't matter, as its classic looks are as fashionable in 2013 as they were in 1980. Think abut how many trendy and poor quality coats would have been necessary to replace this single sturdy coat.
I continue to have the meat counter employees put my purchases in a compostable paper deli container. I wish they would let me use my own clean Pyrex container, but their health regulations prohibit this practice. I am content with this make it do solution.
I am replacing a broken zipper on my son's thrifted school backpack. He's had it for at least five years, and despite the broken zipper, it's still going strong.
Today my husband refilled the supposedly non-refillable ink cartridges on our printer. He used You Tube and the printer's own online information to figure out how to do this. He's been doing this for years, as it's easy and cheaper than replacing the cartridges. The supplies were from InkSupply.com.
Is my family perfect with our zero waste aspirations? Absolutely not! I have to keep a tight eye on our budget, so I do buy packaged food, often combining coupons with sales. Our family of four puts out a single paper grocery bag of garbage every other week, which is considerably less than the 4.3 pounds per person per day that the average American produces. Buying used, cooking from scratch and searching out the zero waste solutions in our community have made a huge difference in how much garbage we produce.
Are you working to find zero waste solutions for your home? Please share your ideas in the comments section below.
Want to learn more about how to incorporate zero waste solutions into your home? Then make sure to check out Beá Johnson's Zero Waste Home website!
Katy Wolk-Stanley