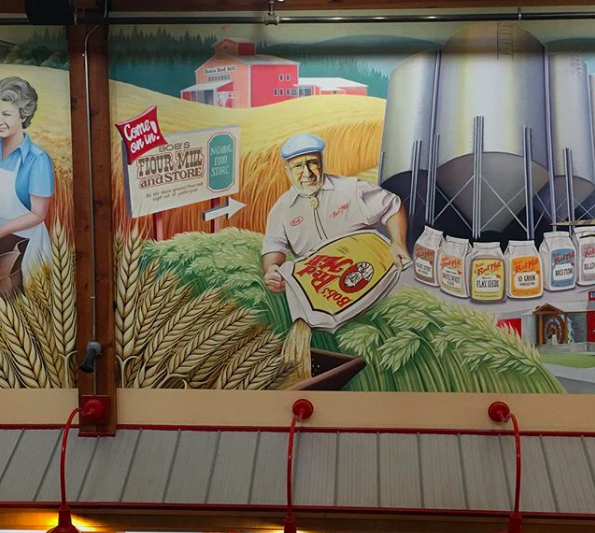 I owed my friend Lise a thank you lunch, so I suggested Bob's Red Mill as A) we both enjoy bulk food purchases, and B) I had a 2-for-1 lunch coupon. The total for our lunch was a budget worthy $8.95, and I even had a 2-for-1 coupon for any product as well. (I brought my own bags which I filled up with red lentils and a veggie bean soup mix.) We then walked across the street to the Dave's Killer Bread outlet where I picked up two loaves of their 21 whole grain bread. I had another 2-for-1 coupon which impressed Lise enough to exclaim that "you have a coupon for everything!" Silly girl.

I watched the most recent episode of The Durrels in Corfu through the PBS app on my Roku box. I also picked up a couple of novels and a DVD at the library. What books? Pink books. I need a big dollop of escapism in my fiction right now.

Lise and I then stopped at the Goodwill outlet where I spent $16 and bought a neoprene lunch bag for my work lunches, two T-shirts, (one for my mom) a Baby Alive doll to sell, some Hanna Andersson jammies to sell, a small Italian mirror to sell, four fine art lithographs to sell, a Land's End down vest to sell, another pair of Solmate socks, a deck of vintage playing cards, a vintage microphone to sell and an ottoman that's the same style as my husband's recliner. (Which of course was a Goodwill purchase.)

I haven't sold anything though eBay, Facebook Marketplace or Craigslist, but I did finish writing a Clark Howard article and then proposed a new article. I'll also work two 12-hour shifts this week at the hospital.

I didn't buy a Lear Jet or a vulgar gold-plated apartment in the sky.
Now your turn. What frugal things have you been up to?
Katy Wolk-Stanley
"Use it up, wear it out, make it do or do without."
Click HERE to follow The Non-Consumer Advocate on Twitter.
Click HERE to follow The Non-Consumer Advocate on Instagram.
Click HERE to join The Non-Consumer Advocate Facebook group.
Click HERE to follow The Non-Consumer Advocate on Pinterest.