The following is a reprint of a previously published post. Enjoy!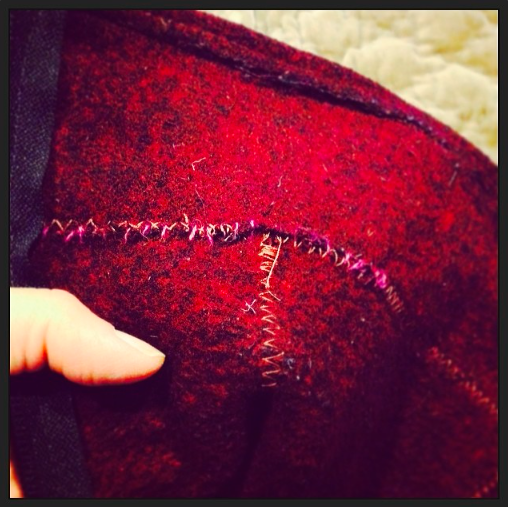 We live in a throwaway world. It doesn't help that it's often cheaper to replace an item than it is to repair it, and the artisans who formerly had those specific skill to repair household items are a dying breed. And for most people, the temporary thrill of a shiny new thing wins over the excitement of a cleverly repaired item.
No one ever compliments you on a invisible repair like they would on its brand new counterpart.
"Wow, awesome shoes that I've already seen hundreds of times! Are they recently repaired?"
Yeah . . . that doesn't happen.
I choose not to inhabit a throw away world. I repair and mend, even when the repair only saves me a couple of bucks. I also try not to bring unrepairable stuff into my home. (Plastic, particle board furniture and cheap electronics come to mind.)
The above picture is the wool lining of my beloved Keen boots. I bought them on clearance in 2008 for $37.50 and have worn them approximately seventy–bajilliontimes since then. I recently shelled out $30 to have a cobbler replace the zipper, and yesterday I took a needle and thread to the wool lining to restitch a seam.
Good as new? No, they don't look new, but that's okay with me. They're in good repair, incredibly comfortable and dare I say it? Pretty cool looking.
The instinct to replace rather than repair is a recent phenomenon. Whether it was the umbrella repairman or a handy wife who turned a collar, the mindset to repair is missing for many Americans. Our resourceful grandparents would not have have filled their trash cans with easily repairable items.
It's expensive, it creates a culture of wastefulness and I choose not to live that way.
Katy Wolk-Stanley
"Use it up, wear it out, make it do or do without."