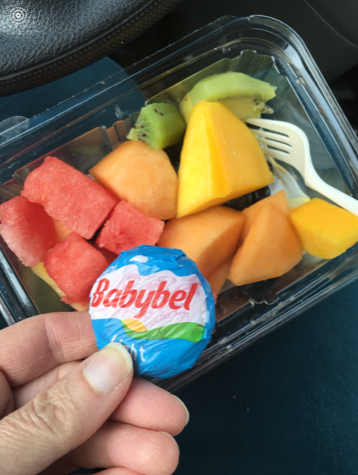 I passed along a frustrating wooden dust catcher puzzle through my buy nothing group, I sold a Descoware saucepan through Facebook Marketplace, I sold a Rae Dunn glazed ceramic blob that read "GIRLFRIENDS" through eBay, (both from the pay-by-the-pound Goodwill Outlet) I put together some new eBay listings and I re-listed a few Facebook Marketplace items that had expired.

My husband and I drove down to visit our son at college yesterday. We spent a bit of money taking him out to lunch and then dessert, but I'd rather scrimp and save in my daily routine than scrimp when it comes time to hang out with my family. The reason I choose to live a life of extreme frugality is so that I never have to think twice about paying for the things that really matter. If I have to forgo a shiny new car, annual Disneyland vacations or expensive hobbies to make this happen, then I feel very comfortable with these decisions. My sons will graduate college without student loan debt, which is better than anything I could have bought in the mall.

We stopped en route to fill up the minivan with cheap Costco gasoline, and also picked up a few snacks at Trader Joe's so we wouldn't be tempted by junk food along the way. Bananas, mixed fruit and BabyBel cheese for the win! (However, an utter zero waste "fail" is terms of food packaging.)

I've mostly been laying low on my days off from work. Puttering around the house, writing, cooking from scratch instead of venturing out into the world. I cannot over emphasize that the most frugal thing you can do is to just keep it simple.

I didn't buy a Lear Jet or a vulgar gold-plated apartment in the sky.
Now your turn. What frugal things have you been up to?
Katy Wolk-Stanley
"Use it up, wear it out, make it do or do without."