I worked the last two days and came home to a bazillion and three e-mails to slog through, as well as a delicious decision.
The e-mails were mostly comments from my piece on couponing, although there were also multiple e-mails about soccer, kid school stuff and random notifications of this and that. And for those of you who think I may be exaggerating, I currently have 659 unread e-mails in my inbox. (I check e-mail on two different computers, so it's hard to keep up with.) Oy vey.
However, I did have an e-mail from Modern Thrifter's Trish from design group The Mahoney, who is the graphic designer designing my new blog logo. She sent over a few preliminary sketches for me to start thinking about, which was the perfect e-mail to get after a long, long day at work. (We were busy, so I worked a 12 hour shift) Keep in mind these are just rough drafts, but I'd love your input.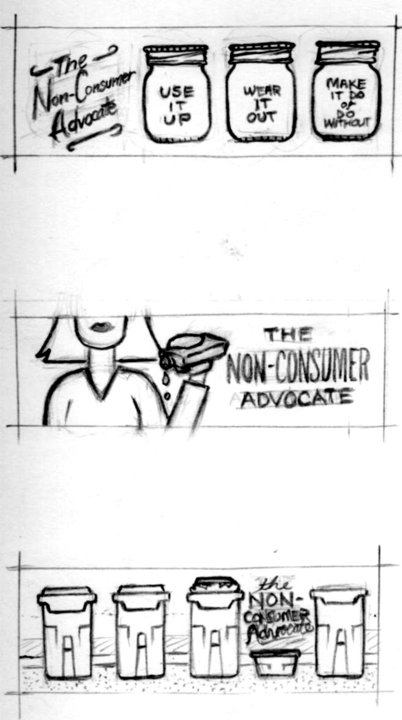 I am leaning towards the 1st and 3rd choices, although worry that I can't pull off the darling Mason jars, as I haven't done any canning for at least four years. (Although I'd be happy to steam up the kitchen in the name of earning the right to live up to the first one!)
If you have an opinion, I would love to hear it, even it's a brand new idea!
Thank you to the divine Trish Mahoney, whose blog and husband and wife design website are both eye candy for the design impaired such as myself. Check them out to get an idea of what I'm going for!
Katy Wolk-Stanley
"Use it up, wear it out, make it do or do without"