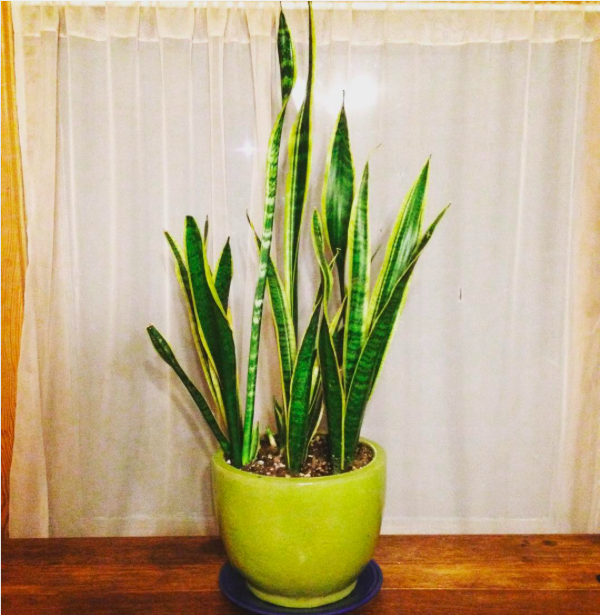 The last week-and-a-half have been a blur for me. Not due to anything exciting like winning an Oscar for best picture and then immediately losing it, but because I've had the worst cold of the millennium. Coughing, wheezing, body aches and a general malaise that didn't allow for any focused productive work.
And if you know me, you know that I pride myself on being a bit of a productivity junky. I write out long daily to-do lists, and although I rarely cross off every single thing, it's still an impressive accomplishment by the end of the day. So it's been driving me batty to lay about doing nothing and watching endless TV. (Okay, the first day was fun, I admit it.)
However, even though I'm not back to full power, I was finally able to get a few things done both yesterday and today.
I transplanted an indoor plant into a big glazed flowerpot that's much bigger and more of a bold decor piece. Didn't spend a penny on any part of this project, which is my favorite.
I listed an always-in-the-way vintage wheelbarrow in my Buy Nothing Group. (I used to plant lettuce in it.) It's been probably four years since I've been able to muster even an ounce of enthusiasm for gardening, so it was a wonderful thing to send it off to a new home.
I cut open an ancient flat bed pillow to harvest the batting for a leather armchair that needed some extra stuffing. The seat cushion unzipped in the back, so this project was super easy and also cost zero-point-zero dollars. This hack worked perfectly, and the chair feels great again.
I filled not one but two huge yard debris cans with cut up branches from our tree which suffered badly during the last wind storm. Although it barely made a dent in the huge branch pile that currently fills my backyard patio, I'll only finish this task like eating an elephant. One bite at a time.
I finished writing a Clark Howard article that I've repeatedly started and abandoned. Hard to write anything coherent when your head is swirling and swimming.
Do you consider yourself a "productivity junkie" like I do? Please share your thoughts and recent accomplishments in the comments section below.
Katy Wolk-Stanley