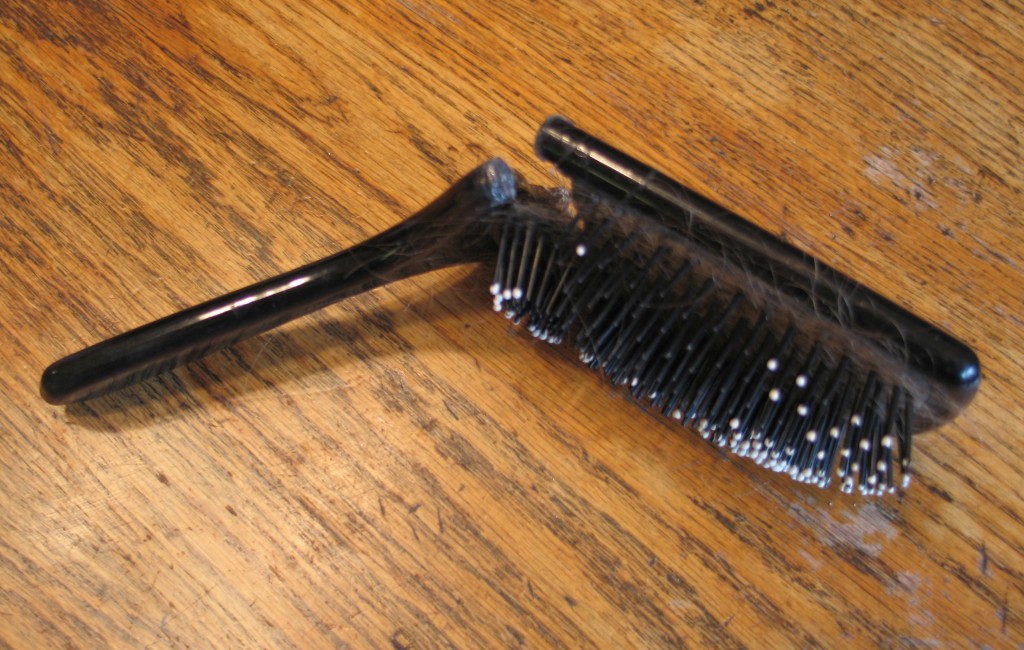 Dear Hairbrush,
I've been meaning to write this letter for awhile, but I didn't know how to start it. The words eluded me, and somehow it seemed easier to turn a blind eye to our problems than it was to address them straight on.
I remember when we first met like it was yesterday. I spied you across a salon, your paddle brush promising minimal static and smooth shiny locks. I knew at $18 you were out of my league, but somehow I plucked up enough courage to walk over and introduce myself.
"Hi, I'm Katy. I'm usually not so forward, but, umm . . . I'd really like to take you home with me."
I blush at the memory.
We had a number of good years. I knew you were a pricey fella', so I treated you right. I combed the stray hairs from your bristles and kept you in a special spot, always taking the time to reconnect before leaving the house.
Oh . . .  if we could just turn back the clock and freeze these special moments. Before you started your gradual decline, before you, *sob* stopped taking care of yourself.
The first time you fell to the floor and snapped in half I thought my heart would break. But the loving care of Super Glue and a steady hand brought you back to me.
But you weren't the same, you would never be the same. We would never be the same.
Then your rubber tips began to come off, which meant the smooth and dreamy experience of your caresses began to feel kind of rough. Definitely not the intuitive rhythm we had once shared. But I didn't care, you were my special hairbrush and the ravages of time could never part us. Never!
I see now how naive I was.
Then you started to break more often. Yes, you could still be glued back together, but each break was a little less clean, a little more sloppy. You didn't look so good anymore.
When I gaze upon you now, I no longer see the unbearably handsome guy who once drew me across a salon. I see a broken down hairbrush without pride. I still reach for you, but it's out of habit and guilt instead of lust. I loved you once, but that love has been replaced by apathy.
So today I ask you to leave my home. Goodbye dear sweet hairbrush, let's just focus on the good times.
Katy Wolk-Stanley
"Use it up, wear it out, make it do or do without"
Enjoy my Love Letters? Then you should probably make sure you've read all of them:
Click HERE to follow The Non-Consumer Advocate on Twitter.
Click HERE to join The Non-Consumer Advocate Facebook group.