One project that's been limping along at my house is the reorganization of my 17-year-old son's room. It happens in fits and spurts and is motivated more by me than my son.
By a lot.
Of course I want his room to look good, but my main goal is to help him be able to find his stuff and to have the room be functional. (Can't use a desk that's completely piled with stuff!)
I recently came across a $4.99 set of wheeled metal drawers at Goodwill, which was exactly what his desk needed. (I find the plastic ones all the time, but they're so easily broken and destined to become unfixable trash. So yeah, not my thang.)
See? Perfect way to stash all the extra notebooks, school supplies and miscellaneous doo-dads that normally gather on my son's desk.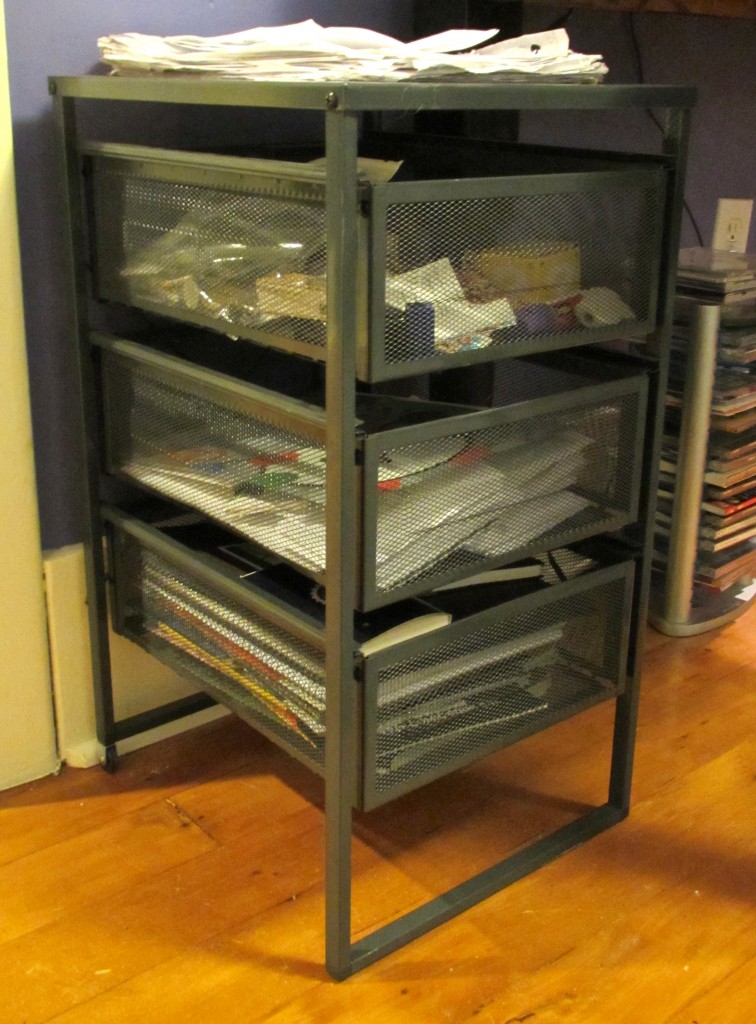 Getting all the crap off my son's desk allowed me to give the top surface a fresh coat of paint. (Plus polyurethane.) Here's what it looked like before I got all crafty with it: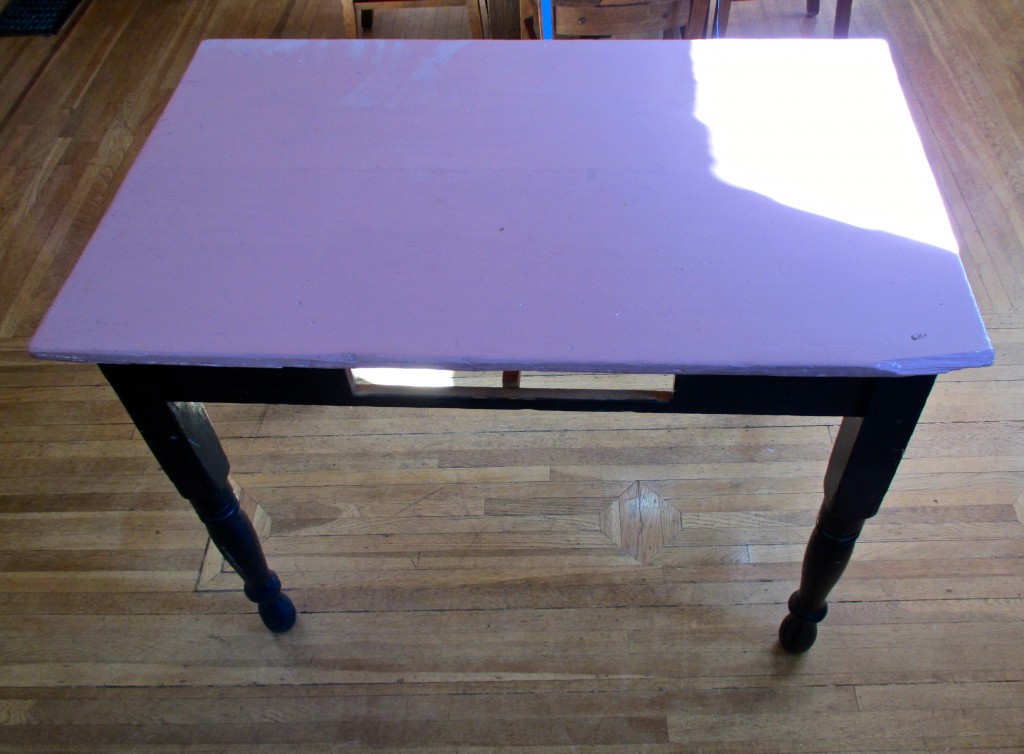 The desk in my son's room is a hand me down that was last painted circa 1982 by yours truly. The top was purple and the bottom was black. I got the idea to freshen it up with a can of silver spray paint, and had been glued to the weather forecast for ages, waiting for a non-rainy, warmish day that would allow this project to commence. (No indoor spray painting for me, as I enjoy my functional brain cells!)
And here's the desk, all freshly painted and looking all groovy and space-agey. (I later replaced the purple knob with a black one.)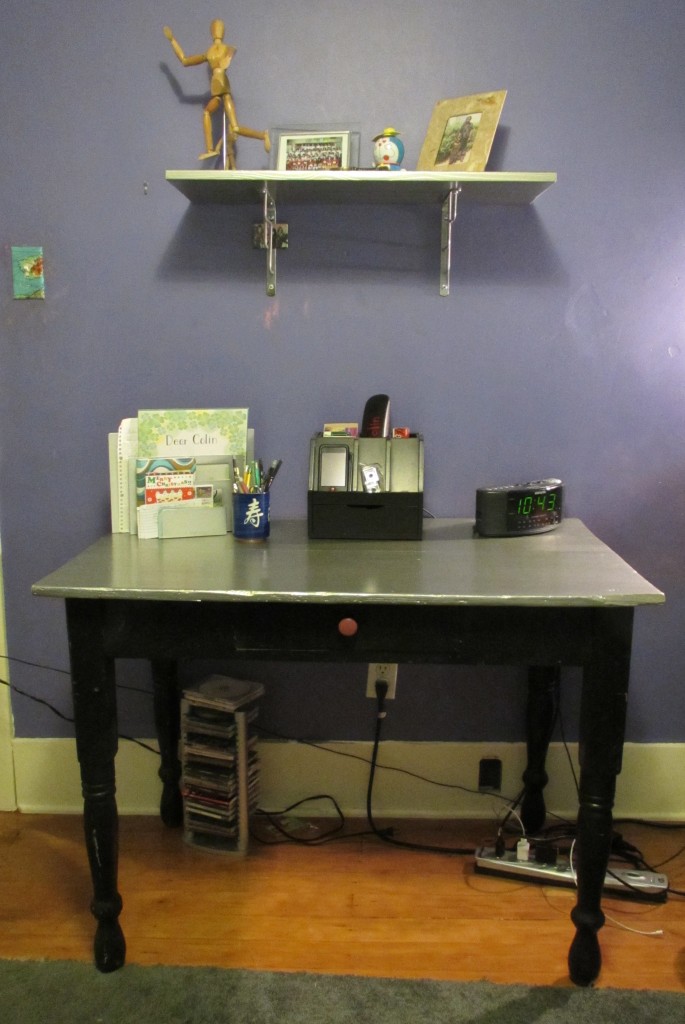 I also had a $1 solid wooden shelf from the Ikea As-Is section and a set of Goodwill $1.99 shelving brackets to pull together a nice sturdy shelf so my son can display his stuff without cluttering the desk.
I like creating my own shelves, as the brackets can be designed to be the same width apart as the studs in the wall. (Seriously, an elephant could stand on this shelf and it wouldn't budge.)
Remember the skateboard shelves from my younger son's room?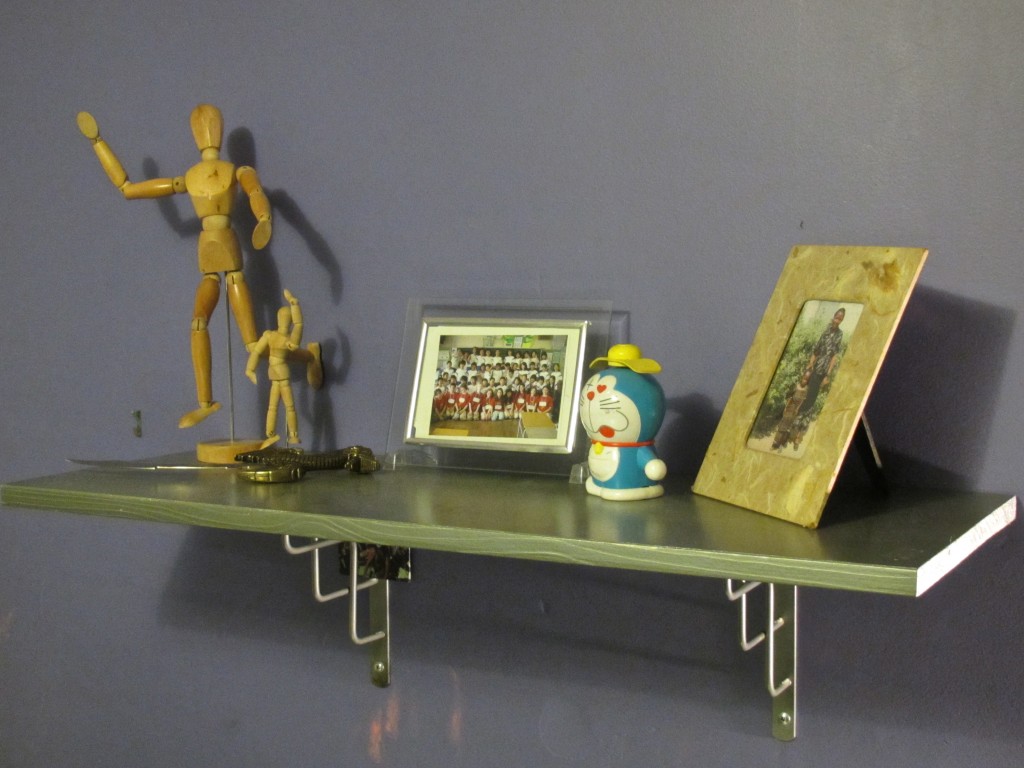 So what does my son think of his new desk and shelf?
"Uh . . . thanks, mom."
Good thing I have my readership for feedback.
Katy Wolk-Stanley