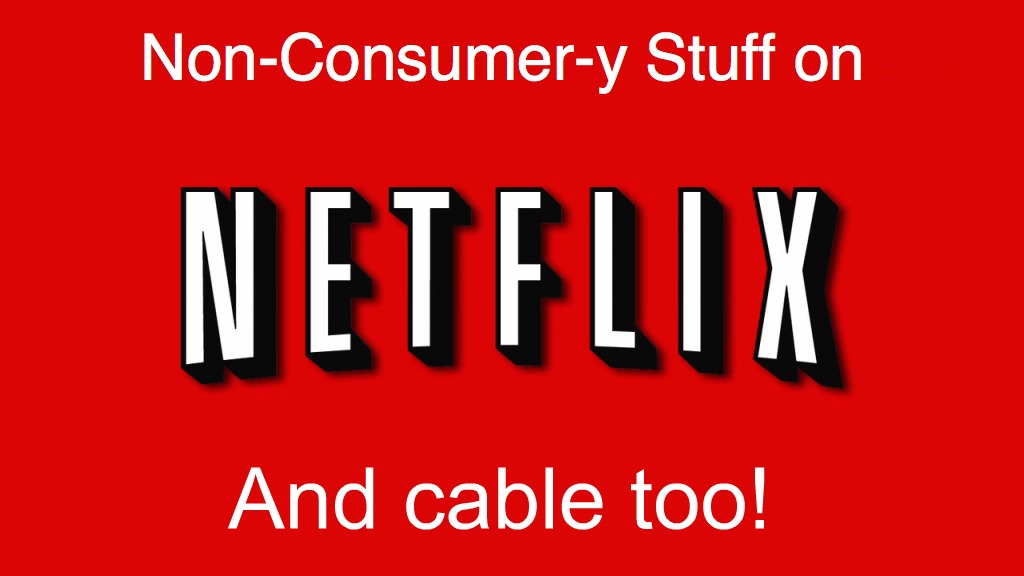 If you have streaming Netflix, it can be hard to not get overwhelmed by the thousands upon thousands of options. Yes, their fancy algorithm shows you a manageable number of viewing options, but sometimes it's nice to get a nudge in the right direction.
Here are few Netflix shows, movies and documentaries that I feel complement the Non-Consumer Advocate:
The Joneses
"In this smart drama about the dark side of a material world, it's impossible to keep up with the Joneses, a suburban family with good looks, fancy cars, a sprawling estate and… a shocking secret the neighbors would never guess."
Park Avenue: Money, Power and The American Dream
"Documentarian Alex Gibney focuses on the gap between rich and poor by examining New York's Park Avenue, home to America's highest concentration of billionaires. Meanwhile, down the street, South Bronx is the poorest congressional district in the U.S."
The Queen of Versailles
"Meet the Siegels, glitterati who made a fortune in the time-share business, only to see it crumble in the 2008 financial collapse. The site of their rise and almost-fall is their home (America's largest), a gaudy replica of the Palace of Versailles."
30 Days, from filmmaker Morgan Spurlock
This appears to to have vanished from Netflix, but it's so good that I'd keep an eye out for it to reappear. The Minimum Wage episode is a must watch; and Working in a Coal Mine and Off The Grid are excellent and thought provoking as well.
"An unscripted, documentary-style program where an individual is inserted into a lifestyle that is completely different from his or her upbringing, beliefs, religion or profession for 30 days."
There are also a number of documentaries about income inequality and the influence of the Koch brothers that are so depressing looking that I can't even stand the thought of watching them. (I gotta be able to get out of bed each morning.)
I also have cable, (generally a frugal no-no, but my husband and son have an apparent need to watch international soccer games, and my husband bikes to work to offset the cost. <– Defensive much, Katy?) Anyway, since I do have cable TV, I take full advantage of all the great shows that complement my non-consumer interests. You can watch full episodes of most of these shows online if you don't have cable.
American Pickers 
Mike and Frank travel the country poking around in barns and outbuildings searching out "rusty gold." The property owners are always treated respectfully and there's actually a bit of historical backstory given to the stuff they pick for resale. (The History Channel.)
Thrift Hunters
A new show where two guys rifle through various southwestern thrift shops to find items to resell on eBay. I like this show, as I feel it helps to hone my eye for what items actually do well on eBay. (Spike TV.)
Rehab Addict
Nicole Curtis rehabs houses in Minneapolis and Detroit that would otherwise be due for the wrecking ball. She is fiercely protective of her mission to save old houses, and is very creative about reusing old materials and other people's discards. Do not underestimate this cute little blonde. (HGTV and The DIY Network.)
Beachfront Bargain Hunt — Funny story. Although this HGTV show showcases wealthy couples buying beachfront property, my initial thought when I saw the name of the show was that it was about people finding cool stuff washed up on the shore or that beachgoers had left behind. Sadly, such was not the case, although I would totally watch the hell out of a show like that!
Note that I did not include Extreme Cheapskates, as that show strives to gross you out rather than educate.
Are there any movie, TV show or documentary that you feel dovetails nicely with non-consumerism? Please share your favorites in the comments section below.
Katy Wolk-Stanley