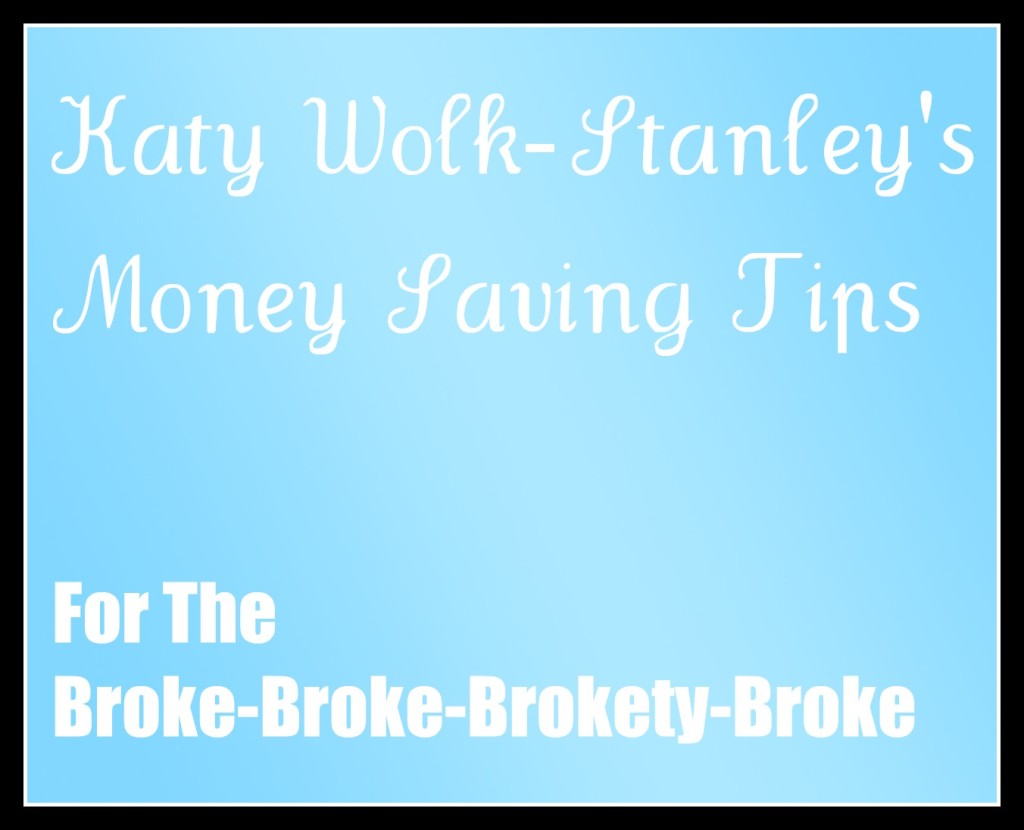 I get frustrated with articles and blog posts about how to save money that never challenge the reader to do more than "skip that morning Starbucks run."
It's insultingly to the reader. Because, duh . . .
What about when you're barely hanging on financially? What if you were never stupid enough to establish a daily latte habit in the first place? Are there money saving tips when you're already financially strapped and have already taken the obvious steps?
Luckily, I am the queen of pinching a penny until it tells you where the microfilm is screams for mercy, and I am generous with my tips, so here you go!
Katy Wolk-Stanley's money saving tips for the broke-broke-brokety-broke:
Cut cable and then share a Netflix account with a friend or family member. This is completely legal, and although it only saves you $4 per month, you are doing this because you're broke. So take your $4 savings already! Each Netflix account gives you five different profiles, which means each of your chick flick+eco documentary+wacky comedy algorithms will stay intact. (Even better, get your parents (or kids) to give you their login information for free.)
Call your insurance agent and update them with everything they need to know. If you're driving less, you should be able to get a discount for that. Simply ask them if there are discounts you could quality for. While you're at it, take the time to call all your service providers to see about getting your bills lowered.
Give stuff you already own as gifts. Books, family belongings, cute decor items, jewelry and most anything else can be up for grabs. Think of your home as your own personal mall and go shopping. And if you declutter in the process, all the better!
Use less of your household products. When a new container of laundry detergent is major expenditure this tip will save your tuchus. Use half of even a third of the recommended amount of laundry detergent, dishwasher detergent, shampoo, conditioner, etc. And when you think you're out of a liquid product turn it upside down for a few days and then later cut it open when you think it's finally empty. (It's not.)
Speaking of your shampoo, it's time to let go of brand loyalty. You are not Donna or Tom Haverford from Parks & Rec, and you do not need to "Treat yo self!" You will survive a demotion to Dollar store shampoo. (I use White Rain brand, and it is awesome!) This tip can be expanded to almost every category. Give off brands a chance.
Unless you're exercising, you can probably switch to an every-other-day bathing routine. Wash the important bits with a soapy washcloth and save yourself the time and money.
Just say "No!"  Say "no" to expensive invitations, say "no" to group gifts and say "no" to charitable solicitors. (If you are broke-broke-brokety-broke, it is perfectly okay to pay your own bills before you pay the bills of others.) Say it with me. "No!"
Just say "Yes!" Don't let pride get in the way of taking your friends and family up on their generous offers. Let your friend pay for the movies or a lovely lunch. You can return the favor when you're in better financial standing. Maybe you can give them a bouquet of flowers from your garden or an evening of babysitting as a thank you.
Lower your cell phone bill. I am hearing good buzz about Ting, and there is no reason to overpay just because you're in love with your smart phone.
This one may fall under the duh category, but make sure you're taking full advantage of everything your library has to offer. Books, music, downloadable audiobooks and museum passes are just the beginning. Portland's library puts on events for adults and children and clubs for everything from knitting to fans of The Non-Consumer Advocate. Okay, I made that last bit up, but go ask your reference librarian if there's anything you're not taking full advantage of.
Embrace cheap recipes. Whether it's bean based meals or simple meals from everyday items, you need to avoid recipes that call for expensive ingredients. Yes, cooking at home will save you money, but not if you're having to buy ingredients that only work for that one recipe. Say buh-bye to anything calling for saffron, and sayonara to pricey cuts of meat.
Lower your housing costs. Renting a room to an international exchange college student can be quite lucrative. Not only will you raise some much needed funds, but since the students are from another country they're unlikely to bring a room full of furniture to your already furnished home. Contact the housing department of your local university, and they should be able to put you in contact with the right people. Plus, it's fun.
Break your routines. Do you buy all your groceries or household supplies at the same store out of habit? Explore beyond your usual routine to find the best prices for the stuff you need.
Take advantage of any and all free entertainment opportunities. It sucks to stay home all the time just because you're broke, so scour your local paper and websites for cool free stuff to do. Get out of the house already!
Consider sharing your internet service with a neighbor. Go ahead, ask them. The worst they can say is no.
Stop drinking booze. It's expensive and not worth the expense. Sorry.
Borrow, borrow, borrow and then share, share, share. Need a whatchamacallit but only occasionally? Ask around to see if anyone in your circle has one you can borrow. We borrow a document shredder, loppers, and the neighbor's pressure washer, and in exchange we lend out our rug shampooer, wheelbarrow, post hole digger, miscellaneous tools and snow shovel. It goes without saying how important it is to return everything clean and in working order.
Okay people, what did I miss? Please share your tips in the comments section below.
Katy Wolk-Stanley