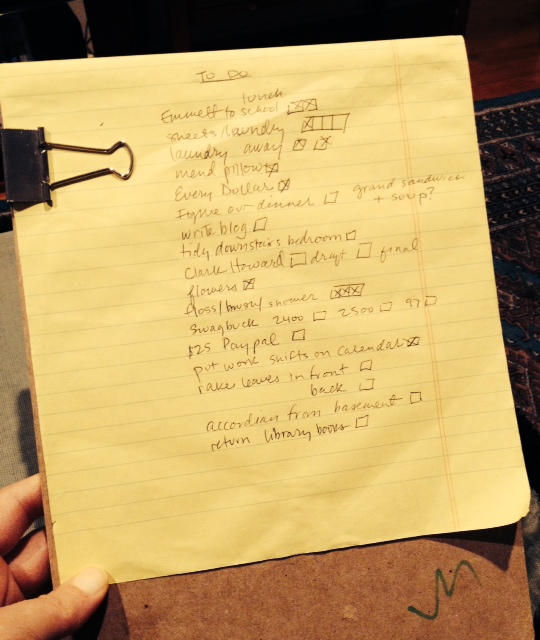 I have enough self-awareness to know that if I'm not careful, I'll let my day completely slip away. Whether it's responding to blog comments, chatting on the phone with my sister or slipping into the Facebook abyss, it's easy to waste a majority of my day. Mind you, I am not of the ilk that believes that every minute of every day needs to be accounted for, but I have a tendency get down in the dumps when nothing gets accomplished. So I keep myself on task.
When I have days off from work, I write to-do lists. On a yellow legal pad, making use of both sides of the paper. I draw little boxes to check off, and I break everything down into bite size chunks.
Need an example of how I break tasks down? Each load of laundry is broken into four steps:
Put laundry in the wash.
Switch laundry to dryer/hang dry.
Fold laundry.
Put laundry away.
The word "laundry" is both vague and uninspiring, but getting to check off four whole boxes is very satisfying. (Hey . . .  I do what I can to myself motivated to keep up with the mundane chores, okay?)
Today's list might appear lengthy at first, but it's mostly comprised of small tasks that would otherwise not find priority. It forces me to pace myself and takes away that "Crap, what am I supposed to be doing?" feeling. Instead of being oppressive, it's actually freeing because it allows for downtime as I can look at the list and know that I've done everything that needed my time and attention. And because I hate transferring uncompleted tasks from one day to the next, it minimizes procrastination.
I know I've written about to-do lists before, but today is a special day. Why? Because today's list was the last page of this particular legal pad. (Remember, it's both front and back!)
Tomorrow I'll start on a new legal pad. All crisp and new and full of promise.
Katy Wolk-Stanley
"Use it up, wear it out, make it do or do without."
Click HERE to follow The Non-Consumer Advocate on Twitter.
Click HERE to follow The Non-Consumer Advocate on Instagram.
Click HERE to join The Non-Consumer Advocate Facebook group.
Click HERE to follow The Non-Consumer Advocate on Pinterest.