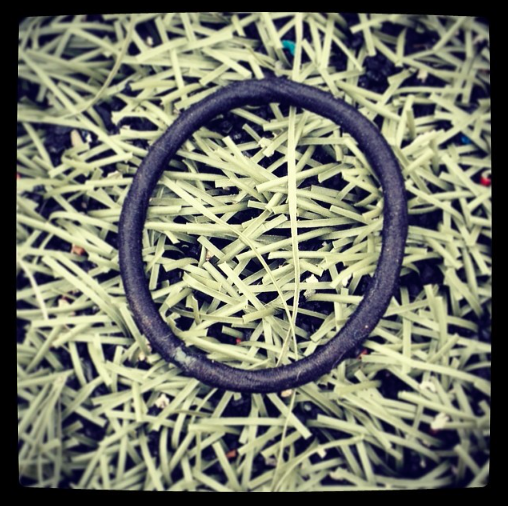 As a frugality writer and longtime cheap-o lady frugalista, you'd think I would eventually reach a saturation point where there'd be nothing new to learn. Luckily, such is not the case. Yes, it comes in fits and spurts, but there are always new frugal hacks to incorporate into my daily life.
Just recently I figured these these new tricks:
I mostly wear my hair down, but occasionally do put it up. I was doing fine with two elastic ponytail holders until I suddenly had none. Inspired by Bea from Zero Waste Home, I decided to move past the eww factor and shop from the turf at my son's soccer field. (A rich supply of ponytail holders, if ever there was one.)  I am now the proud owner of a single functional ponytail holder. And nothing had to be bought, manufactured, packaged or thrown away.
I recently washed our bed pillows using a Pinterest tutorial, (I wasn't pleased with the results, so I'm not sharing the link) which included putting sock covered tennis balls in the dryer. I liked how the tennis balls give the laundry an extra bounce of movement in the dryer, so I'm now using them for each and every load. The clothes seem to be drying faster, and I finally found a use for my father's spent tennis balls plus those sad single socks. (New idea . . . a match.com site for socks that are missing their mates!)
I am a prolific tea drinker, and am very fussy about the strength. (Too strong and it might as well be coffee, too weak and what's the point?) However, I recently picked up an adorable small $2 vintage teapot (looks a bit like a small Brown Betty) which is the perfect size for two cups of tea. Actually, it's the perfect size for 2-1/2 cups of tea, yet is still the perfect strength! People, that is a free half cup of tea! Multiply that by 365 and that's 182 free cups of tea per year! (Math, yo!) And since my kids also drink tea, the savings are actually worth writing home about.
Have you recently incorporated any new frugal hacks into your life? Please share in the comments section below.
Katy Wolk-Stanley