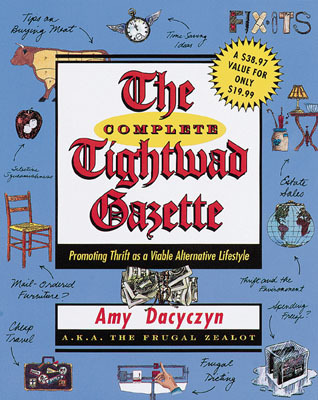 I started my journey of extreme frugality back in 1998 when I was on maternity leave with my younger son. I had gotten used to a couple years of great paychecks, (especially when compared to the nursing school years without paychecks) and had loosened my wallet as a result. My husband and I ordered takeout at least a couple times per week and I found great satisfaction in scooping up all the Baby Gap bargains from the mall.
But buying a fixer-upper house brought me back to a reality that did not include any extra nickels to well . . . rub together.
Luckily, I discovered Amy Dacyczn and her Tightwad Gazette. (Like Josie and The Pussycats, but better!) At the time, the books were in three separate volumes and I read them over and over again. For content, for ideas and for inspiration. She presented frugality as a fun and creative endeavor. I wanted in.
I was done spending too much money.
I started cutting my kids' hair, hitting Value Village on 99¢ days and cooking from scratch. I gave handmade gifts, hung laundry on the clothesline and bored my friends with my never ending talk about frugality.
I hooked my sister Jessica, and it was common for us to base our decisions based on "What would Amy do?"
Fast forward 14 years, and I no longer have that recent convert zeal, but I do still love her with all my heart.
Amy and me.
Katy Wolk-Stanley
"Use it up, wear it out, make it do or do without"
Click HERE to follow The Non-Consumer Advocate on Twitter.
Click HERE to join The Non-Consumer Advocate Facebook group.
Click HERE to follow me on Pinterest.