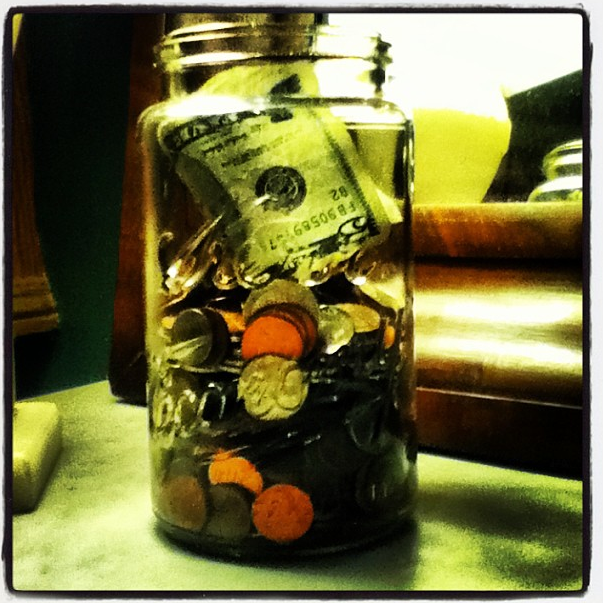 I really enjoyed the Found Change Challenge for 2012, and have already started up a new jar for 2013. For those who are new to the blog, the Found Change Challenge was a year-long project to save up all my picked-it-up-off-the-ground money and then devote it to a single cause in the end. My goal had been to find $65, which would have been enough to stay one night at our favorite beach cabin. I knew that number was lofty, but I am Coin Girl, and if anyone could do it, it would be me.
I finally took my big jar of coins to the credit union yesterday, as they have a free coin counting machine. (Coin Girl would never pay for robots a machine to count her money!)
First I picked out the foreign coins and wheat pennies, and of course set the paper money aside. One penny and one quarter would not go through.
The grand total was $28.50. Way below my $65 goal, but still nothing to sneeze at. (Eeuw, I just started picturing sneezed on money. Thanks, Katy!)
But the number that I am most loving is that along with75 nickels, 56 dimes, 30 quarters, 3 dollar bills and a single 5 dollar bill, I found exactly 365 pennies.
Read that again — I found exactly 365 pennies!
All together now:
Whoa . . . 
Trippy, right?!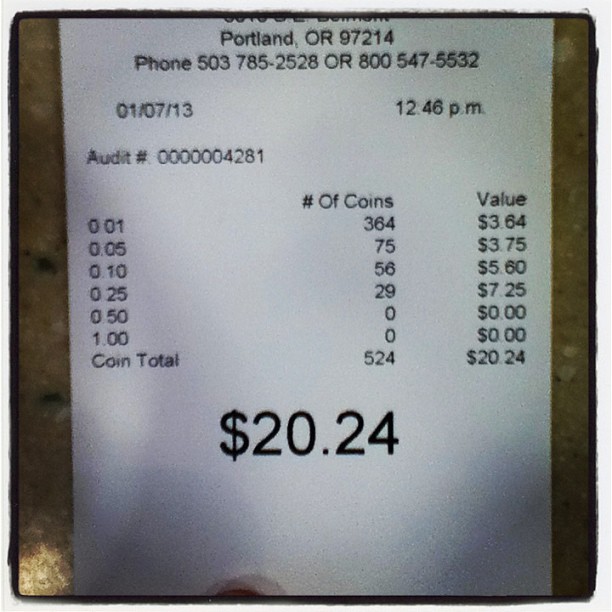 I felt weirdly sad and kind of deflated to turn all my hard-won money over to the credit union. It's been so very satisfying to watch the jar fill up with plucked coins from my travels. (Yes, going to the grocery store falls within my definition of traveling.) Luckily, the next stop in my day-o-chores was to drop a few things at my son's old middle school. And whattayaknow, I looked down to find two dimes and a penny in a puddle right outside the school.
Waiting for me.
Coin Girl.
And how will I spend my $28.50? This practical blogger put in into her 17-year-old son's college account.
Yeah, I'm crazy like that.
Did you participate in the Found Change Challenge? And if so, how much did you find? Please share your totals and stories in the comments section below.
Katy Wolk-Stanley