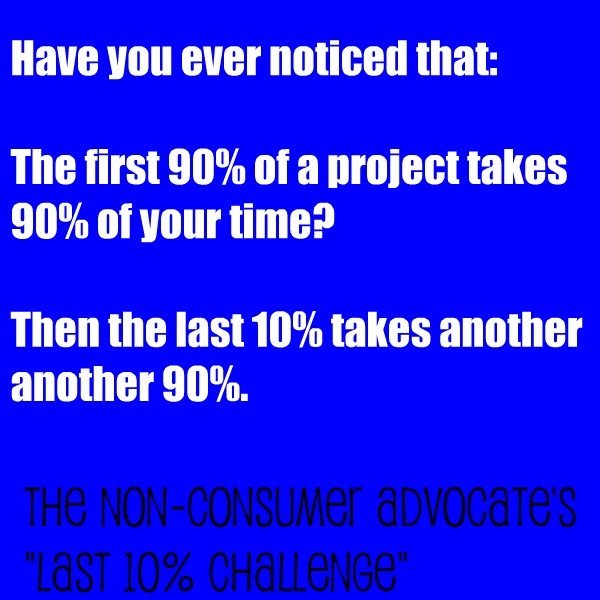 Have you ever noticed that the first 90% of a project takes 90% of your time and that the last 10% takes another 90%?
Yup. It's true.
And for those of us who live in fixer-upper homes, that last 10% actually takes another 110%! (At this point I totally understand if mathematical types need to switch off their computers. I won't be offended.)
Living in an in-process home drives me a bit crazy, as pretty much every room in the house has a least two to three projects that are 90% completed. For example:
The trim around the fireplace is missing in one spot.
The vent above the stove was never installed.
The shingles around the back door never got installed.
I could go on and on, (and on) but I know you'll have to get on with your lives at some point. Keep in mind that we bought our house in 1996, so having enough time is off the table as an excuse.
I've recently been making a concerted effort to attack that last 10%, which has often gone unfinished because my husband and I are unsure of how to proceed. Either we don't possess the skill or can't decide on the design or simply don't have the money to spare. However, that last 10% is often unfinished because it's become invisible, part of the landscape of our busy lives.
I am proposing a Last 10% Challenge, where you and I attack all those unfinished projects that litter our homes. Your 10% will be different from my 10%, and it's totally okay if it veers 180° from mine. And I totally give you permission to abandon any projects you've moved beyond. Just make sure to get them out of sight.
So, are you in? Do want the extra kick in the arse motivation to demolish your to-do list?
Write your 10% projects in the comments section below and together we can live our lives without a million unfinished projects crushing our spirits.
90% yours,
Katy Wolk-Stanley