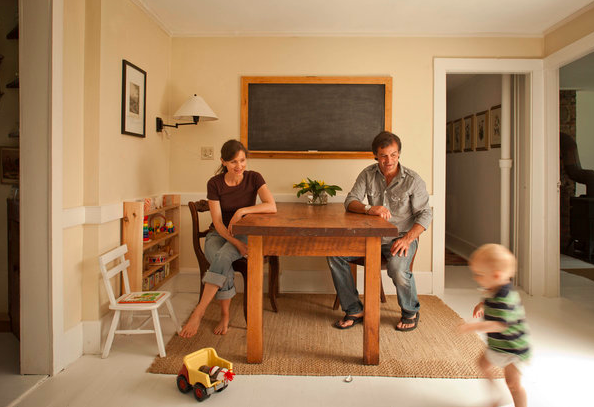 I somehow missed the fantastic In Maine, Gifts From The Sea and The Landfill NY Times article, which ran on August 31st and profiled the home of Michael Fleming, Jennifer Wurst and their adorable toddler son. Despite the couple living on $17,000 a year, their home is stunning.
Their decorating secret?
Hauling stuff home from the dump.
"Ms. Wurst's favorite shopping site: a parked trailer at the Phippsburg dump.

"Some days it's pure excitement, running back to the car to unload armfuls of stuff, only to go back for more!" she wrote in an e-mail. "It's amazing what people throw out. I have found completely new (still in packaging) items such as my Bodum tea press/pot and even down throw pillows (still in packaging) and a fabulous '50s-style wall-mounted can opener."

She added, "It's perfectly suited for the pantry in this house and we needed one and it was free."

And the dump, she noted, "has the best return policy."
I think I'm in love. Then again, I've always felt that separating oneself from consumerism awakens a style of creativity that otherwise lies dormant for the West Elm crowd.
Click HERE to read the entire article, which features a fantastic slideshow. And keep an eye on the photo of their bedroom. I really like how the the husband's shirts are stored. Almost sculptural.
Katy Wolk-Stanley
"Use it up, wear it out, make it do or do without"
Click HERE to follow The Non-Consumer Advocate on Twitter.
Click HERE to join The Non-Consumer Advocate Facebook group.